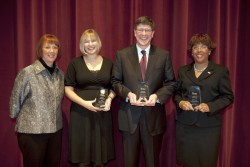 From left to right: Dean Raylene Rospond congratulates Kimberly Scarsi, Steven Herwig and Denise Nichols.
MEDIA CONTACT: Tory Olson, 515-271-1834, tory.olson@drake.edu
Three outstanding pharmacy alumni were recognized at Drake's College of Pharmacy and Health Sciences' 23rd student-organized Pharmacy and Health Sciences Day on Tuesday, Feb. 23.
The 2010 Alumni Achievement Awards will be presented to:

Steven Herwig

, a 1971 pharmacy graduate, Alumni Achievement Award

Denise Nichols

, a 1975 and 1997 pharmacy graduate, Alumni Achievement Award

Kimberly Scarsi

, a 1999 pharmacy graduate, Young Alumni Achievement Award
The honorees were selected based on their service to the college, distinction in their careers and their civic and community contributions.
Scarsi, of Chicago, is a research assistant professor of medicine at Northwestern University's Feinberg School of Medicine.
With a specialty in HIV research, she is a protocol pharmacist for the U.S. President's Emergency Plan for AIDS Relief program. In this role, Scarsi develops drug information materials and HIV-related training programs for health-care providers, while assisting with treatments in clinics in Nigeria, Botswana and other African countries.
Traveling to the clinics six times per year, Scarsi offers training, gives lectures on HIV pharmacology and empowers clinical staff members. She educates health-care providers about potential drug side effects, interactions in their patients and how to safely administer HIV medication with regard for the prevalence of malaria and tuberculosis in African countries.
She supervises and manages the drug-supply needs for approximately 50,000 patients who receive care and treatment for HIV.
Scarsi, preceptor and adjunct assistant professor at Drake, began her career at Northwestern Memorial Hospital. She served first as a critical care clinical pharmacist and then as an HIV and infectious diseases clinical and research pharmacist.
She is a member of the American College of Clinical Pharmacy and the Society of Infectious Diseases Pharmacists.
Nichols, of Des Moines, is a clinical pharmacist at Mercy Family Medicine Residency. She provides pharmacology lectures, patient education and nursing education.
She also has developed and implemented an anticoagulation clinic and created a pharmacology rotation for family medicine residency students and geriatric fellows. In addition, she monitors drug therapy at the House of Mercy's diabetes clinic.
Originally graduating from Drake with a bachelor's degree in pharmacy in 1975, Nichols spent 20 years as a staff pharmacist at Mercy Franklin Center in Des Moines and earned her Doctor of Pharmacy in 1997.
Her research studies focus on outpatient, primary care and family medicine clinics. Her current interests in family medicine include:

Identifying children at risk for hyperlipidemia, an elevation of lipids in the bloodstream
Treating post-partum depression in family medicine patients
Surveying the spirituality of family medicine patients
A member of Drake's College of Pharmacy's Experiential Review Council, Nichols is a preceptor and adjunct faculty member at Drake and Mercy College of Health Sciences. She also lectures at Des Moines University's Osteopathic Medical Center.
Herwig, of West Des Moines, went on to earn a Doctor of Osteopathic Medicine from the College of Osteopathic Medicine and Surgery in Des Moines in 1976 after graduating from Drake in 1971.
Medically licensed in Iowa, Herwig is a specialist in otolaryngology-head and neck surgery at the Iowa Clinic in West Des Moines. A certified physician executive in medical management, he also chairs the clinic's Board of Directors, having earned his Masters in Business Administration from Drake in 1999.
Herwig also is a clinical assistant professor of otolaryngology-head and neck surgery at the University of Iowa College of Medicine and is adjunct associate professor of otolaryngology at Des Moines University's College of Osteopathic Medicine.
He is affiliated with several Des Moines hospitals, including Iowa Methodist Medical Center, Iowa Lutheran Hospital, Mercy Hospital Medical Center, Broadlawns Medical Center and the Veterans Administration Medical Center.
Herwig served on Drake's National Advisory Council in the College of Pharmacy and Health Sciences in 2006. He is a member of the American Academy of Otolaryngology-Head and Neck Surgery, the American College of Physician Executives, Polk County Medical Society, Iowa Medical Society, Iowa Academy of Otolaryngology and Physicians for Social Responsibility.