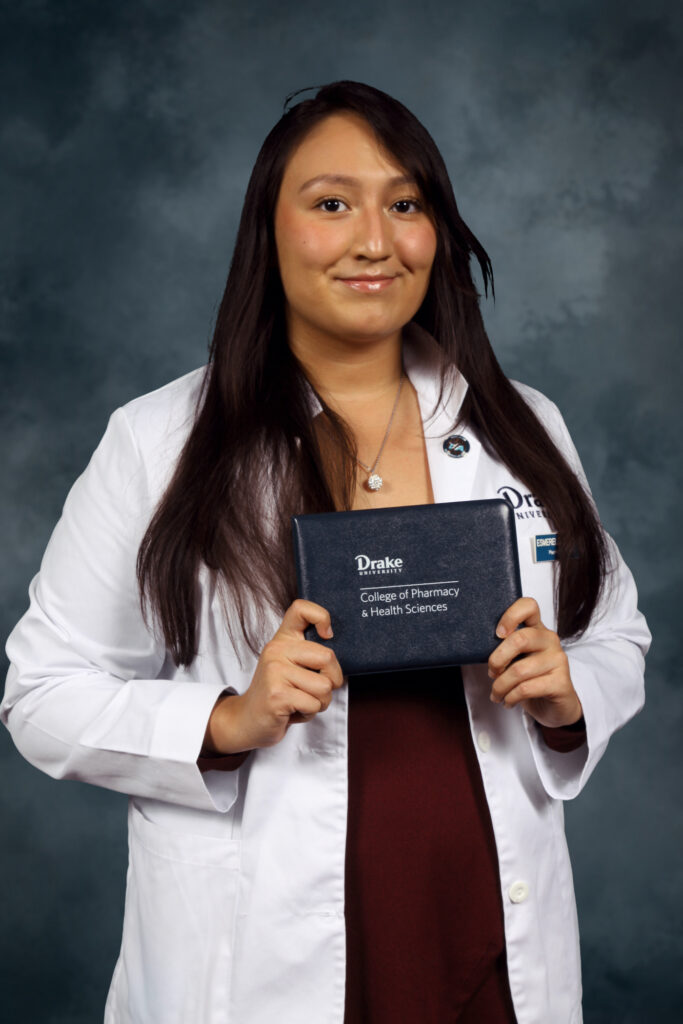 Third-year student pharmacist Esmeralda Flores received a scholarship from the Rx Scholarship Fund, announced at the Independent Pharmacy Cooperative (IPC) Conference in Coronado, California, in April 2022.
The $1,500 scholarship award is a result of Flores' essay competition entry about how she would alter the pharmacy industry to protect herself and other pharmacists from burnout while practicing in the independent pharmacy industry. Flores' essay focused on the greater implementation of career ladders for pharmacy technicians within independent pharmacies to incentivize and drive employee engagement by encouraging professional development. She made the case that implementing career ladders allows technicians to accelerate within the profession, which would protect pharmacists from burnout by improving workflow, increasing retention, and promoting safety, allowing pharmacists to focus more of their time on direct patient care and training other pharmacists and interns.
"Drake did prepare me to be competitive as I applied for the scholarship," said Flores. "Drake has taught me to reach out to my mentors and utilize them as resources, which I believe contributed to my success in the essay competition. I had not considered myself a leader until I came to Drake, and I thank the staff, faculty, and the curriculum Drake provides us with for allowing me to see that quality in myself."
From Des Moines, Iowa, Flores has taken advantage of many opportunities within the College of Pharmacy and Health Sciences for development as a leader and future healthcare professional. She will serve as president of the College's chapter of the National Community Pharmacists Association (NCPA) during the 2022-2023 academic year. Flores will also serve as the new Diversity, Equity, and Inclusion Chair of the American Pharmacists Association Academy of Student Pharmacists (APhA-ASP) for the upcoming year. Additionally, she worked as a DELTA Rx (Drake Entrepreneurial Leadership Tools for Advancement) Intern, completing the Entrepreneurial Leadership Summer Internship with MedWiseRx in 2021.
Outside of the College, Flores takes advantage of other opportunities for further development including participating in the Iowa Pharmacy Association's Bill Burke Student Pharmacist Leadership Conference and attending a two-day Introductory Compounding Boot Camp at the PCCA Institute in Houston, Texas.
"This scholarship means the world to me," said Flores. "It reminds me that there are people (like IPC and their board members) who believe in your dreams and want to support you along the way. This scholarship allows me to focus on advocacy for independent community pharmacies and help other students gain a passion for networking. IPC connected us to many great resources in the independent pharmacy world."