The College of Pharmacy and Health Sciences (CPHS) held the annual Hooding and Commencement Ceremony for professional program students on Saturday, May 14th, 2022. The 36 Bachelor of Science in Health Sciences undergraduate students participated in the University Undergraduate Commencement Ceremony held on Sunday, May 15th.

Receiving their degrees and doctoral hoods during the CPHS Hooding and Commencement Ceremony were:
41 Occupational Therapy Doctoral (OTD) students
81 Doctor of Pharmacy (PharmD) students
5 Master of Athletic Training (MAT) graduates
7 graduates from the inaugural Master of Health Informatics and Analytics (MS HIA) class.
In addition to the doctoral and master's degrees, many of the graduating students also received additional degrees or designations.

The Hooding and Commencement Ceremony included reflections from three of the graduating class student government representatives. Bridget Davidson (MAT), Rylee Steinke (OTD), and MacKenzie Challoner (PharmD) reflected on their experiences from the time they stepped foot on Drake's campus to graduation and provided words of encouragement for the graduates as they start their careers.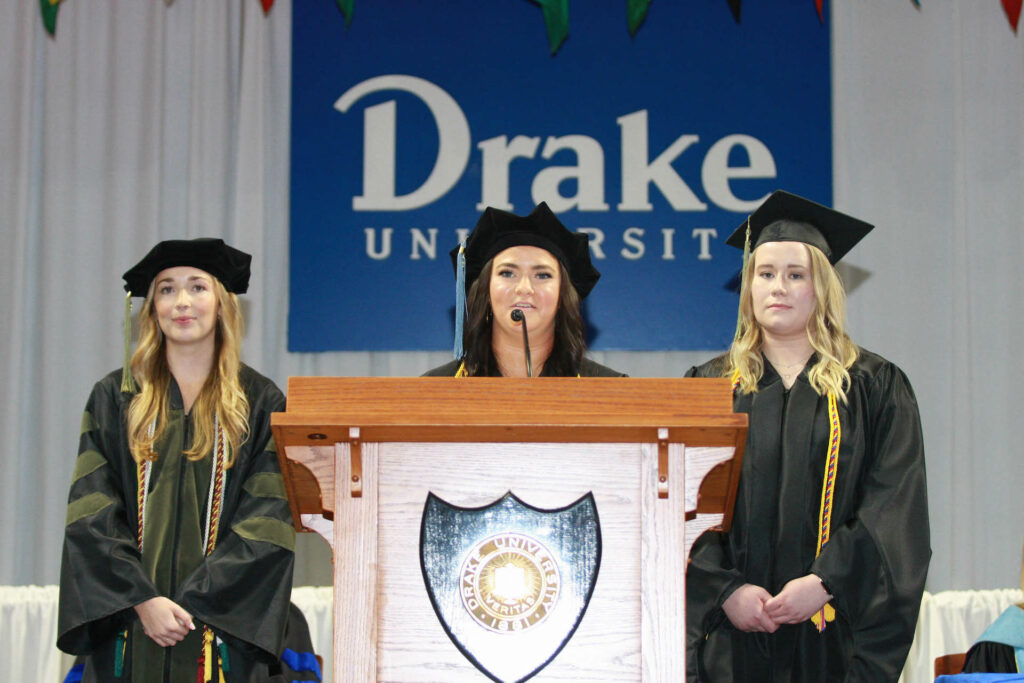 Additional comments were provided by Iowa Athletic Trainers' Society Governmental Affairs Chair, Troy Kleese, who led the MAT graduates in the Oath of an Athletic Trainer; Optimae Rehabilitation Services Director, Ashley Adams, who led the OTD graduates in the Oath of an Occupational Therapist; and Iowa Pharmacy Association Director of Public Affairs, Emmaline Paintsil, PH'18, who led the PharmD graduates in the Oath of a Pharmacist. CoraLynn Trewet, PH'03, Senior Medical Science Liaison with Bristol Meyer Squibb and chair of the College's National Advisory Council welcomed the graduates into the Drake CPHS alumni network.

Outside of residencies and other post-graduate education, 2022 PharmD graduates will pursue fellowships, community pharmacy, or other specialized pharmacy positions. The 2022 OTD graduates are pursuing positions in pediatrics, mental health, and geriatric therapy. The 2022 MAT graduates are pursuing clinic positions, post-graduate education, and one graduate is pursuing a residency program. The 2022 Health Sciences students are pursuing post-graduate education or positions in health care administration and medical sales.

Graduate awards announced during the ceremony:
Haley Miller – United States Public Health Service Excellence in Public Health Pharmacy Award
Andrea Saar – the Viatris Excellence in Pharmacy Award
Elizabeth Harvey – the Wolters Kluwer Clinical Drug Information Award of Excellence in Clinical Communication
Kole Gallick – the Russell Johnson Outstanding Community Practice Graduate Award
Tarah Fisher – the Merck Royal Society of Chemistry Certificate of Excellence
Isabelle Tharp – the Jerry L. Karbeling Memorial Leadership Award and the American Pharmacists Association (APhA) Senior Recognition Award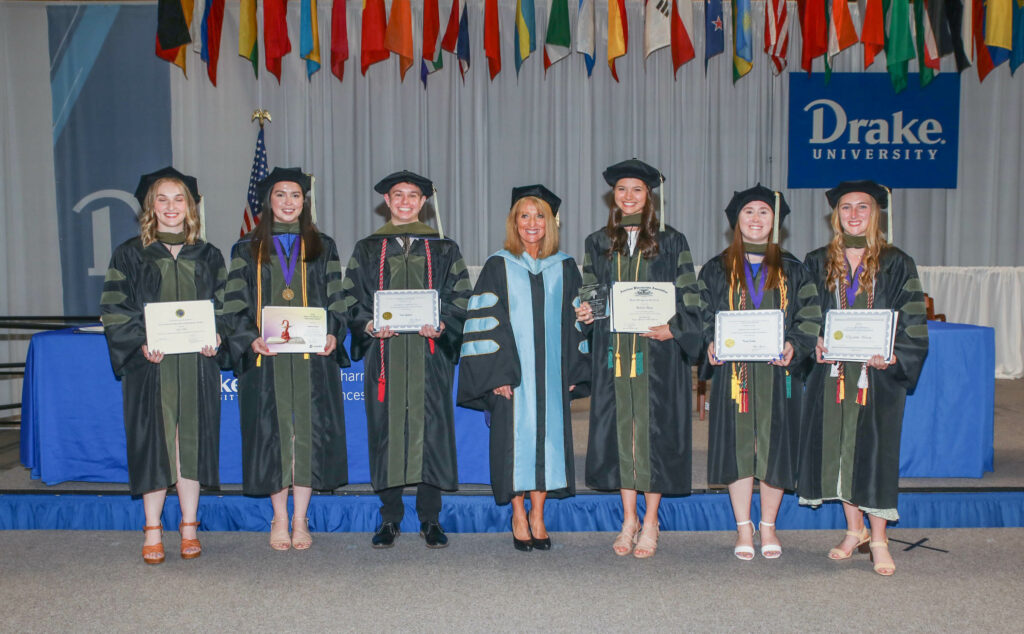 "We congratulate all of our 2021-2022 graduates and are confident that they will have many accomplishments during their careers," said Renae Chesnut, dean and professor. "They are proof that we are fulfilling our mission to prepare today's learners to be tomorrow's health care leaders."