Drake University College of Pharmacy and Health Sciences (CPHS) held its annual Recognition and Pinning Ceremony on Thursday, May 5, 2022. The Ceremony marks students' transition to final year internships, fieldwork, and rotations for third-year undergraduate health sciences students, first-year master of athletic training students, second-year occupational therapy doctoral students, and third-year doctor of pharmacy students.
To assist students with their transition from their course work to their program's final year of experiential learning, Nora Stelter, associate professor of pharmacy practice and introductory pharmacy practice experiences coordinator, provided advice on how to be a transformational leader. Dr. Stelter was the recipient of the College's 2022 Morrow Transformational Leadership Award.
Each student named in the ceremony received name badges and pins to wear in their final program experiences. The College's pin is in the shape of a shield with the name of the student's degree program, which serves as a reminder of their program's professional values and competencies. The line with the Drake 'D' in the center circle serves as a reminder that the students are always representatives of the Drake University College of Pharmacy & Health Sciences.
"We recognize the hard work and dedication that students have achieved to reach this point in their academic careers," said Renae Chesnut, dean of the college of pharmacy and health sciences. "This ceremony commemorates the milestone that our students have reached in entering their final year of experiential education."
A recording of the 2022 Pinning and Recognition Ceremony can be viewed at https://drake.hosted.panopto.com/Panopto/Pages/Viewer.aspx?id=750894f7-635c-406d-834f-ae8300da3b1d
During the ceremony, Assistant Dean Michael Nelson announced the recipients of several prestigious awards.
Health Sciences Awards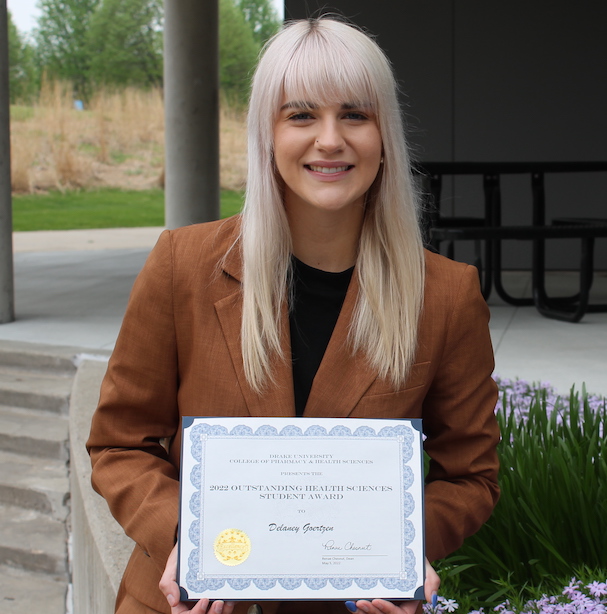 Delaney Goertzen, a junior health sciences student, was presented with the Outstanding Health Sciences Student Award. Recipients of this award have excelled in their coursework and have been active in University and College professional organizations and activities. Goertzen is a member of the Drake Women's Soccer Team, served as the Drake Athletics Voting Captain in 2020, served on the Health Professions Day Committee, and completed the CPHS Student Leadership Development Series, which included conducting research on "Drake Busy" and its influence on student leadership roles. In addition, Goertzen has been an exemplary pre-medical student, setting a great example of utilizing resources throughout their time at Drake to prepare for this career step.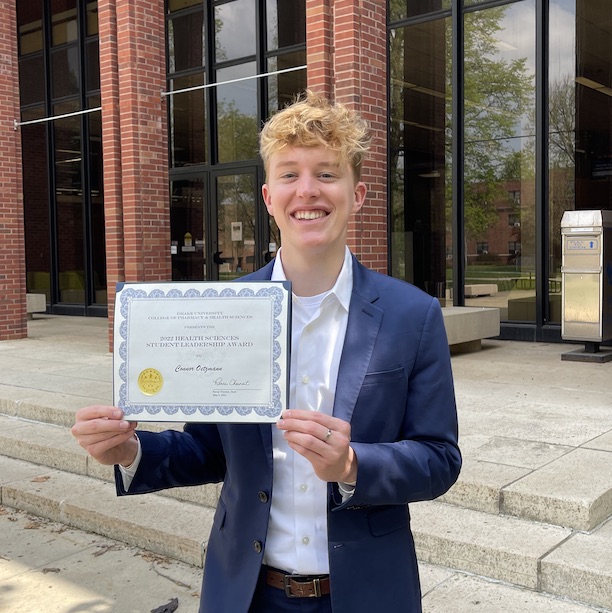 Connor Oetzmann, a junior health sciences student, received the Health Sciences Student Leadership Award. Oetzmann served as a resident assistant for two years and is frequently spotted conducting campus tours to prospective Drake students. He was recently elected Drake University's Student Body President, a first for the CPHS in nearly 50 years. In addition, Oetzmann has participated on the InterVarsity Core Team and the Student Activities Board, is a member of Sigma Phi Epsilon, and completed the CPHS Student Leadership Development Series, conducting research on motivational factors among graduate students who pursue leadership.

MAT Award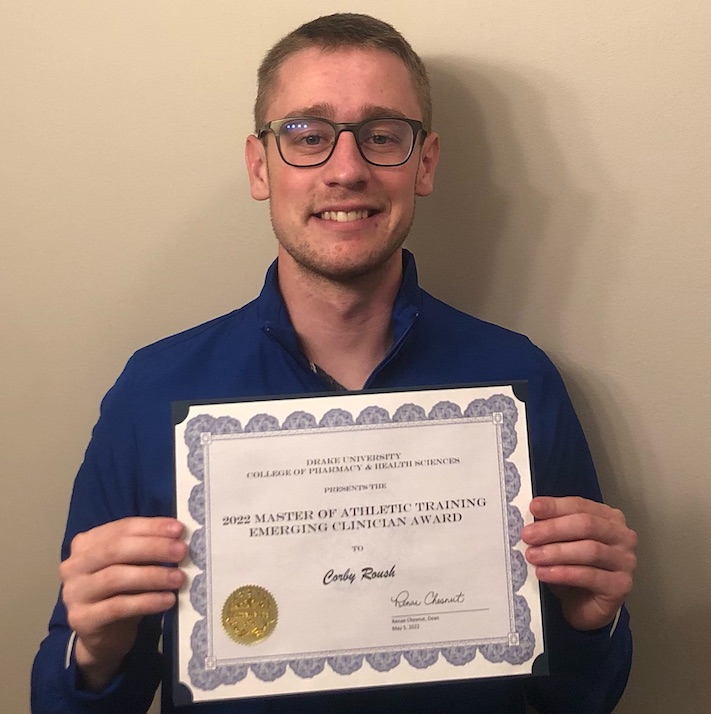 Corby Roush, first-year master of athletic training student, won the Athletic Training Emerging Clinician Award. Recipients of this award demonstrate the qualities necessary to thrive in the practice of athletic training, a passion for applying classroom knowledge to practical exams and experiences, and the critical thinking and personal skills to be able to respond positively to adversity and challenges that commonly occur in the field. Roush has exponentially grown in his ability to implement classroom knowledge into experiences. Preceptors have acknowledged his growth and personal skills to connect with patients and other healthcare workers. Roush has demonstrated a drive for continual​ self-improvement, hard work, and used constructive feedback to improve his clinical practice.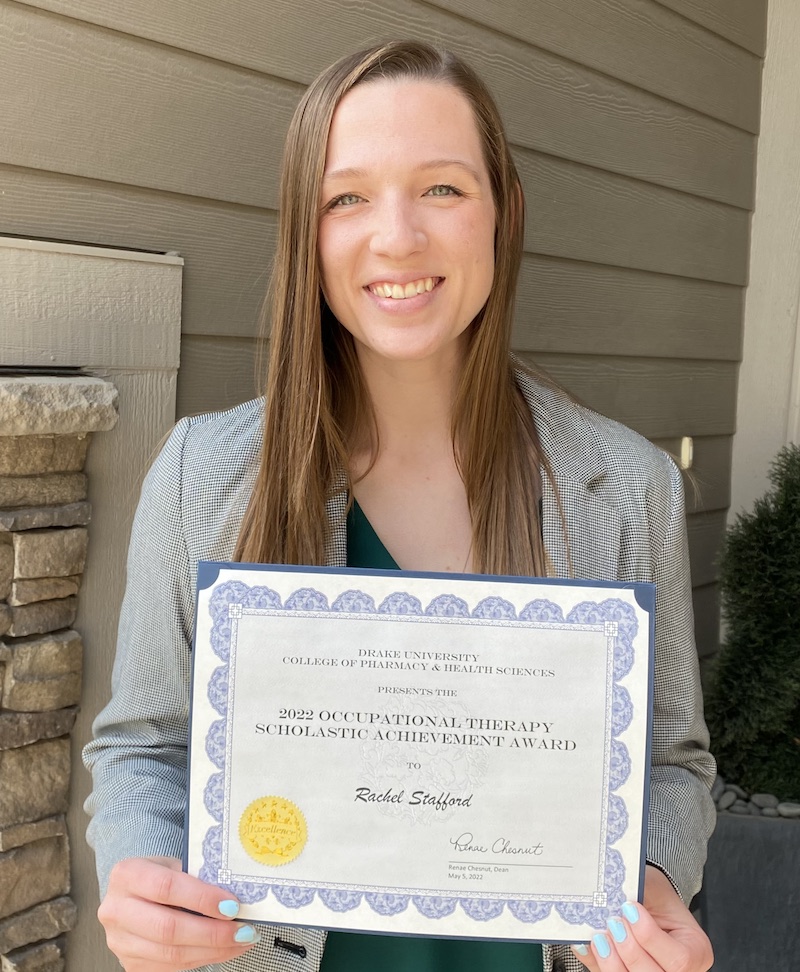 OTD Awards
Rachel Stafford, second-year occupational therapy doctoral student, received the Occupational Therapy Scholastic Achievement Award. Recipients of this award have excelled in their coursework, performing in the top 25% of their class. Stafford demonstrates the core values of occupational therapy with excellence and commitment to the profession by also demonstrating an eagerness to learn. She consistently put her best effort forward in all competencies and coursework and she cared deeply about her performance.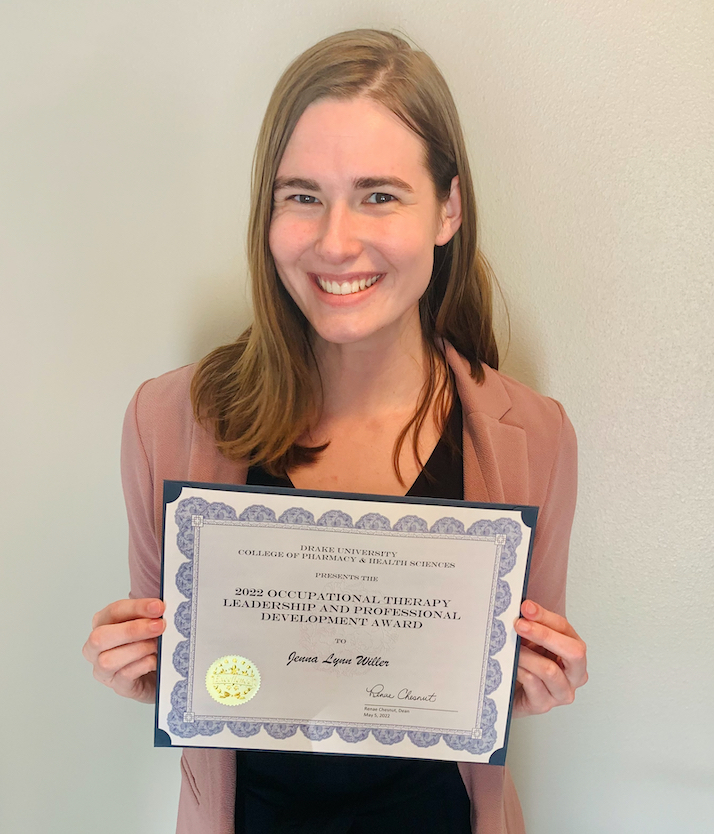 Jenna Lynn Willer, second-year occupational therapy doctoral student, was awarded the Occupational Therapy Leadership and Professional Development Award. Recipients of this award demonstrate drive to advance the profession of occupational therapy through leadership opportunities, publications, or involvement in professional presentations. Willer demonstrates drive to advance the profession of occupational therapy by seeking out leadership opportunities in the classroom, within the OT Department and at the college level. She actively seeks feedback and mentoring in areas of interest. She was an active participant in the Student Leadership Development Series and presented her group's research at Health Professions Day. Additionally, Willer applied to present in person at two national conferences, including this year's American Occupational Therapy Association conference. She also helped spearhead the proposal for a new student-run organization within the OT department focused on diversity, equity, and inclusion.
PharmD Awards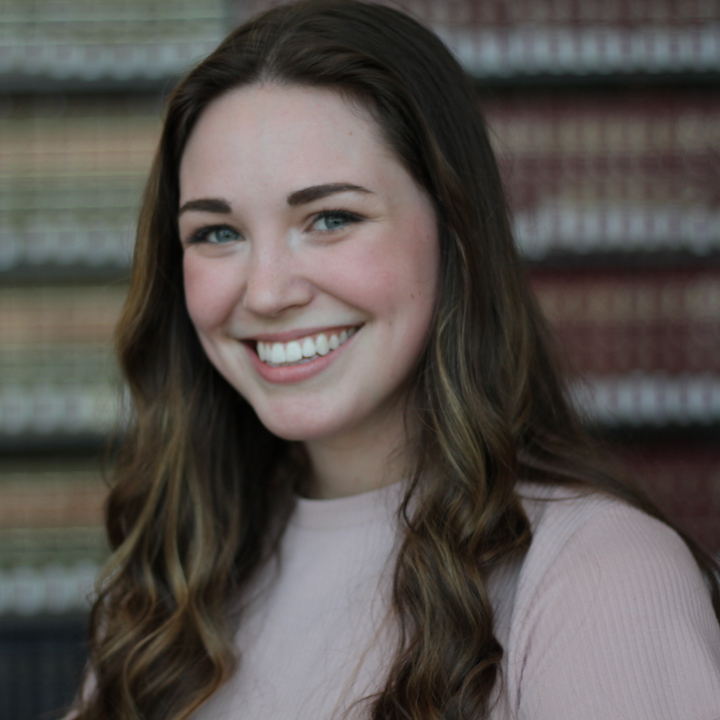 Molly Nelson, third-year doctor of pharmacy student, received the Iowa Pharmacy Association Jerry M. Karbeling Leadership Award. This award was established by the Iowa Pharmacy Association in tribute to the late Jerry Karbeling for his leadership and dedication to the profession and his passion for student involvement in professional associations and the political process. Nelson is extensively involved with the American Pharmacists Association Academy of Student Pharmacists, serving as Women's Health Chair and placing first in the APhA-ASP Patient Counseling Competition, and with the Student College of Clinical Pharmacy, serving as Research and Practice Events Coordinator. In addition, she has engaged in the political process by serving as a Legislative Intern for Iowa State Representative John Forbes.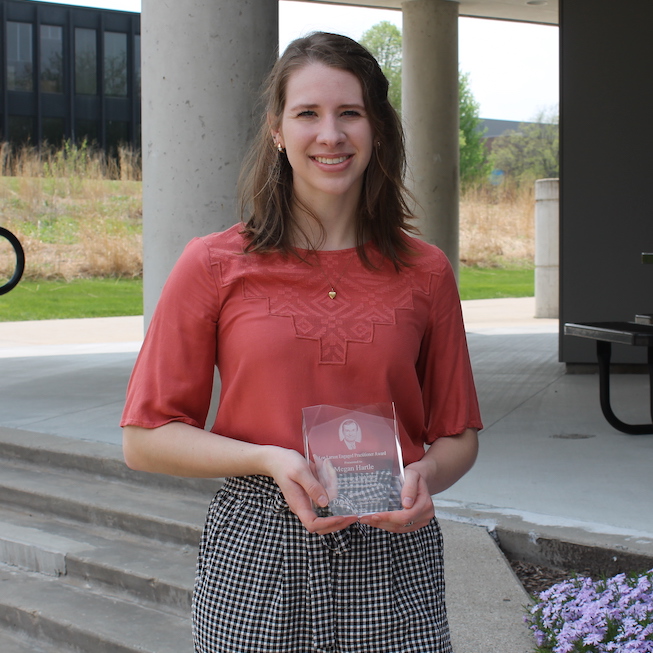 Megan Hartle, third-year doctor of pharmacy student, was recognized as the recipient of the Lon N. Larson Engaged Practitioner Award. Established through memorials made in Larson's honor, the annual Larson award is presented to the student that most demonstrates the values and actions for which Dr. Larson, previous faculty member, was best known: high ethical standards, reflective practice, innovation, and community service.
Hartle has displayed the same passion for the profession that Dr. Larson continually conveyed to his students and mentees. She is a student leader who exemplifies outstanding service to the profession and to the community, while balancing serving their family through extraordinary health challenges.
Hartle is a member of many professional and service student organizations. Within these organizations, she has an impressive record of leadership, serving as President of the Student Society of Health System Pharmacists, the vice-president of Phi Delta Chi, the Treasurer for the Rho Chi Pharmacy Honor Society, and the President of Drake University Habitat for Humanity. Hartle has a notable record of service to our community, organizing a Drake Relays Panel Build for Habitat for Humanity, coordinating service activities with Meals from the Heartland and Canteen, and serving as a student activist at the Myalgic Encephalomyelitis Action Activist Camp. 
Students who received pins and were named during the ceremony included the following:
Health Sciences Students: Hamdi, Abdullahi, Cynthia Albarado-Pizarro, Meghan Brown, Sita Budathoki, Trinity Bunkusol, Mady Cole, Carla Cuevas, Aeris Ewing, Nachalah Gardiner, Elena Giford, Delaney Goertzen, Sarah Beth Gueldner, Ashley Haddock, Eve Hansen, Jayden Hansen, Damon Harrell, Maddie Hergott, Claire Hill, Abe Husmillo, Amanti Ismajlaj, Alexa Johnson, Alic Johnson, Mackayla Jones, Megan Juhnke, Victoria Kampel, Haylee Kent, Hannah Krier, Megan Lee, Jasmine Lee, Kaylin Leon, Rachel Less, Abby Lewis, Vianey Lopez, Matija Matic, Taylor Mcaulay, Joy Mielke, Jaita Nolting, Taylor Oberpriller, Connor Oetzmann, Emina Oglecevac, Ajla Osmancevic, Jocelyn Pauta, Jake Pawlowski, Campbell Pipkin, Michele Rabbitt, Savannah Schaefer, Ella Schmitt, Paige Steil, Sakshi Tiwari, Faviana Torress Laboy, Jazmin Torres Mulgado, Maria Vincent, Hannah Wdierman, Sophie Weis, Mara Westphalen, Alexandria Whyte, Taylor Wyss
Master of Athletic Training Students: Tanasha Atwater, Nicole Jones, Alex Klosterman, Corby Roush
Occupational Therapy Doctoral Students: Haley Austin, Chloe Barton, Sarah Brokus, Bryce Browning, Bailey Broxson, Jessica Cartee, Lauren Caseley (Hansen), Sydney Cummings, Samantha Cutler, Konstantia Dickens, Allie Dmyterko, Jessica Ehm, Emma Engelby, Mesa Engelhardt, Radie Hain, Mai Hardie, Kaitlyn Hester, Audri Higginbotham, Makayla Ihde, Josh Kimm, Travis Krayenhagen, Lauren Lerner, Dani Marquez, Austin McMurray, Jessica Merrill, Mercedes Morsching, Jenna Mullen, Lauren Muzzalupo, Kevin Ockenfels, Kailey O'Donnell. Karissa Olson, Shivani Patel, Megan Peschong, Sami Pick, Jessica Potter, Zach Promes, Hanna Risse, Tessa Shields, Libby Slagle, Zola Sloth, Rachel Stafford, Shianne Streeter, Danyelle Sutton, Sonya Swenzinski, Tiya Tito, Cheyenne Voschell, Jenna Lynn Willer, Caitlin Wright
Doctor of Pharmacy Students: Jyoti Adhikari, Emily Albers, Brandon Ash, Cameryn Baldwin, Megan Barber, Adrianne Bentzinger, Leah Bishop, Grace Brent, Morgan Bump, Ashlie Bunten, Adam Butzler, Reanna Campbell, Autumn Campbell, Ben Clemenson, Sneha Cyriac, Grace Dahlen, Nguyen Dang, Briana DiBenedetto, Rachel Dietz, Marie Fergot, Jerime Gendron, Noah Givant, Ashley Grady, Megan Hartle, Braeden Hartwig, Eric Heung, Ted Heying, Ellie Hodapp, Evan Jacobsen, Ally Klein, Katie Krusenstjerna, Anna Laire, James Lefevre, Celine Lie, Kailey McCollough, Jorin McGuire, Jack McLoone, Annika Meyers, Hannah Mubark, Molly Nelson, Ken Nguyen, Naomi Onyibe, Lily Oran, Lucy Palmquist, Mahi Patel, Nicole Pawlicki, Brooke Pederson, Haley Pertzborn, Zachary Pogge, Keegan Preston, David Ratsavong, Ropafadso Runesu, Jamie Rusan, Brooklyn Sanderson, Morgan Schrage, Bailey Shie, Brandon Shulfer, Michael Stiewe, Darryle Stoltman, Danira Suljic, JT Tauke, Adna Tokmic, Danielle Vo, Maddie Weaver, Kim Welch