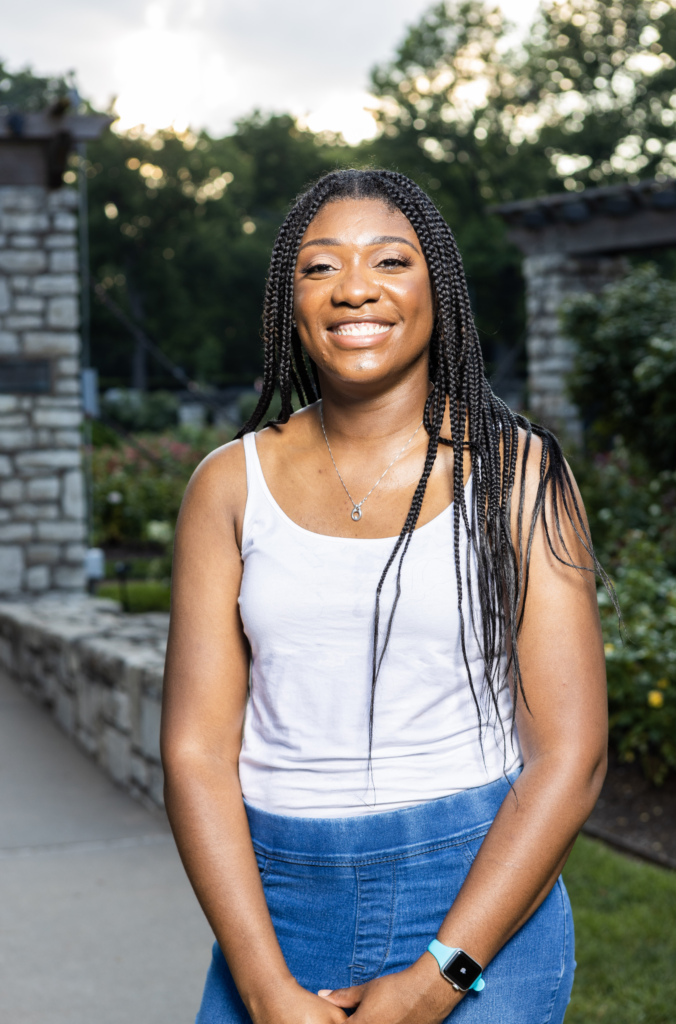 Tell us about yourself.
I've always described and identified myself as a Black woman. As I continue to stand in the power of my Black womanhood, two of my most important roles are as a wife to my husband of five years, Marquis, and mother to our 4-year-old daughter, Mari. Professionally, I have worked in the field of education for more than a decade, currently serving as the manager of career and technical education for Kansas City Public Schools. I also serve as a facilitator for the Parent Leadership Training Institute Kansas City, where I help support parents as they learn skills to best advocate on behalf of children.
When did you graduate and what did you study at Drake?
I graduated from Drake in 2010 with degrees in public relations and sociology.
Tell us about your career path? How did you get to where you are today?
As an undergraduate at Drake, my plan was to work in higher education and student affairs for my entire career. My first full-time role was serving as the parent and family services coordinator at Northern Arizona University, and I aspired to ultimately hold a position as the dean of students on a college campus. I did return to Des Moines for about a year and half and served as the assistant director of admissions and diversity initiatives for the Drake University Law School—I appreciated the opportunity to help people achieve their law school dreams. As part of that role, I planned events for high school students to give them exposure to the legal profession. Through that process, I realized that I could better support the pipeline to the profession and other professions by working with students before they graduated from high school. I'm currently serving as the manager of career and technical education for Kansas City Public Schools, and the best part of my position is being able to develop programs and initiatives that support students completing internships, industry recognized credentials, and other market value assets most beneficial to a successful life after high school.
What led you to pursue a career in the education field?
Education has always been important, and I've always taken school seriously. My mother, a fellow Drake graduate, has been in the field of education for 40 years and is a source of inspiration, and based on my own experiences, I understand the power and impact that education can have on our lives. I haven't had the experience of being a classroom teacher; however, I know that the work I've done and continue to do has impacted the lives of many students.
Volunteerism and mentorship have been an important part of your career. In what ways do you give back to your community and/or school district?
I serve as a mentor for the Kansas City Public Schools Mentoring program. Over the past two years, I've had a few mentees, one being a student at my former elementary school. I am also a reviewer for KC Scholars, a program that awards scholarships to high school students and adult learners. The best part about this volunteer role is knowing that I have a direct role in assisting others who have goals of earning degrees by simply reading and scoring essays. I also give back as a member of Centurions, a leadership program that I was selected to participate in, sponsored by the Greater Kansas City Chamber of Commerce.
What inspires you to give back to your community? Did you have mentor in your life who instilled this spirit of giving in you?
I am inspired to give back to my community for a simple reason. I believe it is important to invest in the people and places that have invested in me, so it is an easy "yes" when I am asked to do something to support programs and organizations that I have personally benefited from. As a student at Drake, several upperclassmen (Deidre DeJear, Shekinah Young, and others) took me under their wings during Welcome Weekend of my first year. I saw them leading the Back 2 School Bash (now known as Back2School Iowa) as college students and they contributed to the way I view service and giving back.
Tell us about your most recent accomplishment—a new children's book! What is Mari and Mommy Move it! about? Where did your inspiration come from for the story?
My daughter, Mari, is the source of inspiration for the book. She truly loves to dance and move around, so I thought it was the perfect title. While reading stories with her over the past four years, I began to realize that I could also write a children's book and eventually have it published. The thing that I love the most is that my daughter knows the title of the book and is just as excited as I am about it.
What message do you hope children take away from reading this book?
The book represents many things, including being able to show her that achieving dreams is possible. I still have the paper draft of the book, and in 2019, I made a connection with a publisher that was able to help me bring the book to life. Mari and Mommy Move It! also serves as an opportunity for other Black children, especially girls, to see themselves represented in books with their brown skin and curly hair.
As you know, February is Black History Month. What does Black History Month mean to you?
Black History Month means an opportunity to recognize the history being made every day. Many of the accomplishments of Black people have been made in the face of adversity, racism, discrimination, and exclusion. I see this month as an opportunity not only to learn about those that have come before us, but also to continue to challenge the systems that allow that exclusion to exist.
What do you hope is accomplished during the month of celebration and recognition?
Each year, I hope that Black people are continually given the space to exist, as freely as possible. Blackness doesn't always have to be associated with struggle; there is joy that exists as well. One of the things that I loved about being a student at Drake was the Black History Month programming, put on by the Coalition of Black Students (CBS). We got a chance to not only celebrate with food and fun, but we were able to educate others on campus. I continue to admire the efforts of CBS from afar and appreciate how they have kept some traditions yet have added new programs and events as well.
These past few years have been like no other. What advice would you give to seniors graduating this spring and preparing to begin their careers?
My advice is to be open: Open to the possibilities of career opportunities, while being willing to release the ideas you may have had about what post-graduation life looks like; and open to moving to a new city and pursuing your passions, while not forgetting to live and have fun. I appreciate how millennials and Gen Z are more adamant about knowing their worth and value, especially when it comes to their careers and from personal experience, I wished I would have realized my value sooner rather than later in previous roles.