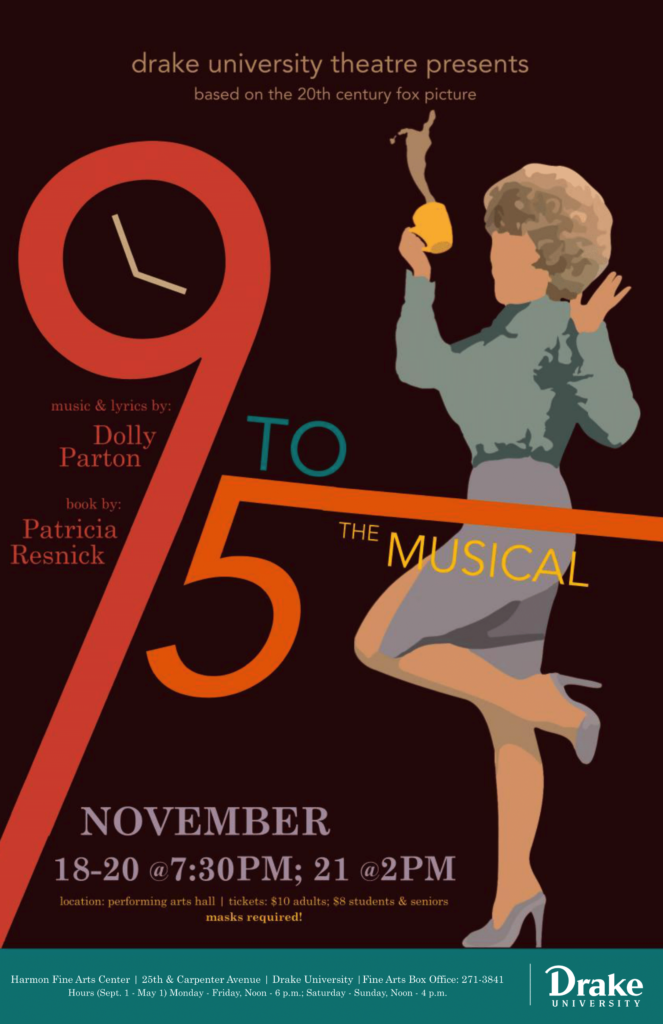 Drake University Theatre Arts presents "9 to 5 the Musical" by Dolly Parton at 7:30 p.m. Nov. 18–20 and at 2 p.m. Nov 21 in the Performing Arts Hall at the Harmon Fine Arts Center.
"9 to 5 the Musical" will be the first Drake Theatre musical open to a public audience since November 2019 due to the COVID-19 pandemic. Face coverings will be required for all audience members to watch the show.
Director and Choreographer Erin Horst couldn't be more grateful for the opportunity to have live audiences for the musical. "We've all been waiting for live theatre to come back," Horst said. "We're cautiously optimistic that the world will continue to move in the right direction, but so excited to have the support of the University to safely share our work."
"9 to 5 the Musical " is based on the 20th Century Fox film and follows the story of Violet, Doralee, and Judy trying to make a living in the workforce. Their paths soon cross as they deal with harassment, mistreatment and poisoned coffee in the office.
Jude Thurman plays the leading role of Doralee Rhodes and celebrates the special moments found in "9 to 5 the Musical."
"It's comedy gold," Thurman said. "There are plenty of jokes cracked, amusing songs, and chaotic scenes leaving you all with a smile on your face after you walk out of the theatre."
Along with an engaging story, "9 to 5 the Musical" has high-energy choreographed numbers. Senior Brent Nery is assistant choreographer for "9 to 5 the Musical" and shares his creative process behind composing dance.
"I start my process with text and character analysis … from there the fun part begins which is movement," Nery said. "I'm the type of choreographer who doesn't just choreograph random dances, but uses more storytelling through movement."
Actress Mia Alaimo believes "9 to 5 the Musical" leaves an important message about the mistreatment of women in the workplace and the strength they find when change is made.
"This show is about women in power…there are so many talented women in the industry who don't get recognized for their work and talents, and it's time that they do," Alaimo said. "In a lot of cases women have to work twice as hard to make a name for themselves in today's world."
Actress Addie Thrower relates quite a bit to her character when preparing for the lead role of Judy Bernly.
"I do relate to Judy in many ways because she is someone who struggles with finding confidence, and I think this is something that I also have struggled with in the past." Thrower said.
Thurman had a similar discovery about herself and the larger than life, Doralee who was originated by Dolly Parton herself.
"Doralee is unapologetically herself, she has big hair, wears lots of makeup, wears clothes that make her stand out, she's kind, empathetic, strong-willed, yet people still seem to rag on her," Thurman said. "I find it difficult to remain true to myself when it feels like everyone is casting judgement on me, but I've slowly realized over my few college years that standing out is a lot better."
Horst urges everyone to attend this show not only for the entertainment value, but to support all of the Drake students who have put in work for this show.
"Come see it for the students. Always for the students," Horst said. "They have put their hearts and souls into this production for the last 6 weeks and they're so excited to share their hard work."
Tickets for "9 to 5 the Musical"are now available online or by calling the Fine Arts Box Office at (515) 271-3841.