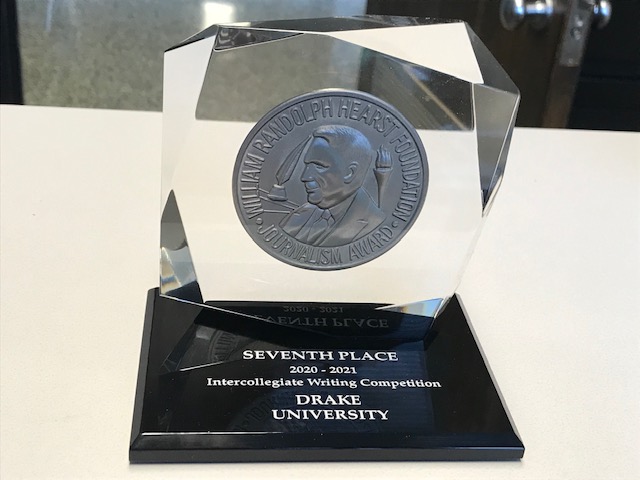 Who loves ice cream?
The SJMC will celebrate our return to campus with an ice cream social Thursday, Sept. 9, 12:15-2:15 p.m. (as long as supplies last) outside the west door of Meredith Hall. If weather cooperates, we'll also have sidewalk chalking patterned after Drake's iconic street painting. Come promote the SJMC and/or your favorite media organization. From 1:30 to 3:30 p.m. we will welcome the newest members of our team: Dr. Ryan Stoldt, assistant professor of advertising, and Lindsay Gilbert, assistant director of professional and career development services.
Deadline approaching for Meredith Hall scavenger hunt
The deadline is tomorrow, Sept. 7, for entries in the SJMC Meredith Hall scavenger hunt. As you find the objects of the clues, please post a selfie tagging @DrakeJMC and using the hashtag #DiscoverDrakeSJMC. Participants who find and post all 10 items will be entered in a drawing for prizes, including SJMC notebooks and Drake mugs. We will announce winners after Sept. 7. Good luck!
In SJMC, the First Amendment is at the heart of everything we do. Where can you find the First Amendment in Meredith Hall? (It's in three different places — find one!)
Our goal in SJMC is to become your "mentors for life." Which SJMC mentor has a pet collage posted outside her office?
Many SJMC classes involve learning through service to our community and clients. Where can you record a podcast or read for IRIS (the Iowa radio reading service for the blind)?
We offer six award-winning majors in SJMC. Find an impressive array of American Advertising Federation Awards.
An SJMC education combines liberal arts with professional training. Where can you find "10 Tips" for building a sterling public relations career?
Our unique Strategic Political Communication major takes advantage of Drake's front-row seat to national politics. Where is the CNN plaque commemorating Drake's role in hosting a presidential debate?
Drake's Magazine Media program is widely recognized as the best in the nation. Find the latest issue of Drake Mag.
Where is the office of Drake's own student newspaper, established in 1884?
Find the Drake Broadcasting System (DBS) office and home of "The Dog" Radio. (Tip: They proudly call themselves "the basement dwellers" for a reason!)
A Drake SJMC education is characterized by hands-on, experiential opportunities. Where is the SJMC Internship Coordinator's office?
Get involved in the Times-Delphic
Interested in covering local and campus news? Want to gain valuable journalism experience? The Times-Delphic is Drake's weekly student newspaper, and it is currently looking for talented writers and photographers. Come to the Times-Delphic Interest Meeting on Tuesday, Sept. 7 at 7 p.m. in Meredith 101 to learn how you can get involved, and maybe win a few prizes. Questions? Contact editor-in-chief Emma Brustkern at emma.brustkern@drake.edu.
Drake Political Review is looking for writers, EFR editor
Interested in writing for Drake Political Review this semester? Attend the DPR fall brainstorming session on Wednesday, Sept. 8, 6-7 p.m. in Meredith 124B to pitch your ideas. Can't make the meeting? Pitch your ideas virtually here.
Drake Political Review is also looking for a First-Year Assistant Editor to join the staff. All first-year students are eligible to apply, but ideal candidates are deadline driven, politically minded and team-oriented. The First-Year Assistant editor will coach writers, edit articles and attend staff meetings throughout the 2021-22 school year. Learn more about the position and apply here. Applications due Sept. 17. Questions? Email editor-in-chief Jessica Comstock at jessica.comstock@drake.edu
Drake athletics hosts student job fair
If you are interested in working in a Division I college athletics department, stop by the Drake Athletics Student Job Fair on Thursday, Sept. 9 in the Courtside Club from 4 to 6 p.m. to learn more about what types of jobs are available. Departments that will be in attendance are communications, marketing, video production, rec services, facilities, equipment, ticket operations and more. Students who attend will be entered to win a $25 Amazon gift card. For questions, email spike@drake.edu.
Explore the Drake Innovation Studio
Meredith Hall 124C is the home of the Innovation Studio, a multidisciplinary collaboration that encourages and celebrates creativity. Join professors Chris Porter and Chris Snider on Thursdays, 1-3 p.m., to learn how to use any of the Innovation Studio equipment and activities, including 3D printing, Carvey wood/tile carving, heat press T-shirt making, and button and sticker making.
Bikes for borrow and rent
If you didn't bring your bike to campus, there are plenty of rental options. Bicycles are available for free with a Drake ID at the Drake Bike Library in the Olmsted Center. Bikes can be checked out when the Student Life Center is open and must be returned before it closes.
There are also multiple BCycle bike-share stations around campus. Riders can check out a bike from a station for up to one hour and return it to any BCycle station. Drake faculty, staff and students can purchase an annual membership at https://desmoines.bcycle.com/.  Use your drake.edu email address and the promo code Bulldogs2021 to receive an 80 percent discount.    
Meredith Hall building hours for fall semester
Meredith Hall is unlocked Monday through Friday from 7 a.m. to 10 p.m., and Saturday and Sunday from 7:30 a.m. to 6 p.m.
Have a news item for the Memo?
The SJMC Monday Memo (and other days of the week as needed) is a newsletter to keep members of the wider SJMC community updated on School news, achievements, events and opportunities. If you have an item for the Memo, please send it to Dean Kathleen Richardson (kathleen.richardson@drake.edu) or SJMC webmaster and multimedia professor Chris Snider (christopher.snider@drake.edu). SJMC alums and other professionals can also subscribe to the Monday Memo via email here: http://eepurl.com/bPNbxn