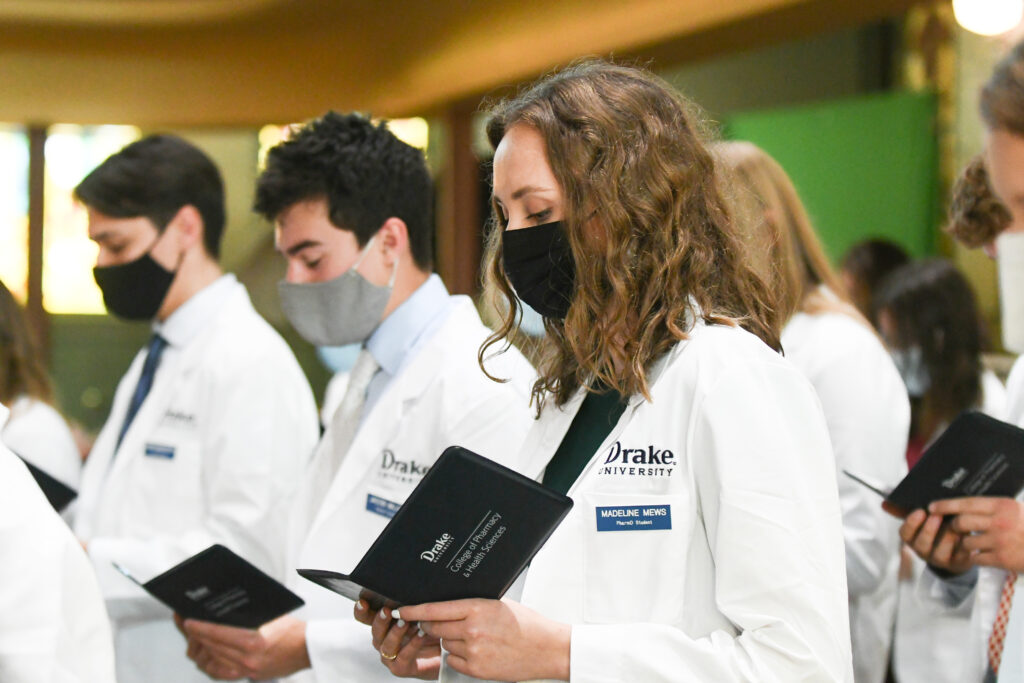 Drake University's College of Pharmacy and Health Sciences (CPHS) recently welcomed 48 members into the Occupational Therapy Doctorate (OTD) Class of 2024 and 66 members into the Doctor of Pharmacy (PharmD) Class of 2025. The College continued its tradition of welcoming the incoming students through a two-day professional orientation program, culminating with the White Coat Ceremonies.    
The academic performance and demographics of these classes reflect the intent of Drake to maintain its high academic standards for admitted students, recruit a diverse cohort of students, and attract students from a wide range of geographic locations. The OTD Class of 2024 and the PharmD Class of 2025 begin their professional journey with a solid academic foundation with pre-professional average GPAs of 3.5 and 3.6 on a range from 3.0 to 4.0. The CPHS commitment to diversity is reflected in both classes. Eight percent of the OTD Class of 2024 and twenty-six percent of the PharmD Class of 2025 identify as students of color. Forty-five (45) of 48 OTD students and 45 of 66 PharmD students identify as female. The OTD and PharmD classes are also geographically diverse. Students come from as far as Arizona, Florida, and internationally joining students from Iowa and surrounding states.  
The CPHS welcomed each class during two White Coat Ceremonies on Friday, August 27th in Sheslow Auditorium. Renae Chesnut, dean of the College, provided opening remarks during each ceremony. Chuck Phillips, associate dean of curriculum and assessment, announced the students as they walked across the stage one by one and donned their white coats for the first time. OTD students heard remarks from Jessica Ehm, Student Governance O2 Class Representative, and Denise Behrends, Iowa Occupational Therapy Association Legislative Chair. Behrends led the OTD students in reciting the Professional Oath of an Occupational Therapist. PharmD students heard remarks from Jerime Gendron, Student Governance P3 Class Representative, and Kate Gainer, Executive Vice President and CEO of the Iowa Pharmacy Association. Gainer led the PharmD students in reciting the Professional Oath of a Pharmacist.  
"The White Coat Ceremony is one of the most significant events that our PharmD and OTD students experience as they begin their journeys in our professional programs," said Renae Chesnut, dean of the college. "As a result, we developed plans to hold a physically-distanced, safe event that allowed our students to come together as a class to don their white coats and take their professional pledges."
The ceremonies were both live-streamed and recorded at https://www.drake.edu/cphs/white-coat-ceremony/.