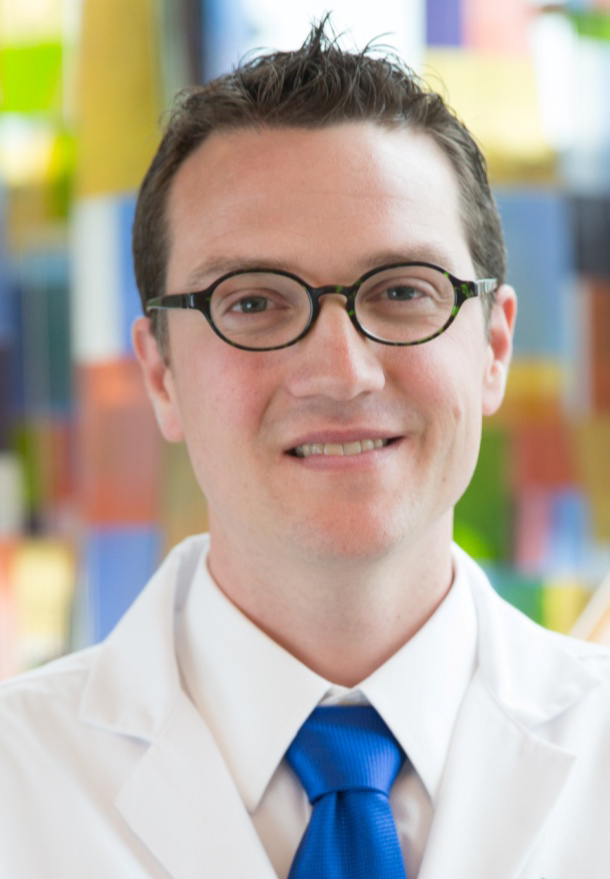 Erik Maki, associate professor and clinical sciences department chair, was honored with the 2020-2021 Drake University Madelyn M. Levitt Distinguished Community Service Award. The Madelyn M. Levitt Distinguished Community Service Award recognizes a faculty or staff member with a demonstrated personal commitment to volunteerism and community service as well as professional and personal values and behavior that typify the ideals of giving back to others. 
"Erik Maki's enthusiasm and passion for serving are on display around the clock. He IS literally changing the world – through his leadership and service," said Sue Mattison, Provost. "He is a leader among peers, with a heart to educate students and serve the greater good. He is so deserving of this recognition."
Maki was instrumental in working with the Polk County Public Health Department and Hy-Vee to organize weekly vaccination clinics on Drake's campus in the spring of 2021. From January to May of 2021, more than 10,000 doses of the vaccine were administered to Polk County, Iowa, residents. Previously, Maki spearheaded the COVID-19 testing of students at Drake University as they moved to campus in the fall 2020 and spring 2021 semesters and assisted the University in the surveillance testing of students throughout the academic year.
"I am tremendously honored to receive this award," said Maki. "This was truly a team effort and I'm thankful to work with such a wonderful group of faculty, staff, and students who frequently and generously volunteered to meet the needs of our campus community."     
Maki has lived the core values of Drake University and a commitment to service since joining the faculty in 2005. He's been elected to the Faculty Senate since 2017, served as Chair of the Information Technology Services Advisory Group, on the Executive Committee. He served on the Drake Institutional Review Board from 2007 to 2015 and was Chair from 2015 – 2017. Maki also served on the ad hoc committee on university curricular reform from 2014 – 2015 and is the current faculty advisor for the Drake Running Club.
Within the College, Maki has served on several committees including the DELTA Rx Committee, Admissions Committee, and the Academic Affairs Committee. He was the Chair of the Academic Affairs Committee from 2015 to 2017, Chair of the New Programs Workgroup in 2014, and has been the Pharm4Me Recruitment Champion for the College since 2017.
Outside of the University, Maki has dedicated considerable time to the pharmacy profession through his membership and leadership in the Iowa Pharmacy Association, the American Association of Colleges of Pharmacy, and the American College of Clinical Pharmacy. Governor Reynolds appointed Maki to a three-year term on the Iowa Board of Pharmacy effective May 1, 2021.