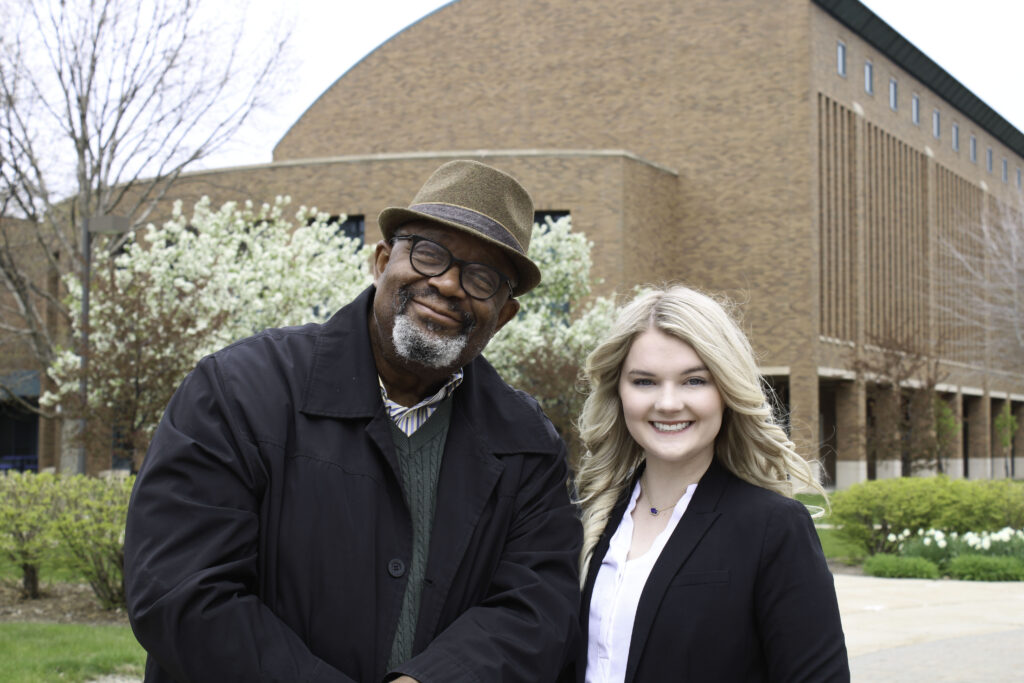 Drake 3L Jancy Nielson is passionate about working to support and protect the rights of individuals who feel voiceless and invisible in the systems they navigate. Her dedication to such issues drove her decision to pursue a legal education that would provide not only a solid foundation in the law, but also opportunities to gain additional experience in legislative and policy work. She found that powerful combination at Drake Law School and its Legislative Practice Center.
"I saw the Legislative Practice Center [at Drake] and thought, 'that's the whole reason I came to law school,'" Nielson said.
Drake Law's Legislative Practice Center (LPC) engages students in the legislative process by combining coursework with internships. Graduates of the program have gone on to successful careers with administrative or government agencies, public interest groups, trade associations, unions, businesses, and private law firms engaged in governmental work. Julie Smith, Director of the LPC, takes a personal approach to matching students' interests to the myriad opportunities available in Iowa's capital city.
"The Legislative Practice Center at Drake offers students a unique opportunity to pursue their interests in a particular area," Smith said. "The best part of the program is having the ability to get to know students and really talk about what the student wants from their Drake Legislative Practice experience."
Nielson is working with Wayne Ford (ED'74, Hon.DH'18), founder of the Wayne Ford Equity Impact Institute. The Institute is a clearinghouse of information and resources regarding minority impact statements, which are tools lawmakers use to evaluate how proposed legislation might disproportionately impact underrepresented populations. In 2008, Iowa became the first state to require minority impact statements for any new policy dealing with criminal justice. Ford, who served as a state legislator from 1996-2010, authored the bill. Since then, other states have implemented similar legislation.
When Nielson joined the project, she researched and compiled information on the status of minority impact legislation in all 50 states. She and Ford then reached out to states that had proposed legislation in recent sessions in an attempt to build support and work toward the eventual passage of minority impact statement legislation. Their goal is to encourage other municipalities, states, and even countries to use the resources of the Equity Impact Institute to craft language to propose their own legislation.
"We've already shared a portion of our research with a few states, and we're working on building a website," Nielson said. Next steps include reaching out to the Biden Administration and relevant public interest groups to encourage the enactment of legislation on a national level. They have already received attention from national organizations for their work, and plan to use the media coverage to expand their efforts.
Nielson is the second intern from the Legislative Practice Center to work with Ford–– and he credits Julie Smith for providing this crucial student support.
"Julie Smith has put together an extraordinary program with very talented and gifted students who have taken my nonprofit to new heights," said Ford. "I would advise everyone to work with the Legislative Practice Center at Drake."
Jerry Anderson, Dean of Drake Law, added that the program gives students the chance to make a difference throughout their legal education.
"So many jobs in law come down to seeking legislative change and you cannot get the tools you need to effect change by sitting in the classroom," Dean Anderson said. "Our students learn how to effectively engage with the legislative process and end up with a resume showing they have the experience needed to be successful in this field."
Nielson will continue her work with the Equity Impact Institute as an intern this year and plans to expand her role and work full-time with Ford after she graduates.
"What I have gotten out of this program is more than I thought I would get out of my entire law school experience," Nielson said.
Learn more about the Legislative Practice Center here.