Chariton High School's journalism class will be visiting Meredith Hall this week. Welcome to Drake SJMC!
SJMC junior wins coveted ASME internship
SJMC junior Savanna Bous has been awarded a prestigious summer internship through the American Society of Magazine Editors. ASME interns work for magazines in New York City and Washington, D.C., for 10 weeks. The internships are currently virtual, but may switch to in-person.
Drake Mag applications due
Last chance to apply for a 2021-22 position with Drake Mag! Applications are due today, April 26, by 7 p.m. The applications are still available here. Contact Kaili Miller, 2021-22 editor-in-chief, at kaili.miller@drake.edu with any questions.
Drake Political Review staff applications open
Drake Political Review is hiring editors for the 2021-22 school year. Positions include staff editors, copy editor, web editor, and assistant design editor. Learn about the available positions and apply here. Applications are due May 7 by 11:59 p.m. Contact editor-in-chief Jessica Comstock at jessica.comstock@drake.edu with any questions.
DBS is hiring
Drake Broadcasting System is hiring for an array of positions. These include vice president, program director, video producer, live stream coordinator, sports director, and operations manager. DBS wants the tastemakers, the creatives, the out-of-the-box thinkers, the up-at-night editors, the busybodies, the chance takers, and the ones willing to learn.
If you're any of those things – or want to be – please apply. Don't worry if you have little or no experience – DBS will fix that. Click the link to apply. Applications are due on May 1, 2021.https://forms.gle/G1oH1XkDK1SaCavk8
Graduates, get your SJMC mug!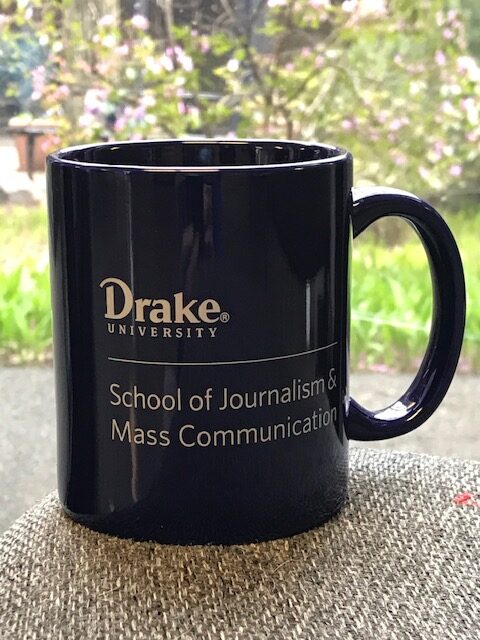 School of Journalism and Mass Communication coffee mugs are available as farewell gifts for SJMC graduates. Contact administrative assistant Denise Ganpat at denise.ganpat@drake.edu to arrange to obtain yours.
Alumni news
Pam Schoffner, JO'72, was recognized for alumni leadership by the 27 institutional members of the Iowa and Minnesota Campus Compact. Schoffner, a freelance communications consultant, has spent the past 21 years volunteering for EveryStep Care and Support Services. She raises funds for the organization, and helps provide services through hospice and Amanda the Panda, which supports grieving children and teens.
C.J. Rivers, JO'18, has joined the coaching staff of Loyola men's basketball as video coordinator. He just completed his master's degree at Colorado State, where he was a grad assistant coach for former Drake coach Niko Medved.
Erin Hassanzadeh, JO'14, anchor and reporter for WCCO-TV in Minneapolis, was interviewed about her career by The Reynolds Sandbox.
An opinion piece by Lucca Wang, JO'11, about the history of anti-Asian racism in the United States was published by Ms. magazine.
Three giving challenges wind up Meredith Hall campaign
Exciting things are in store for Meredith. An extensive renovation will make the building more environmentally friendly and better suited to modern teaching and learning styles. And starting next fall, Meredith will become even more the creative heart of campus as the home of Drake's new John Dee Bright College and a new entrepreneurship incubator.
Find out how you can become involved in this transformation at https://alumni.drake.edu/Meredith. We have three matching gift challenges for the renovation campaign through June 30, 2021:
A challenge for the Times-Delphic from Clark Bell, JO'73, and Doug Sauter, BN'73. Clark and Doug will match $30,000 in gifts made to Meredith, in honor of our historic and highly acclaimed student newspaper. Clark is retired director of journalism programs at the McCormick Foundation. He is responsible for the SJMC's longtime collaboration on political reporting with the prestigious Poynter Institute.
A challenge for Professor Bob Woodward from Jeff, JO'94, and Lisa Russell, JO'93, JO'98. Jeff and Lisa will match $15,000 in gifts made to Meredith, in honor of a beloved and legendary teacher and mentor.
An alumni challenge for your favorite SJMC professor, mentor or advisor from Dean Kathleen Richardson, JO'76, JO'01, LW'02. Dean Richardson will match $10,000 in gifts made to Meredith, in honor of your favorite SJMC professor, mentor or advisor.
Have a news item for the Memo?
The SJMC Monday Memo (and other days of the week as needed) is a newsletter to keep members of the wider SJMC community updated on School news, achievements, events and opportunities. If you have an item for the Memo, please send it to Dean Kathleen Richardson (kathleen.richardson@drake.edu) or SJMC webmaster and multimedia professor Chris Snider (christopher.snider@drake.edu). SJMC alums and other professionals can also subscribe to the Monday Memo via email here: http://eepurl.com/bPNbxn