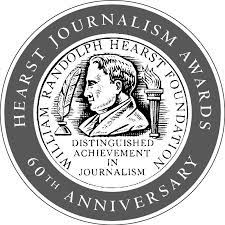 Carson J.S. Reichardt, a Drake senior news major, has placed in the top 20 in the personality profile contest of the national Hearst journalism competition. His profile of Iowa state auditor Rob Sand appeared in Urban Plains, the multimedia website created by the magazine media, multimedia journalism and digital media production seniors. Reichardt is also the Drake School of Journalism and Mass Communication academic senator.
Drake University now ranks in the top five institutions in the Hearst competition, after winning three awards in earlier monthly contests.
The personality profile competition drew 114 entries from 64 universities. Judging the writing competitions this year are Dwayne Bray, journalist-at-large, ESPN's The Undefeated; Larry Kramer, retired president and publisher, USA Today; and Maria Reeve, managing editor/content, Houston Chronicle.
The Hearst Journalism Awards Program is conducted under the auspices of accredited schools of the Association of Schools of Journalism and Mass Communication and fully funded and administered by the William Randolph Hearst Foundation.