Drake student places 6th in national Hearst writing contest
Ashley Flaws, a December 2019 SJMC graduate, has placed in the top 10 in the national Hearst Explanatory Writing Competition.
Drake SJMC currently is in first place in the annual Hearst Intercollegiate Writing Competition after two Drake students also won awards in the feature writing contest in December.
Ashley placed sixth for her story on the struggles of ethanol, how dependent Iowa's farmers now are on the fuel, and how that will affect Iowa in the future. The story appeared on Urban Plains, the SJMC's senior capstone website created by magazine media, digital media production and multimedia journalism majors.
Ashley is now marketing and communications coordinator at the Iowa Dental Association.
Apply for prestigious Meredith apprenticeship
You can work for the largest magazine media company in America. The Meredith Apprenticeship Program brings together ambitious journalists, graphic designers and data analysts to give them both academic credit and professional, portfolio-level work experience.
Selected students commit to working 15-20 hours per week at Meredith Corporation both semesters of either their junior or senior year. Apprentices earn $10 an hour as well as academic credit.
Students will build algorithms to improve audience targeting, write stories for national magazines, or design layouts and promotional materials to reach Meredith's audience of over 50 million people. This year there will be:
6 editorial positions
3 design positions
1 data analyst
To apply either share a Google Drive link or send an email to jeff.inman@drake.edu containing a cover letter, resume, and (if applicable) up to five work samples all contained in one PDF by 5 p.m. Friday, Feb. 26. Interviews will be held Friday, March 12 between 9-11 a.m. For more info contact Professor Inman at the above email address.
National Association of Black Journalists chapter forming
Tisia Muzinga, a reporter for KCCI-TV in Des Moines, is starting a chapter of the National Association of Black Journalists covering Iowa and Nebraska. If you are interested in getting involved, please contact her (Tisia.Muzinga@hearst.com).
Remember to sign up for Feb. 19 career conference
Registration is now open for the Feb. 19 career and professional development conference, "Be Unstoppable." Register on Handshake. Session topics include "Let's Get Honest and Play Fully Brave," "More Success With Less Stress," "Creating a Culture of Dignity in an Era of Social Discord," "Showing Up — The X-Factor of Success" and "Disrupt for Success With Authenticity," among others. There will also be panels of Black and LGBTQ alums and a vendor room featuring employers.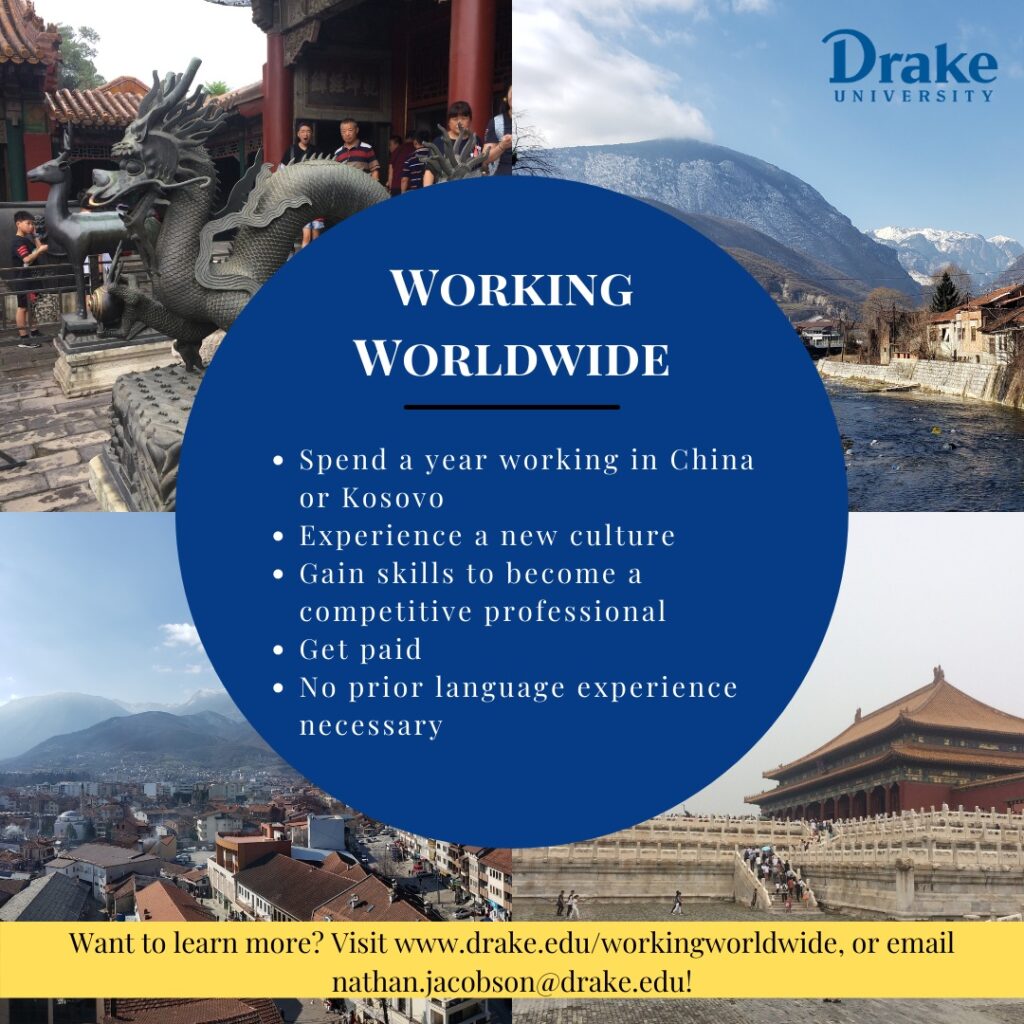 Explore working abroad post-graduation
Are you interested in working and living abroad after graduation? If so, Working Worldwide might be the perfect program for you! Working Worldwide is an opportunity for recent graduates to live and work in China or Kosovo for a year.
Applications for Working Worldwide 2021-2022 are now live! You can start an application in Terra Dotta, our online application system. Applications are due by March 1.
If you're looking to expand your horizons, develop skills to be a competitive professional, and do something different after graduation, look no further than Working Worldwide!
Want to learn more? Attend a virtual information session! Details found here.
Questions? Reach out to nathan.jacobson@drake.edu.
Student HR Association hosts career event
Drake's Student HR Association is hosting an event on Tuesday, Feb. 23, at 7 p.m. CST. Guest speaker Michael Kaplan will discuss how to create a unique value proposition and how students can create an elevator pitch when speaking with potential employers. Kaplan will also review interviewing and salary negotiation strategies. For more information, contact millie.bretl@drake.edu. The Zoom link is
https://drake-edu.zoom.us/j/86310320894?pwd=Vy9OeDdOcmRRNG9oT3RwUmpXK254dz09
Meeting ID: 863 1032 0894
Passcode: 080989
Alumni news
SJMC alumna Nadia Valentine, JO'17, was featured in a Teen Vogue article about Black women in America: https://www.teenvogue.com/story/black-women-in-history-united-states
Apply for SJMC scholarships by Feb. 14
Remember that applications for 2021-22 SJMC scholarships are due Feb. 14. See previous Monday Memos for details.
Meredith Hall hours for the spring
Meredith Hall is unlocked during the following hours when classes are in session:
Monday-Friday: 7 a.m.-4:30 p.m. (card access 4:30-11 p.m.)
Saturday-Sunday: Card access only (8 a.m.-8 p.m.)
Students and employees can swipe into the building with a Drake ID when the building is locked from 7 a.m.-11 p.m., Monday through Friday. Please do not enter the buildings outside of these hours, as that time is used to sanitize and prepare the building for the following day. Students who need 24/7 access to swipe into the building should talk to their faculty member or adviser about how to obtain all-hours access. Podcast rooms should be open Monday through Friday, 8 a.m.-4:30 p.m. for IRIS reading.
Have a news item for the Memo?
The SJMC Monday Memo (and other days of the week as needed) is a newsletter to keep members of the wider SJMC community updated on School news, achievements, events and opportunities. If you have an item for the Memo, please send it to Dean Kathleen Richardson (kathleen.richardson@drake.edu) or SJMC webmaster and multimedia professor Chris Snider (christopher.snider@drake.edu). SJMC alums and other professionals can also subscribe to the Monday Memo via email here: http://eepurl.com/bPNbxn