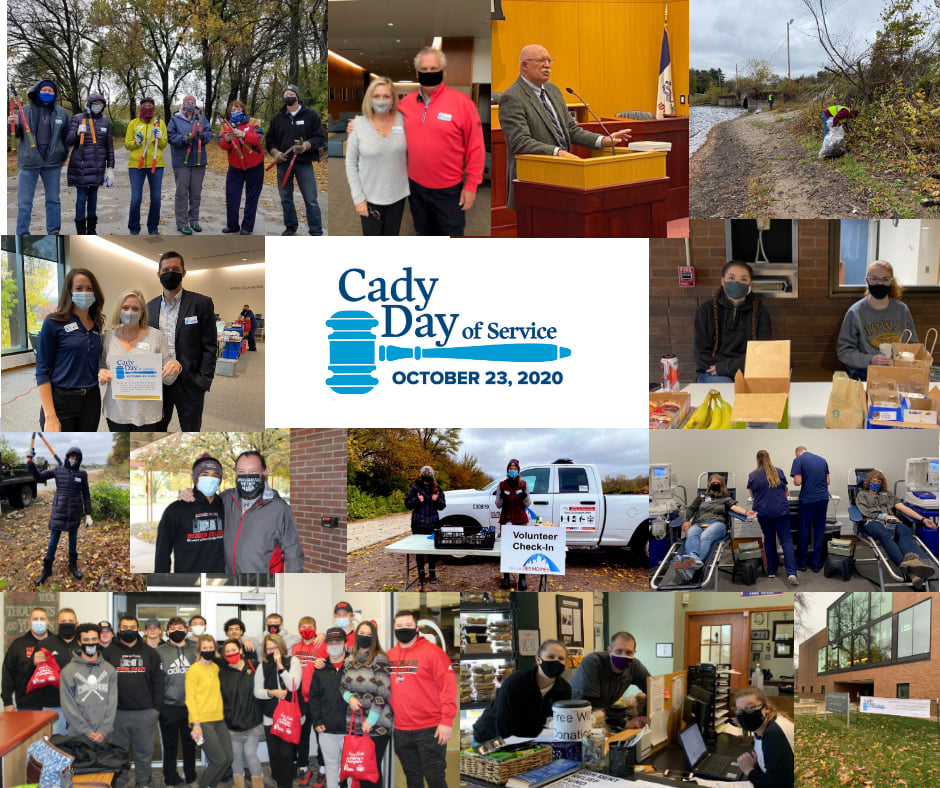 Thanks to hundreds of volunteers from Davenport to Council Bluffs and beyond the borders of Iowa, the inaugural Mark S. Cady Day of Public Service was a huge success. Despite the pandemic, lawyers and other community members provided pro bono legal services, public education programs, and other community service to honor and celebrate Chief Justice Cady's legacy and commitment to public service, access to justice and civil rights.
Rough estimates indicate that events held as part of Cady Day of Public Service impacted well over 10,000 individuals. Here are some of the ways volunteer engagement, energy, and enthusiasm made a difference:
Approx. 75 volunteers provided legal services or legal education programs that benefitted over 250 individuals
Over 6,000 pounds of food was donated, sorted and packaged for local food banks
Donations to virtual food drives provided 5,000 meals to the food insecure
Over 8,000 diapers and 35,000 wipes were donated to local diaper banks
Approximately 200 lives were saved or sustained by blood donations
Over 800 pounds of garbage was cleaned up from recreational trails
3 full truck loads or 1500 tons of browse, from clearing brush at Gray's Lake, provided a bountiful feast to four Eastern Black Rhinos and three Reticulated Giraffes at Blank Park Zoo
A semi-truck full of donations delivered to domestic violence shelters
Please save the date now for next year's Cady Day of Public Service: October 22, 2021! We would love to see the event spread even further across the state.
And again, thank you to everyone who contributed to this great work!