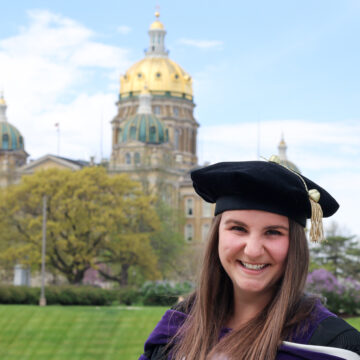 Kerrigan Owens (LW'20) took full advantage of the opportunities Drake Law had to offer through various internships, student organizations, and extracurricular activities. Last year, as president of the Student Bar Association, Owens and the Drake Law director of clinics and experiential learning, Suzie Pritchett, established a pop-up clinic to address the needs of young mothers at the Young Women's Resource Center in Des Moines. The clinic, staffed entirely by Drake Law students, performed intake services which included issues like custody and domestic violence, and then forwarded the cases to the Polk County Bar Association Volunteer Lawyers Project.
"The pop-up clinic changed my experience at Drake Law School because at that point, I was not only acting as a leader in my role as president of the Student Bar Association but as an actual leader in my community," Owens said. "The pop-up clinic was my way of giving back to my community; a community that I have lived in and plan to be a part for quite some time. Pro bono work is vital to the legal profession and to ensure access to justice."
Owens received several awards for her achievements at Drake Law School including the Robert Thomas Criminal Justice Scholarship, for her pursuit of criminal justice work at the State Appellate Defender's office; the ARAG Chad Hensley Diversity Scholarship, for her advocacy as an LGBTQ+ leader at Drake Law; and the Waggoner Peer Mentoring and Tollefson Student Leadership awards for her work and dedication to Drake Law and her fellow law students.
"These awards were such a surprise and gratification for my work. I have always attempted to be the best person and mentor that I could to be my classmates and the underclassmen … these awards just solidified that effort," said Owens.
Owens credited Drake Law for giving her the chance to take her education outside the classroom.
"Whether professionally or personally, Drake prepared me for my life after graduation," Owens said. "I have felt ready to enter the legal field because of the education and opportunities that Drake Law School has given me."
Owens is currently employed with the State Public Defender's office as an executive officer for the Special Operations team. She is also enrolled in the University of Arkansas' LLM Program in Agricultural and Food Law, where she will follow in the footsteps of many notable Drake alumni, including the director of the Drake Law Agricultural Center, Jennifer Zwagerman.