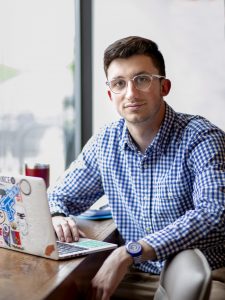 The Greater Des Moines Partnership has partnered with Drake University to provide a tutoring service to Greater Des Moines (DSM) K-12 students called the DSM Tutor Connection. DSM Tutor Connection is a web-based platform that connects families seeking tutoring for their children with Drake students pursuing education degrees who are interested in providing these services. The effort helps address the challenge that many parents face as their children participate in school from home during the COVID-19 pandemic. It will also help Drake students in need of teaching experience during a time when many internships and other teaching opportunities are on hold. The program will also be opened up to students at other local colleges and universities as demand for tutors grows.
"Parents play a critical role in their kids' education and may need some assistance with home-based learning. We also have School of Education students who have lost work opportunities due to the virus," said Ryan Wise, Dean of Drake University's School of Education. "The DSM Tutor Connection creates a partnership that helps Drake students gain experience, while K-12 students receive the additional help they need to enter the next school year even more ready to learn."
Tutors participating in the program have begun signing up through the platform, and parents interested in hiring a tutor can search the platform to connect with tutors who they think would be a good fit. All tutoring sessions will be conducted online, and schedules will be created by tutors and interested families so that the sessions suit the needs of those involved.
"We are focused on helping fulfill the needs of our future educators while also supporting our Greater Des Moines K-12 students and their families during this time," said Mary Bontrager, Executive Vice President of Talent Development at the Greater Des Moines Partnership. "The DSM Tutor Connection will help ensure that students in our community's talent pipeline are getting additional support to maximize their in-home educational experience."
More than 40 students have already signed up for DSM Tutor Connection. Parents can sign their child up for the tutoring service today at DSMpartnership.com/DSMtutorconnection. Tutors participating in the program are not direct employees, and will not be under the supervision of Drake University faculty or the Greater Des Moines Partnership's team, but will work directly with parents.
One Drake student, Maggie Negaard, has signed up and is grateful for the opportunity.

"The DSM Tutor Connection will enable me to continue my education with real-world experience during a time when I otherwise would not have had a chance to teach because of the pandemic," said Negaard, a student in Drake University's School of Education. "I am looking forward to using my training to positively shape the experience of K-12 students who are important to Greater Des Moines' future."