Politics come alive at Drake University, especially in a presidential election cycle. Drake hosted 22 presidential candidates at dozens of rallies, forums, and town halls during the 2020 cycle. Additionally, Drake was the site of a Democratic debate (broadcast live from Sheslow Auditorium) and a visit from a sitting U.S. president: President Donald Trump appeared at a campaign rally in The Knapp Center. As part of its civic responsibility, Drake is committed to serving as a neutral forum for a wide range of political views and ideas. This environment, combined with Drake's robust academic programs and location in Iowa's capital, create a catalyst to launch students and alumni like these Bulldogs into opportunities across the political arena
Sen. Zach Nunn, AS'02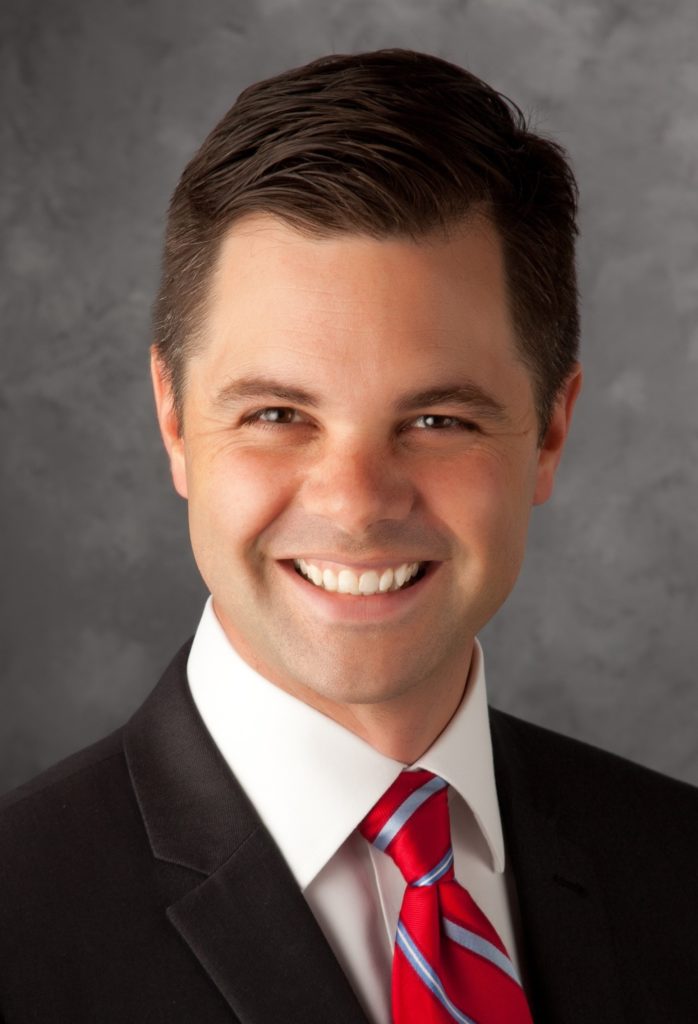 Born and raised on a small farm in Iowa, Sen. Zach Nunn, AS'02, first ran for office in 2014. He won his seat in the Iowa House of Representatives by 12 percentage points, despite being up against an incumbent. He credited his win to a bipartisan platform called "Community First."
"It was not so much about what was happening in politics, but more about what can we do to better serve our community," says Nunn. "It ended up being one of the most competitive races in the state at the time."
But before that pivotal point, Nunn was a student at Drake, earning a bachelor's degree in law, politics, and society and international relations. While a student, Nunn, and the country, faced another pivotal moment: September 11.
"I remember going to Professor Lewis' communications and rhetoric class in the morning, and we were literally watching the towers as they fell," says Nunn.
The aftermath of the devastating tragedy inspired Nunn to pursue opportunities to serve his country.
"I ended up joining the U.S. military and did three combat tours overseas," says Nunn.
Nunn says Drake offered him the "jet fuel" to achieve his professional goal, which happens to be a passion for public service.
"The nice thing about Drake is that even though I had grown up in the Midwest and I was excited to explore the world, Drake had a little bit of those opportunities right here in Des Moines," says Nunn.
Drake's study abroad program led to Nunn's first job in politics, working in the United Kingdom. parliament.
He also worked for U.S. Sen. Chuck Grassley, when Grassley was the Senate Finance Committee chairman. Nunn also assisted the George W. Bush re-election campaign in 2004, met other presidential candidates coming to Drake, and got involved with local elections.
After two terms in the Iowa House, Nunn was elected to the Iowa Senate. Nunn believes that the state affords everyone, not just Iowa's residents, unparalleled front row access to the nation's political scene.
"I took my now-wife on our first date to the Republican Iowa Straw Poll debate, and she wasn't even involved in politics at all," says Nunn. "This is how classic Iowa is, sometimes taking your future-wife to a political debate is a lot more exciting than any other activities going on."
For political campaigns that are looking to involve motivated young people, Nunn considers Drake to be 'ground zero' in such campaigns' search process.
"Every student at Drake will have the opportunity to be involved in a presidential race in some capacity if they seek it out," Nunn said. "My biggest offer to any Drake student is to not let that opportunity pass you by without jumping in."
Deidre DeJear, JO'13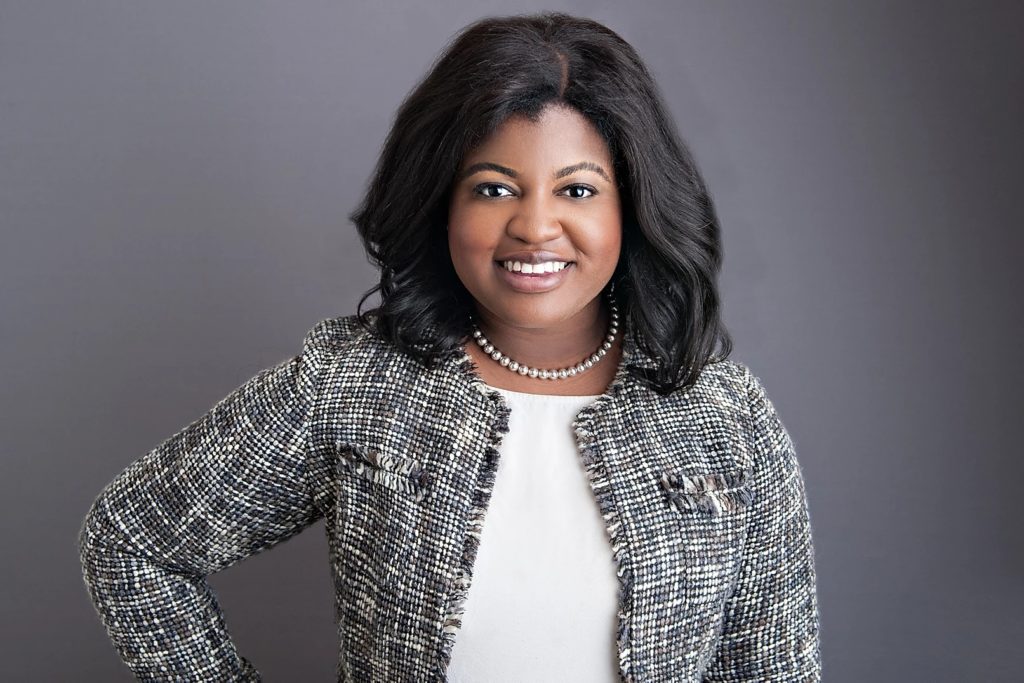 Deidre DeJear, JO'13, exudes passion and dedication to the Des Moines community. As a Drake student, DeJear co-founded Back 2 School Iowa, a nonprofit that leverages existing educational services and scholarships and provides resources to inspire Iowa youth to continue their education and build future careers. The organization impacts more than 3,000 central Iowans annually.
While at Drake, DeJear made connections with many community members, whether it was through service projects or opportunities provided through the Dean of Students office and the Donald V. Adams Leadership Institute.
"Drake was really intentional about ensuring that their students were engaged in the community," says DeJear. "Through different organizations that I was involved with, we had opportunities to continue that engagement with community members."
Coming to Drake in fall 2004, during a presidential election, she was able to cast her first vote a few months into her first semester of college.
"The political engagement scene at Drake was a big selling point for me," says DeJear. "The Iowa caucuses gave me an opportunity to connect with a political environment in a way that I could not have from my home state."
Originally from Mississippi, DeJear went to high school in Oklahoma prior to coming to Drake. She first got engaged in a political campaign through her grandmother, who was a county elections commissioner in Mississippi in the 1990s. That was where she learned the value of engaging the community.
"When I think about the work that I do now, it's all an attempt to add values to a community that gave so much to me," says DeJear.
Earlier in the 2020 presidential election cycle, DeJear worked as the Iowa chair for Sen. Kamala Harris' campaign. She described being part of the historic campaign as an "honorable experience", despite Harris not making it all the way to the big day of the Iowa caucuses. Even after Harris' campaign ended, DeJear stayed active during the evening of the Feb. 3 Iowa caucuses, getting the word out and making sure as many people were still involved with the process as possible.
"We often talk about—as people of color, as women, as disadvantaged populations—that we don't have a seat at the table," says DeJear. "My goal is to create an introduction for these people to be a part of the table, as well as having as many people to participate in every democratic process that we have, including the Iowa caucuses."
As a part of her mission to empower her community, DeJear started a business called Caleo Enterprises, which provides startups and entrepreneurs with affordable marketing tools and business strategies. Her company has helped over 300 small businesses and nonprofit organizations establish sustainable operations.
Currently, DeJear is overseeing the Des Moines Area Community College's Financial Empowerment Center. The center works with students, community members, and anyone needing financial education who is trying to start a business or a non-profit.
"We provide quality services to add value to their pocketbook at the end of the day," says DeJear. "All of that is in an effort to help the disadvantaged and vulnerable population to reach financial sustainability."
Emily Grimm, AS'15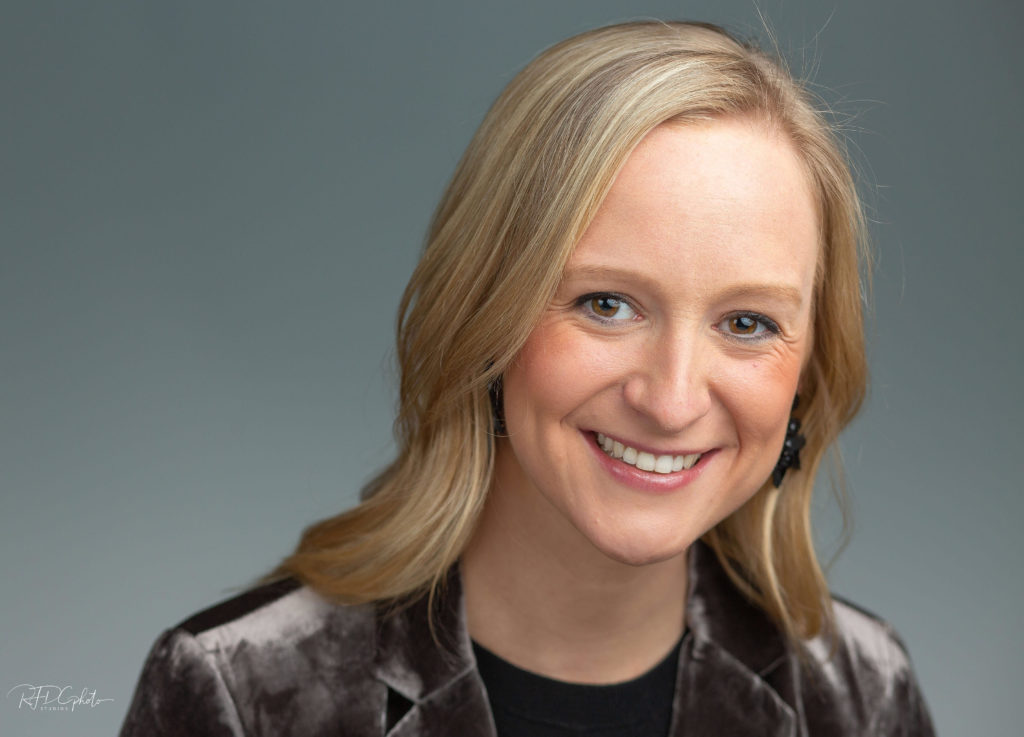 The Iowa caucuses drew Emily Grimm, AS'15, an Illinois native, to Drake University. Grimm first learned about the politics program through a family friend of hers, who happened to be a Drake student at the time. After visiting, Grimm realized the advantageous position the University was in to engage in politics.
"I saw there were a lot of great opportunities for students even in the caucus' off-cycle, whether that was interning at the state legislature, volunteering on local campaigns, or participating in campus programming," says Grimm. "It seemed like I wasn't going to be just a number in a classroom like at larger schools, and my professors were really going to have an influence on my academic and professional career."
After graduation, the 2016 caucuses were ramping up; Grimm started working at LS2 Group, a bipartisan public affairs firm in Des Moines. While there, she assisted clients by managing presidential candidate outreach, coordinating campaign staff events, and reporting on state and national news.
"I really enjoyed the type of work we were doing," says Grimm. "With the caucuses quickly approaching, we were always attending local meet and greets, rallies, and even debates to enforce our client's messaging."
Grimm currently works for DCI Group, an independent public affairs firm located in Washington D.C.
"Staying involved during my time at Drake really gave me the experience to hone in on skills that I can apply to my current job today, like communicating effectively and successfully in order to get your point across," says Grimm.
Approaching her fourth year at DCI, Grimm enjoys the work that she is doing, especially the explorative aspect of the job.
"While I am apart of various client teams, I'm not necessarily permanently siloed to a particular issue or industry," says Grimm. "We never know what potential client may need help in getting their messaging out there. I might need to assist other team members on an issue that I have not had much professional experience in before. It's nice that no day is really the same."
Describing her work as the "intersection" of public policy and politics, Grimm's position focuses on managing strategy efforts for advocacy campaigns while keeping policy issues at the center. She works mainly in the telecommunications, technology, and education sectors.
"We work with clients and utilize strategic communications to get their message out, and if necessary, tackle any legislative or regulatory hurdles they are facing at federal or state levels," says Grimm. Grimm urges current students to take advantage of professors' expertise while they are still at Drake. As an alumna, she still frequently emails her former professors about opportunities for students to get involved in the Des Moines and D.C. areas.
John Forbes, PH'80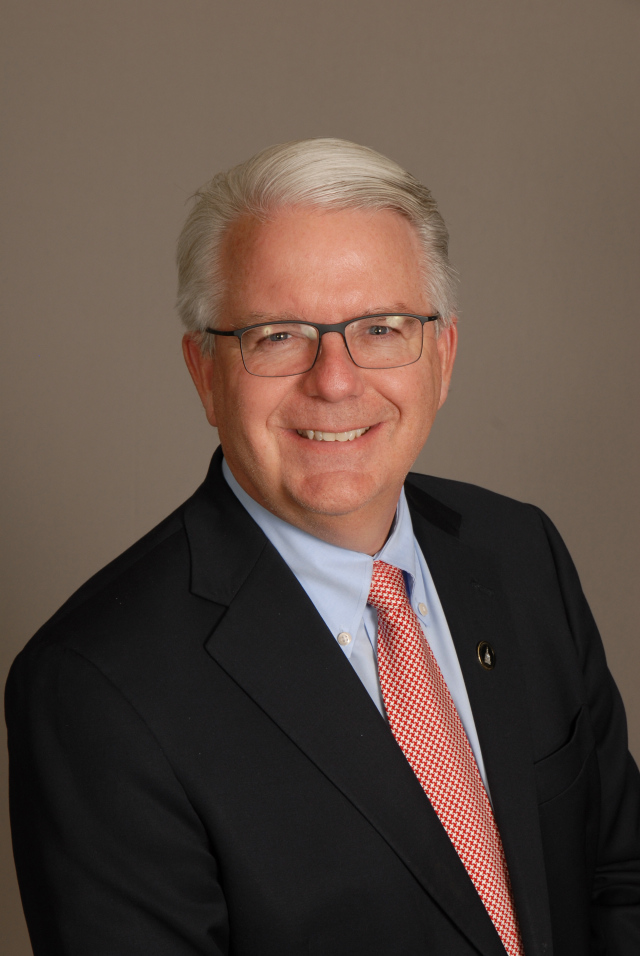 For Rep. John Forbes, PH'80, a pivot from pharmacy to politics was the result of many conversations with his father-in-law. Forbes decided run for a legislative seat after being encouraged by his father-in-law, Dale M. Cochran, who served 22 years in the Iowa Legislature and for 11 years as the Iowa Secretary of Agriculture.
"He thought that I could make a contribution to the state of Iowa, especially relating to healthcare issues with my background as a pharmacist," says Forbes.
Forbes started his own pharmacy in Urbandale shortly after graduating from Drake. He became involved with the community and was elected president of the Urbandale Chamber of Commerce. In 2005, he was elected to the Urbandale City Council, on which he served for seven years before being elected to the Iowa Legislature in 2013.
While politics was not his initial career path, Forbes credited his political knowledge to Cochran.
"He really helped me understand the political process and how to work in a bipartisan way to get legislation passed," says Forbes.
Forbes had a first taste of politics when he helped with door knocking and marketing materials for his father-in-law's campaign back in the 1970s. But Forbes always knew he wanted to do more for the community.
"I knew at some point in my career, I wanted to bring my knowledge and expertise as a healthcare professional to the Iowa Capitol," says Forbes. "At the time that I was elected, there were not any pharmacists serving in the Iowa Legislature, so I thought there's a need for a healthcare professional's voice in the Capitol to be able to pass legislations that would benefit healthcare for all Iowans."
As a state legislator who lives in the Des Moines metro, Forbes can address local issues and concerns in a quick and timely manner, and can meet with constituents, policy directors, and state agencies when needed.
"I'm here year-round, I'm local and able to be there within just minutes if necessary when problem arises," says Forbes.
Forbes works primarily on healthcare policy bills. Most legislation regarding healthcare and pharmacy-related issues come to his desk for his expertise. He works with both Democrat and Republican legislators to craft healthcare-related policies for the state of Iowa.
"They also like having a pharmacist in the legislature," says Forbes. "I get quite a few legislators coming to me with questions about healthcare issues either personal to them or one of their family members."
Glen Dacy, FA'84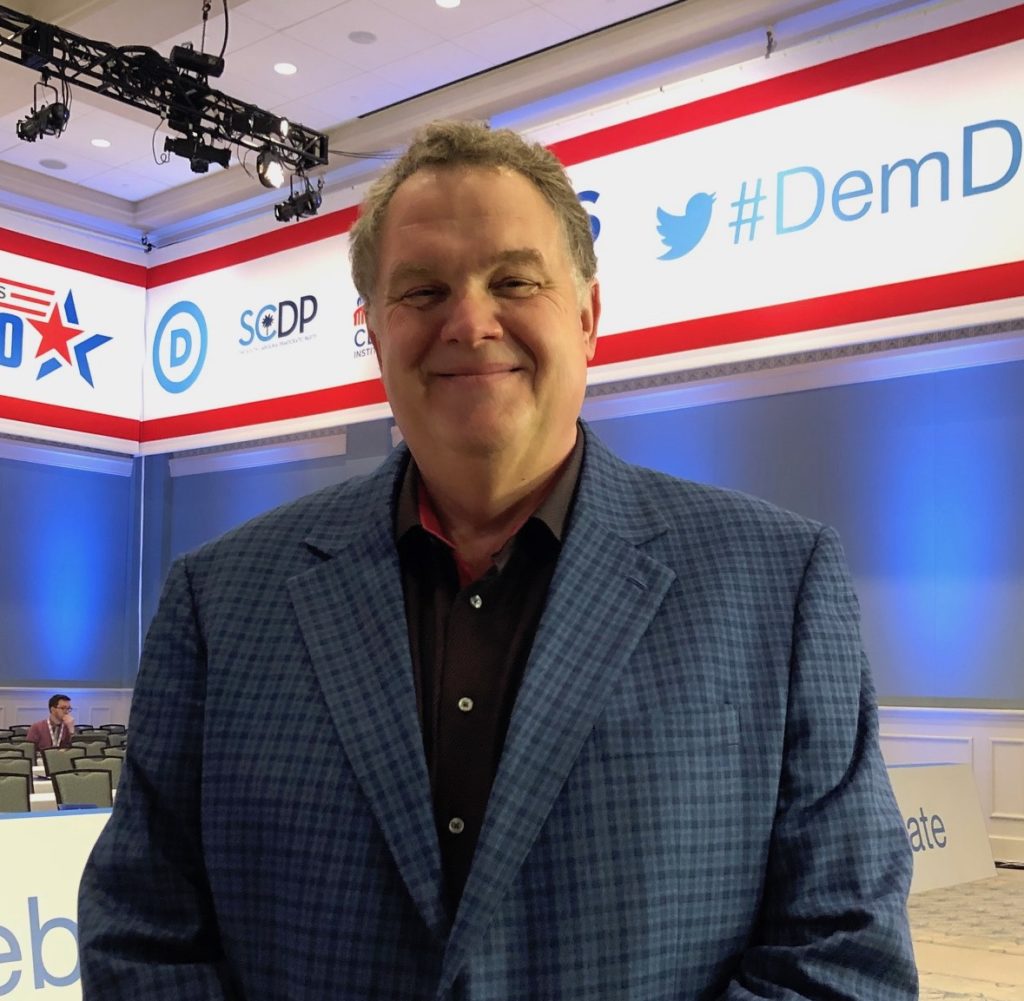 Working for CNN is the dream job for many communications students, and CNN supervising producer Glen Dacy is proof that a Drake education can help students achieve that goal.
Dacy started working for KCCI-TV in Des Moines when he was a senior at Drake. Prior to that, he interned at WMAQ-TV in Chicago. Dacy's first job after graduation was as a reporter at KWWL-TV in Waterloo, Iowa. Now based in Chicago, Dacy covers breaking stories and special projects, including the election, for CNN.
In this 2020 election cycle, Dacy covered the New Hampshire primary and the Democratic presidential debate in Las Vegas on Feb. 19.
"I have been a part of almost every presidential cycle coverage since 1984, but that's not the only thing that I do," Dacy said. "I could be at a hurricane, or if any breaking news story happened, I could be at that as well."
Dacy was introduced to political journalism during the 1984 presidential election cycle. CBS came to Des Moines for the Iowa caucuses and Dacy worked for the network as a runner for caucus-related events. This exposure to political coverage helped keep Dacy interested in journalism.
"In 1984, coverage of the caucus was new and exciting," says Dacy.
Dacy believes the students who have gone to Drake over the last three decades really have had the exclusive opportunity to be up close and personal to the American political system. "Students at Drake work for campaigns, they work for news organizations, they work for parties," says Dacy. "It is the hands-on experience that people always talk about at colleges. They really get to see something that very few get to enjoy."
John Altendorf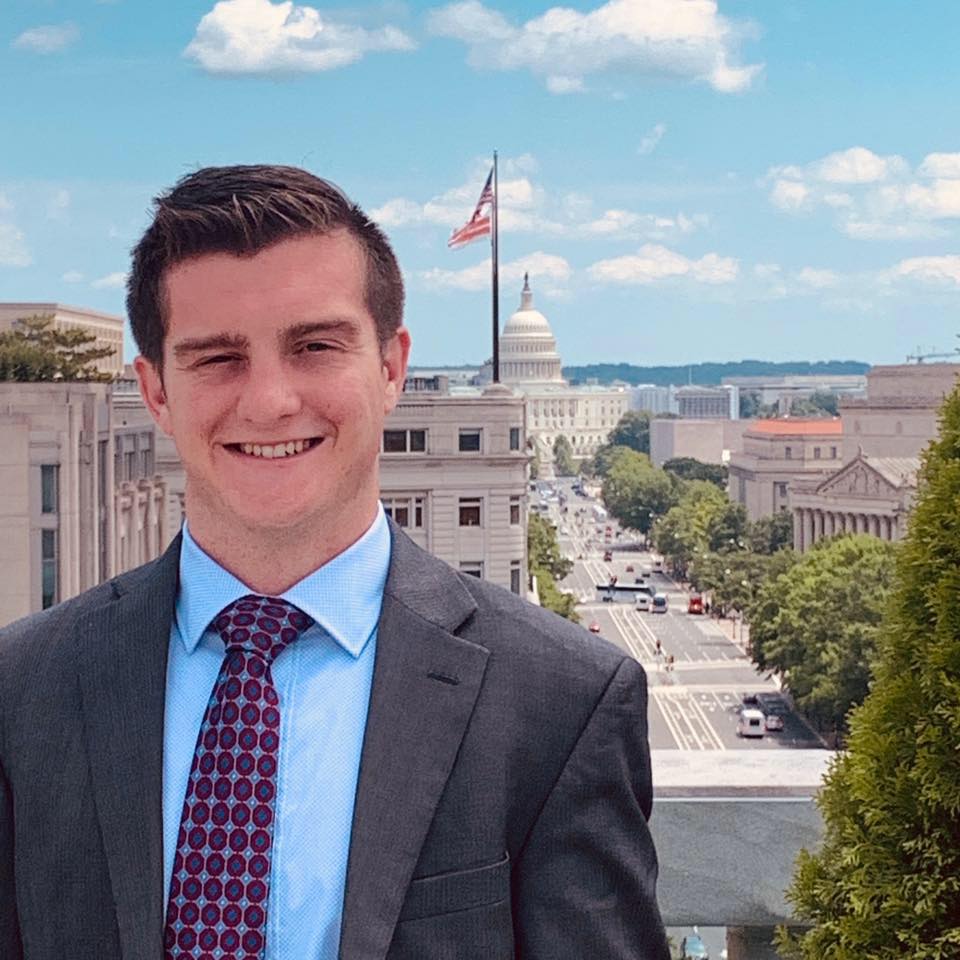 Pursuing a higher education at Drake led John Altendorf to Iowa Legislature during his first year of college. He spent two years working for Drake alumnus Sen. Tom Greene, PH'73. Now as a junior Altendorf is a legislative assistant for Sen. Zach Nunn and manages constituent correspondence, communications, and monitoring legislation in the works.
"My job is making sure that Sen. Nunn is prepared for all his meetings and can do the best at his job," says Altendorf.
During his college selection process three years ago, Altendorf, who is studying political science and strategic political communications, was impressed by Drake's politics programs and the opportunities to gain field experience. As he worked at the Iowa Capitol, Altendorf came to appreciate the unique advantages of the University, its location in Iowa's capital city, and the variety of opportunities to get involved in local politics that proximity affords.
"Most schools said they have opportunities in politics, but the difference between those schools and Drake is that Drake let me know that I wasn't going to be able to escape the political environment," says Altendorf. "And I can affirm now that you don't have to find politics experience at Drake: it is going to find you."
"Many Drake students have gotten the opportunity to do what I do," says Altendorf. "Most members of the Iowa Legislature have other jobs, which is why legislators look to surround themselves with skilled and dependable staffers, and Drake students are a perfect fit."
Along with professional field-related experience, students working at the Iowa Capitol like John can also earn credits that count toward their degrees.
In addition to his job at the Capitol, Altendorf is involved in political activities on campus. As co-president of Drake College Republicans, the few months leading up to the Iowa caucuses were rather eventful for John. This included the opportunity to attend President Donald J. Trump's rally at The Knapp Center.
"It's such a great experience to be in the epicenter of American politics in the midst of the Iowa caucuses," says Altendorf. "Even though I'm a Republican, and our side of the caucus wasn't very competitive this year, it was still cool to be able to have up-close interactions with the candidates and go to their debates and townhalls, even if I didn't agree with them."
Getting a taste of many different aspects of politics so early on in his college career, John accredits much to professor of politics, Rachel Paine Caufield. Her connection with many campaigns and people in the state and national levels of government has helped many Drake students find their footing in the political world.
"Definitely one of the biggest resources for me and many students at Drake is Professor Caulfield," says Altendorf. "If you're in Iowa politics, you probably know her, and if you want a job in politics, you need to know her."
Altendorf will graduate in December and plans to work for a congressional office in Washington, D.C., but eventually hopes to network back to the Midwest. He is especially interested in agriculture policies and wants to focus on researching and managing agricultural and environmental issues.
Giada Morresi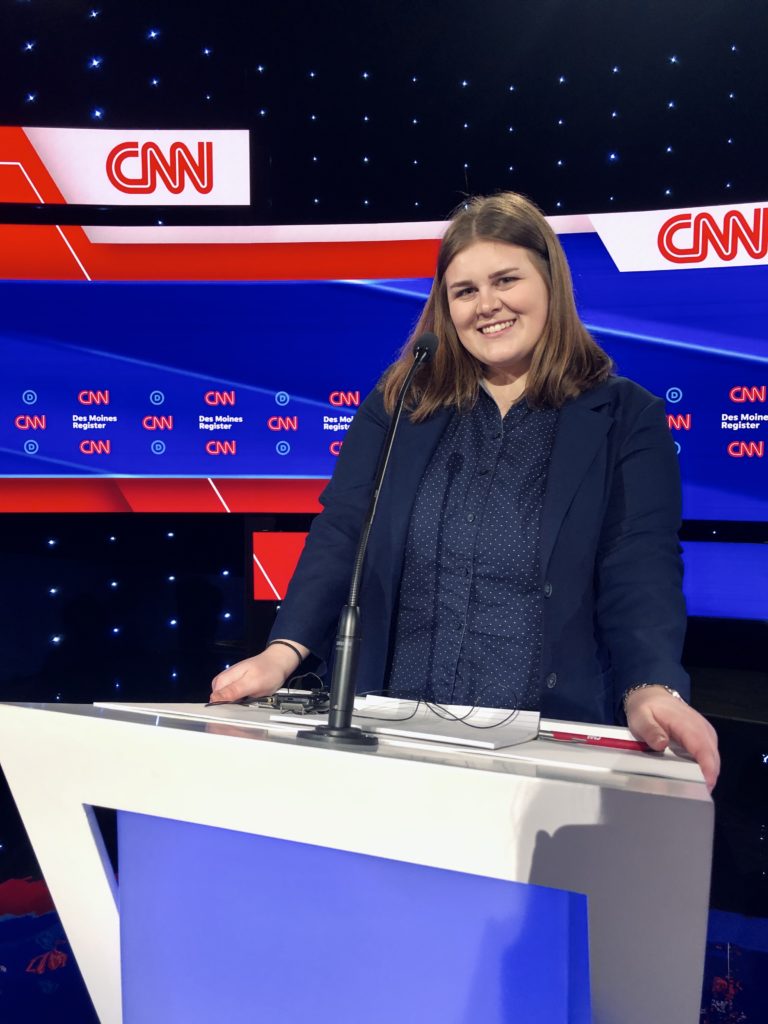 When the Iowa caucus season rolled around, Giada Morresi, a senior majoring in politics and international relations, and many other Drake students were recruited for jobs to help prepare for Iowa's first-in-the-nation night.
Morresi interned for both CNN and CBS when the networks came to Des Moines to cover Iowa caucus events. CNN came to campus to televise a Democratic presidential debate from Sheslow Auditorium, while CBS covered events prior to the caucuses, and the night itself.
Morresi's favorite part about both experiences was the chance to watch how everything unfolds from a TV production perspective. As a runner, she assisted with setting up audio, lighting, and other aspects of broadcast production that she didn't have access to prior to the experience.
"Everyone at CBS was very excited to teach us," says Morresi. "They mentioned a lot of the time, that if one of us is interested in one thing or another, just ask and they'll explain it to us; or even if you wonder how someone got to where they are, just ask and they'd sit down with you and talk to you about their career path."
Morresi noted a willingness to be adaptable to changes as a takeaway from both experiences.
"Always be ready to say 'yes' and willing to figure it out when they need something done, instead of saying 'I'm not sure', just jump into it and figure it out as you go," says Morresi.
Des Moines's unique position to the Iowa caucuses was the reason Morresi came to Drake and she was presented with various opportunities to apply what she's learned in the classroom.
"Being in town definitely gives me great access to the caucuses, but probably more than anything, being a Drake student gives you a front row seat," says Morresi.
While not considering a career in politics, Morresi says local politics has made her feel more connected to Drake and Des Moines.
"Des Moines has really grown on me, so no matter what I end up doing, or where I end up going, this will always be a significant part of my development as a person," says Morresi.
JD Pelegrino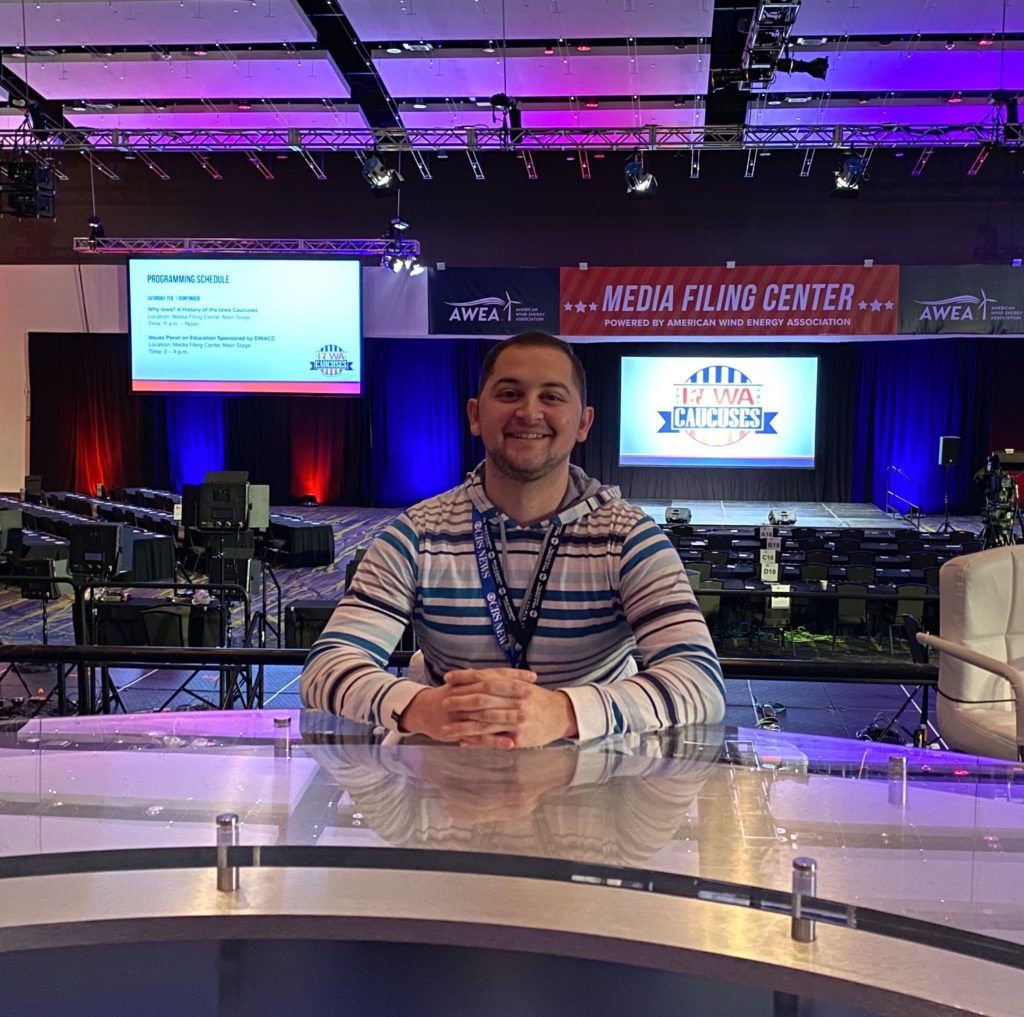 A senior majoring in news, JD Pelegrino initially only wanted to go into sports reporting, but after his recent experience working at political events during the Iowa caucuses, he can picture himself with a career in politics.
"I see that there is a really big market for this stuff and I felt comfortable doing it too," says Pelegrino. "Drake has a really good way of preparing you for politics and helping you get up to speed."
Pelegrino worked for CBS as a runner when the network came to Des Moines to cover the caucuses. He got the chance to meet many big names in the news broadcasting industry, including Ed O'Keefe, Major Garrett, Tory Coughlan, and Kevin Ward.
The Drake senior also worked on a social media video project for CBS Radio and assisted on-air with Face the Nation, one of CBS' longest-running news programs.
"I got to work when Pete Buttigieg was on," says Pelegrino. "We got to ask him questions through his earpiece and he would answer them on air."
The big thing that he took away from the experience was the abundance of opportunities to network with working professionals.
"Those are the people you want to be close with if you want to go into television, specifically with CBS," says Pelegrino.
The glimpse behind the scenes was Pelegrino's favorite aspect about working for a national broadcaster. During the peak of the Iowa caucuses, they would load off the truck at 5 a.m., set up the news desk, grab the computers, and prepare everything for the daily segments.
"All of that is something that I would have never been able to fathom unless I was a part of the crew," says Pelegrino.
For high school students looking to enter the political world, Pelegrino encourages them to just "jump on" the opportunity, and that Drake is the place for them.
"Politics is one of one of those focal points at Drake. They know the importance of the Iowa caucuses so they prepare you ahead of time," says Pelegrino. "All the politics and journalism professors here have connections, so if you want to get into politics or even if you're just thinking about it, you will have those opportunities available to you."
Savannah Prescott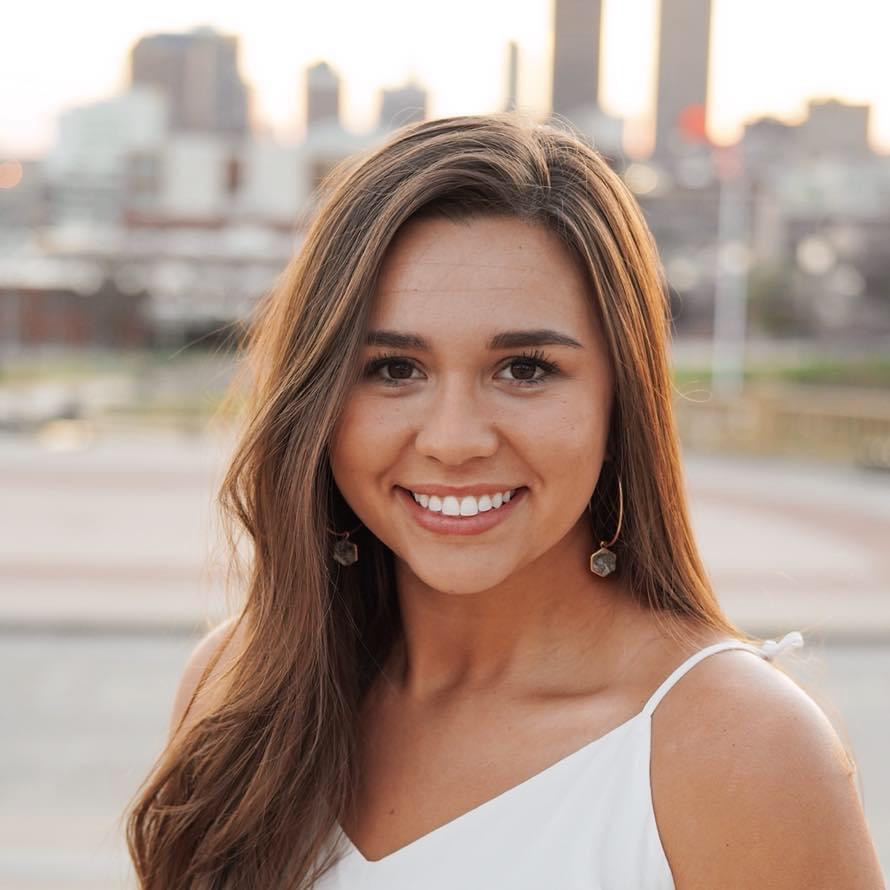 Growing up, politics was never a dinner conversation topic for senior Savannah Prescott. The public relations major immediately felt out of place coming to the political hub that is Drake University. But that quickly changed during her Politics 101 class, taught by Kieran Williams, assistant professor of political science.
"Professor Williams taught me a lot about what politics meant and the bases of what politics is like in America today," says Prescott. "That was also the 2016 election year, so I felt like this was something that I enjoyed and could put my journalism degree to use in politics."
The following spring semester, she interned Iowa Rep. Bobby Kaufmann while still a first-year student. Once again, Prescott felt out of the loop, due to her lack of exposure with the political world prior to the opportunity.
"I didn't really understand it and I felt behind, really behind," Prescott said.
She moved on to a digital marketing internship at Meredith Corporation, before studying abroad in Spain. Prescott came back from Spain with a new-found love for the United States.
"That was really the point that I came to value politics as an American," says Prescott. "It is something I love about being an American, and I feel like a lot of Americans take it for granted."
Through a peer at Drake, she got in touch with Iowa Gov. Kim Reynolds' gubernatorial campaign and became an intern for the campaign. Following that, Prescott worked for former Iowa Congressman David Young, and is currently the communications assistant for the Iowa House Speaker Rep. Pat Grassley.
"I felt so privileged to be only six minutes away from the Capitol," says Prescott. "I know people who work at the Capitol that drive from other universities and I don't know how they balance it."
Prescott attended an election night party for Reynolds and was there to witness Reynolds' historic win as Iowa's first female governor. Prescott felt a great sense of accomplishment of being part of making that happen.
Now a senior graduating this May, Prescott is confident in her abilities going into the political world.
"It makes me feel so good to know that when I walk into my job every day, I have a firm grasp on what my duties are and how to do them well," says Prescott.