Welcome to the "Monday Memo" on Tuesday!
We will publish more frequent editions of our weekly SJMC newsletter when necessary to help you stay connected and informed during these difficult times. If you have feedback or suggestions for content, email SJMC Dean Kathleen Richardson at kathleen.richardson@drake.edu.
Staying strong together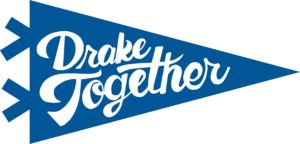 The University has begun a social media campaign to shine a spotlight on all of the good things that members of our community are doing to stay connected, stay strong and support one another. Share your #DrakeTogether stories, photos and videos with multimedia professor Chris Snider at chris.snider@drake.edu.
Life hacks and lifelines
Here is a running list of tips and resources to help you navigate the reality of distance learning:
New services from the Bookstore:
Access to eBooks at no additional charge: Visit the campus store website, to gain access to eBooks at no additional charge with your .edu email address. Each student can access up to seven eBooks free of charge.
No cost shipping on rental returns and deadline extensions: The Drake Bookstore is offering free shipping return labels and is also extending the non-return period without penalty to assist with increased returns by mail. Click the COVID-19 message on the home page of the campus store website for the details.
Free online order shipping with no minimum purchase: This includes course materials, supplies, apparel and gifts.
In addition, a variety of textbook providers are offering free access to textbooks at this time. Please visit individual publishers to learn more:
Cengage
,
Pearson
,
Cambridge
.
If you have further questions about textbooks or these specific offers, please be in touch with the Bookstore at 515-274-3401.
Advising for fall registration: Stay tuned for more detailed information and don't panic. Your adviser will set up a way to meet with you remotely and the dean's office will keep you apprised of deadlines and procedures.
Microsoft Teams: Many Drake faculty, staff and departments will be shifting to Microsoft Teams as a way to schedule appointments, hold meetings, chats and one-on-one calls. Drake Information Technology Services has pulled together a cheat sheet on how to access and use Teams, as well as other online learning resources: https://drake.teamdynamix.com/TDClient/2025/Portal/KB/ArticleDet?ID=100398&SIDs=5986
Online tutoring: Tutoring appointments – including the Writing Workshop and the Math Lab — will take place on Blackboard. 
Schedule appointments as usual on the

tutoring website

Tutors will email you a link before the start of your appointment.

For the Writing Workshop: Respond to the tutor's email by sending the tutor a copy of your paper.
At the time of your appointment, click the link sent to you by the tutor to enter the virtual tutoring session on Blackboard Collaborate Ultra.

Once you've entered, enable both audio and video at the bottom of your computer screen.

On the bottom right-hand side of your screen, click the purple tab to view a chat box.

Tutors may use this chat to send questions for you to answer while they read your paper or go over the assignment with you.

The appointment will proceed virtually.
Free Adobe access: Follow the directions below. If, after you are logged in, you are asked to start a trial or something to this effect, please send your email address to Clayton Mitchell in ITS (clayton.mitchell@drake.edu) and he can set things up.
Adobe has provided temporary at-home access for impacted students and faculty, so that they can continue their work remotely. Please follow the instructions below to enable access to Creative Cloud Desktop Apps on your personal device.
Visit https://creativecloud.adobe.com and use your school credentials to sign in.
If prompted, select Company or School Account and then enter your password. Or provide your credentials in your school's login screen.
From the Creative Cloud website, browse for and download your desired app. Click Apps on the top of the page to view all apps.
For more information on how to download or install apps, see Download and Install Creative Cloud apps.
Please visit this HelpX page if you have questions.
For Higher Education students to continue developing skills, Adobe offers free "Daily Creative Challenges." These are guided projects where participants receive creative prompts and connect with pros, mentors and other students for feedback and support. Click on the app name to learn more: Photoshop, XD and Illustrator. Also, for inspiration and over-the-shoulder learning, watch pros share their creative process on Adobe Live daily at www.behance.net/adobelive.
Drake offers remote career development support
Questions about your internships
If you have an internship now and need assistance in how to work with your employer to continue your internship through to its completion, contact SJMC Internship Coordinator Carlyn Crowe by email (carlyn.crowe@drake.edu), phone (515-974-7775 cell) or Teams. She can work with employers on modifications to your requirements if necessary. She is also tracking how internships are being completed, evaluated and implemented at other schools across the country.
Seniors looking for jobs or students looking for internships for summer/fall
We are online to help! Carlyn and also Drake Professional and Career Development Services  staff are available to discuss your search, review your application materials and help you make connections if possible. These appointments can take the form of email, phone or video chat. If you select phone, you will need to provide the best number to reach you during the scheduled time.  Video chats will take place using Teams. Contact Carlyn or PCDS staff member Annette Watson (annette.watson@drake.edu) for details.
Searching for internships and jobs remains virtually the same during this time where we are all working remotely. Use your network, including advisers and faculty. Use Handshake and LinkedIn to search for jobs and connect with individuals working in your chosen field.  Hint: when using Handshake for your job search, be sure to search the "employers" tab listed under the "jobs" tab.  This gives you access to reviews, interview information and jobs that employers have not included on Handshake. Visit https://www.drake.edu/career/student/personal-brand/ for information on resumes, cover letters and additional job search information.
SJMC centennial party postponed
The SJMC centennial celebration scheduled for April 25 has been canceled for this spring because of the national health emergency. People who have already registered will receive communication from the Drake alumni office about how to receive a refund.
We are planning to celebrate the centennial during Drake Relays 2021. SJMC 100+1!
Professor Todd Evans' retirement party is also postponed. However, please still send your thoughts, memories and best wishes for Todd to Dean Kathleen Richardson (kathleen.richardson@drake.edu) for compilation.
Stay tuned over the coming weeks for ways we can celebrate both events virtually yet this spring! And if you have any ideas, send them to Richardson.
Meredith Hall building hours
Students currently have access to campus academic buildings with their Drake ID from 7:30 a.m.-4:30 p.m. on weekdays only. However, that doesn't mean that classrooms are always unlocked. Students are encouraged to follow governmental guidelines, practice social distancing and refrain from coming to campus if possible. Students with questions should contact Dean Kathleen Richardson (kathleen.richardson@drake.edu).
Have a news item for the Memo?
The SJMC Monday Memo is a newsletter to keep members of the wider SJMC community updated on School news, achievements, events and opportunities. If you have an item for the Memo, please send it to Dean Kathleen Richardson (kathleen.richardson@drake.edu) or SJMC webmaster and multimedia professor Chris Snider (christopher.snider@drake.edu). SJMC alums and other professionals can also subscribe to the Monday Memo via email here: http://eepurl.com/bPNbxn
The School of Journalism and Mass Communication strives to create a community of scholars that represents the complexity of the human experience in regards to race, ethnicity, gender, sexual orientation, economic status, political views, gender identification, religion, age and physical abilities. We are committed to creating a welcoming and supportive environment for all our faculty, staff, students and visitors, and celebrating our differences through the lens of the First Amendment value of freedom of expression.