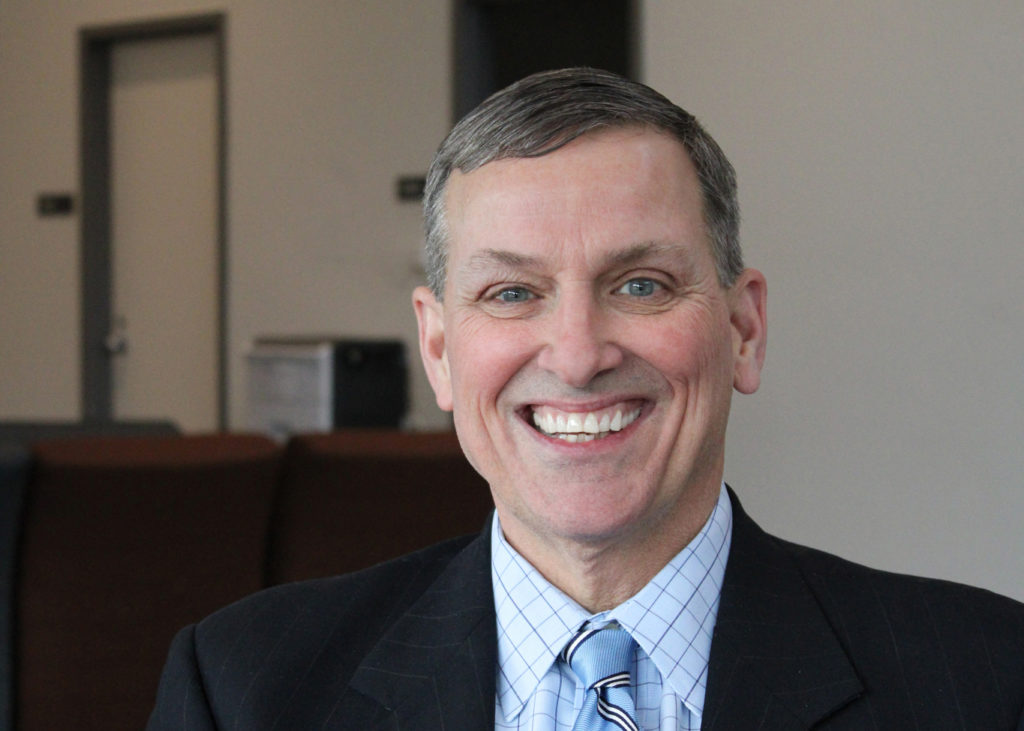 Drake University Law School welcomes Nick Roby to the Drake Legal Clinic as the new director of the Entrepreneurial and Transactional Clinic. Roby has practiced in Iowa for more than 30 years. Most recently, he was special counsel with Davis Brown Koehn Shors & Roberts, P.C. He has extensive experience in business transactions and substantial experience representing non-profit organizations. Roby previously served as president of BH Companies.
Are you originally from Iowa?
I grew up just north of the Des Moines city limits in a very blue-collar neighborhood. My dad was a machinist at the Firestone plant. He went over 20 years without missing a day of work. My mom was everyone's most-loved food service worker at my elementary school.
What led you to law school?
I began telling my family that I was going to law school when I was in grade school. I really did not have any clue then what higher education was. At the time, absolutely no one in my immediate or extended family had ever enrolled in college. In undergrad, I studied accounting and economics which led to my interest in tax, business associations, and commercial transactions in law school and practice.
What cases are the students in your clinic working on this semester?
We have about 50 active cases, with more on our waiting list. Some of our clients are small start-up charities. For example, one provides housing for recently released women inmates, another one operates a new youth sports league. We also represent larger, more established charities. On the for-profit side, we are helping form business organizations such as a food truck, bookkeeping service, and car repair shop. In most cases, it would be impossible, or very difficult financially, for these clients to engage private practice lawyers. And, in other cases, the charities would be forced to use funds that would otherwise directly provide community services.
As an experienced attorney, what would you say makes participating in a clinic a valuable part of a legal education?
The Clinic is a fabulous opportunity to get a head start on experiencing the real-life practice of law. Our clients look to the student lawyers for advice and counsel on a variety of business and transactional legal issues. Interacting with your clients and developing an attorney-client relationship is a special thing and something you cannot experience in the conventional classroom.
Why is pro-bono work important to you?
It's all about social justice. Providing underserved and under-resourced individuals access to the tools and services they need to open doors and improve their station in life is critically important. Legal services such as those we provide at the Clinic is a part of that for those seeking to start a new business.
What do you enjoy outside of work?
We frequently host family gatherings on the weekends. We have seven grown children and enjoy having a lot of our family close by. We also love to travel. Last year we traveled to Peru to hike in the Andes Mountains and visited Machu Picchu. I am also a big Chicago Cubs fan. I try to watch or listen to most games, or at least an inning or two.
What is something someone would be surprised to learn about you?
I survived the Chicago Marathon. I'm not a natural long-distance runner, so it was a real challenge. My wife was nice enough to train and finish the race with me.
What is a book or books that have inspired you?
My wife might tell you that my favorite book is the Internal Revenue Code and, admittedly, I do have my nose in that text quite a bit. I do really enjoy U.S. historical biographies. I am well on my way to having covered all the U.S. presidents. Especially inspiring and motivating are the stories of those who rose from very modest beginnings to lead the country. My favorites include Harry S. Truman, A Life, by Robert H. Ferrell and President Carter by Stuart E. Eizenstat. Truman dropped out of his two-year business college and was forced to close his failing store along the way to his eventual ascent to the presidency. That should inspire and motivate anyone.
---
About the Drake Legal Clinic
The Drake Legal Clinic is housed in the 40,000-square-foot Neal and Bea Smith Law Center. It is supported by a $4.5 million federally funded endowment that ensures continued service to students and the community. As of spring 2020, the Drake Legal Clinic offers eight clinical programs.