Have a relaxing spring break!
SJMC student nominated for Emmy
SJMC student Tina Intarapanont has been nominated for an Emmy in the college/university student production contest of the National Academy of Television Arts and Sciences Upper Midwest Region awards. Intarapanont was nominated as writer, producer and videographer in the General Assignment: Light News category for her story "Filipino Students Celebrate Culture Through Dance."
January Term Fair scheduled for Tuesday
Learn about January Term classes and study abroad options on Tuesday, March 10, 5-6:15 p.m. in Parents Hall of the Olmsted Center.
SJMC sponsors International Woman of Courage this week
Zarifa Ghafari, a U.S. Secretary of State's 2020 International Women of Courage Award recipient, will speak  on Thursday, March 12, at 7 p.m. in Sussman Theater of the Olmsted Center.
Ghafari will be interviewed on stage by Rekha Basu, award-winning columnist for The Des Moines Register, and there will be opportunity for questions from the audience. A reception will follow. The event is free and open to the public.
After successfully launching a woman-focused radio station, Ghafari became mayor of Maidan Shar, Afghanistan, when she was 26 years old. Ghafari defied opposition in her conservative community to tackle her city's problems, including launching a "Clean City, Green City" campaign. She has championed women's rights and opportunities for young women.
The U.S. Secretary of State's International Women of Courage Award annually recognizes women from around the world who have demonstrated exceptional courage, strength and leadership in acting to improve others' lives. Ghafari's appearance at Drake is sponsored by the SJMC and the Principal Center for Global Citizenship, and was facilitated by SJMC professor Dorothy Pisarski. The Iowa International Center is the State Department's International Visitor Leadership Program host in Iowa.
Meredith Hall to display U.S. Holocaust Memorial Museum exhibit
A traveling exhibit from the U.S. Holocaust Memorial Museum will be displayed in Meredith Hall in March. "Some Were Neighbors: Collaboration and Complicity in the Holocaust" was on display at the museum in Washington, D.C.,  from 2014 until 2018. The exhibit's visit to Iowa is sponsored by the Iowa Council for Holocaust Education, and was facilitated by SJMC professor Dorothy Pisarski. There is also an online version of the exhibit:  http://somewereneighbors.ushmm.org/#/exhibitions
Drake posts coronavirus information
Provost Sue Mattison last week announced the launch of a section of the Drake website that contains information on the coronavirus:
"As the situation around the novel coronavirus known as COVID-19 evolves, the University has published an informational web page to serve as a reference point on questions related to the outbreak. The page, www.drake.edu/coronavirus, will be updated regularly as new information comes to light. It is also important to know that the Iowa Department of Public Health will contain the most current general information about the situation."
SJMC students present at Nelson symposium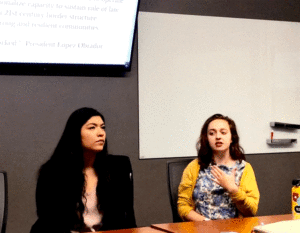 SJMC students Aileen Acosta and Maddie Topliff  were selected to present their research projects at the Nelson Student Research Symposium on Friday as part of the Drake Global Citizen Forum.
Acosta, at left in the photo, presented on "The Relationship Between Undocumented Students and Urban Education Through Immigration Policies." Topliff's research was on "The True Americanization of Mexico: U.S. Facilitation of Domestic and International Gun Violence," which she completed through her January Term 2020 travel course to Mexico.
Donate jeans to protest sexual assault
The SJMC is again participating in Drake's commemoration of international Denim Day, the annual statement of support of and solidarity with victims of sexual assault. Drake Denim Day will be April 29 and will include displays of jeans around campus, protesting an Italian sexual assault conviction that was overturned because of the clothing the victim was wearing. After the display, the jeans will be donated to charity. Donate clean jeans in good condition to administrative assistant Denise Ganpat in Mer. 118 by April 29.
Alumni news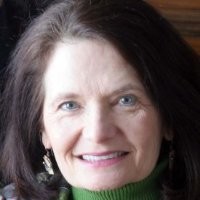 Pam Schoffner, JO'72, is among the honorees of the 2020 Drake University Alumni Awards. Schoffner, who owns a local communications firm that serves small business and nonprofit clients, is being honored for her community service.
A long-time volunteer, Schoffner has been recognized by the United Way, the U.S. Small Business Administration and the National Association of Women Business Owners.
Details and information about the other alumni honorees can be found here: https://news.drake.edu/2020/03/05/drake-university-announces-winners-of-2020-alumni-awards/
SJMC celebrating centennial, Evans' retirement
Alums, join us during Drake Relays 2020 to celebrate two momentous occasions: 100 years of journalism and mass communication education at Drake AND 36 years of Professor Todd Evans at Drake! The party will be on Saturday, April 25, 5-8 p.m. in Meredith Hall. Tickets cost $25 and include food and drink stations, T-shirt screening and more. We'll raise a toast to our great legacy, and current and departed friends. Register here: https://alumni.drake.edu/sjmc-relays-reunion. Plus Evans is getting off the full-time-job hamster wheel to spend more well-deserved time with his wife and daughter. Send your thoughts, tears, memories and best wishes for Todd to Dean Kathleen Richardson (kathleen.richardson@drake.edu) for compilation.
Meredith Hall building hours
Meredith Hall is unlocked during the following hours when classes are in session:
Sunday: 7:30 a.m.-9 p.m.
Monday-Friday: 7 a.m.-9:30 p.m.
Saturday: 7:30 a.m.-5:30 p.m.
Students with SJMC majors can swipe into the building with a Drake ID even when the building is locked from 7 a.m.-2 a.m., Sunday-Thursday. Students who are already in the building when it is automatically locked are allowed to stay in the building. Students who need 24/7 access to swipe into the building should talk to their faculty member or adviser about how to obtain all-hours access.
Have a news item for the Memo?
The SJMC Monday Memo is a weekly newsletter to keep members of the wider SJMC community updated on School news, achievements, events and opportunities. If you have an item for the Memo, please send it to Dean Kathleen Richardson (kathleen.richardson@drake.edu) or SJMC webmaster and multimedia professor Chris Snider (christopher.snider@drake.edu). SJMC alums and other professionals can also contact Chris to have the Memo delivered via weekly email.
The School of Journalism and Mass Communication strives to create a community of scholars that represents the complexity of the human experience in regards to race, ethnicity, gender, sexual orientation, economic status, political views, gender identification, religion, age and physical abilities. We are committed to creating a welcoming and supportive environment for all our faculty, staff, students and visitors, and celebrating our differences through the lens of the First Amendment value of freedom of expression.