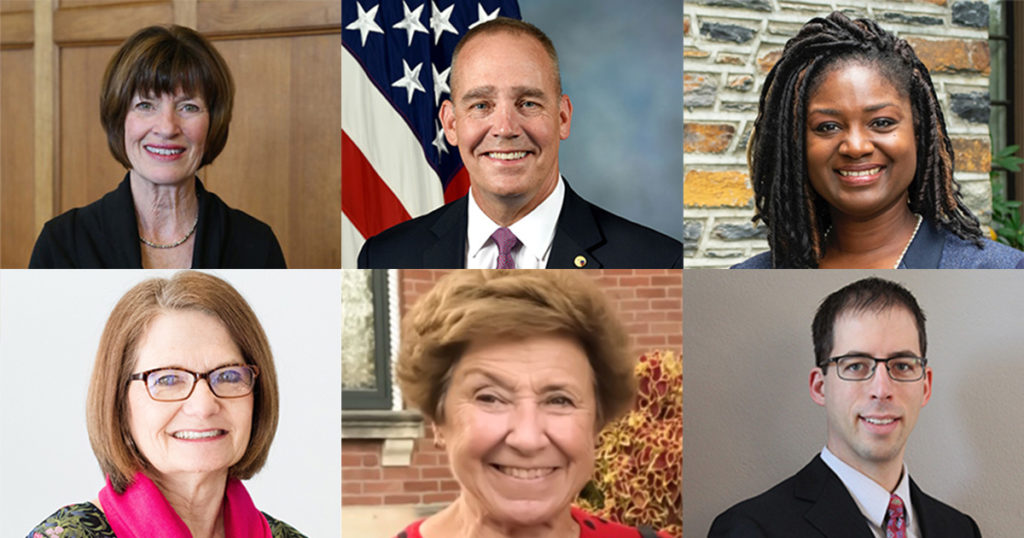 Drake University today announced the 2020 recipients of its annual Alumni Awards. Recipients include a decorated officer of the Iowa Army National Guard, an English teacher who taught at Roosevelt High School for more than 30 years, a central Iowa business owner, and a former executive of John Deere Financial.
"The recipients of this year's Alumni Awards have accomplished great things not only in their professions, but as change-makers in their communities," said Drake University President Marty Martin. "We are honored to celebrate them and the contributions they have made to current and future Drake students."
The Drake University Alumni Awards recognize exceptional Drake graduates for their accomplishments and support of the University. This year's six award winners are Ajenai Clemmons, Phillip J. De Koster, Holly Morrison Dierks, Maj. Gen. Timothy E. Orr, Pam Schoffner, and Sharon Wilkinson. Information on each award winner is below.
The Drake University National Alumni Association will host the 2020 Alumni Awards during the Drake Relays on April 23 at 5:15 p.m. at Sheslow Auditorium on the Drake University campus.
Distinguished Alumni Award
The top honor bestowed upon alumni of Drake recognizes outstanding achievement by an individual in a career or profession and exemplary service to the community and the University.
Holly Morrison Dierks
Bachelor of Arts in psychology, 1976
Holly Morrison Dierks is a retired vice president of human resources at John Deere Financial, where she worked for 37 years. Dierks started as a records clerk at a John Deere factory and rose to become an executive responsible for human resources operations across 18 countries.
Within her community, she has devoted time to volunteering through United Way, mentoring women in the Dress for Success Program, and serving as the president of a Des Moines P.E.O. chapter. She is also a board member and volunteer at Living History Farms.
Since graduating, Dierks has served the University in many capacities making a difference to a number of programs. This includes service on the University's National Alumni Board, the College of Arts and Sciences' National Advisory Board, as in interviewer for the competitive National Alumni Scholar Award competition, and a member of the Drake Athletics Champions Club.
The daughter of Paul Morrison, known as "Mr. Drake," Dierks has continued her father's legacy of unwavering support for the Bulldogs. She is a season ticket holder for football and men's and women's basketball, and 2020 will be her 65th year attending the Drake Relays. A Bulldog Club booster, she has served as president of the Bulldog Club Board for the last several years.
Alumni Achievement Award
Honors alumni for outstanding achievement in their career or profession.
Retired Major General Timothy E. Orr
Bachelor of Science in business, 1983
Retired Major General Timothy E. Orr retired in 2019 after more than 40 years of military service, including 10 years as the Iowa National Guard's Adjutant General.
Orr began his military service with the Iowa Army National Guard in 1978 and served as an enlisted soldier and noncommissioned officer until 1985. He is credited with overseeing Iowa's largest federal mobilization operation since World War II, when 2,800 guardsmen were deployed to Afghanistan in support of Operation Enduring Freedom. He is also responsible for the establishment and overall vision of the State Partnership Program between the Republic of Kosovo and Iowa.
Orr continues to serve his country as a member of the United States Secretary of Defense's Armed Forces Policy Board.
Beyond his military achievements, Orr has taught high school business education classes; coached football, weightlifting, and track; and taught part-time at the Des Moines Area Community College campus in Boone.
Young Alumni Achievement Award
Honors alumni age 40 or younger for outstanding achievement in their career or profession.
Ajenai Clemmons
Bachelor of Arts in international relations, Latin American history and Spanish, 2002
Ajenai Clemmons served from 2010 to 2015 as the policy director of the National Black Caucus of State Legislators (NBCSL), the nation's premier organization serving the interests of the more than 700 African American state legislators representing more than 65 million Americans. The NBCSL is a national network, advocate, and catalyst for public policy innovation, information exchange, and joint action on critical issues affecting African Americans and other marginalized communities.
Prior to her role with the NBCSL, Clemmons helped establish a municipal agency with the City and County of Denver to provide civilian oversight of police and sheriff internal affairs investigations. She was also employed as a paralegal working with immigrant laborers and as an English teacher in Venezuela.
In addition to her bachelor's degree from Drake, Ajenai holds a Master of Public Policy from the University of Denver, and she is currently a Ph.D. candidate in public policy with a concentration in political science at Duke University.
Community Service Award
Recognizes the significant accomplishments of alumni who have engaged in outstanding and meaningful community service.
Pam Schoffner
Bachelor of Arts in journalism, 1972
Pam Schoffner is the owner of P.S. Writes, a communications firm catering to the needs of small business and nonprofit clients.
An active volunteer in the central Iowa community for decades, she has been honored with several awards, including the Individual Hand Raiser Award from United Way, the Iowa Woman in Business Advocate of the Year Award from the U.S. Small Business Administration, and the President's Award from the National Association of Women Business Owners.
Schoffner continues to serve her community through her involvement with organizations such as EveryStep, where she is a hospice, grief camp, and fundraising event volunteer, as well as the past chair of the EveryStep Foundation. She is a founding and current member of the Central Iowa Chapter of the National Association of Women Business Owners (NAWBO).
Alumni Loyalty Award Recipient
Honors alumni for their commitment and dedicated service to Drake University.
Sharon Wilkinson
Bachelor of Science in education with majors in English and social science, 1968
Master of Science in secondary education, 1975
Sharon Wilkinson has served as a board member for the Drake University National Alumni Board for almost two decades. She continues to serve on the Drake University Regional Alumni Committee and is a member of both the President's Circle and Bulldog Club.
Wilkinson is currently an adjunct professor and student teacher supervisor for Upper Iowa University, where she has been since 2001. Prior to assuming her current position, she taught English courses at Theodore Roosevelt High School in Des Moines for 33 years.
Wilkinson helped to create and teach courses for all students, including English language learners, students with learning disabilities, and at-risk students. During her teaching years she also acted as a supervisor to student teachers and practicum students from Drake. Outside of her teaching career, she has served as the president of the Des Moines Women's Club and the Des Moines Area Retired School Personnel and is a member of the Des Moines Historical Society and Daughters of the American Revolution.
Young Alumni Loyalty Award
Honors alumni age 40 or younger for commitment and dedicated service to Drake.
Philip J. De Koster
J.D., 2010
Philip J. De Koster is a lawyer at De Koster & De Koster, PLLC in Hull, Iowa, and an of-counsel attorney with the LaMarca Law Group, P.C.
De Koster served as the director of oral advocacy for Drake Law School and was an advisor to the school's moot court and mock trial teams. He is a past recipient of Drake Law School's Alumni Service Award. He also established the K.M. Waggoner Peer Mentoring Award, an annual award that recognizes one Drake Law School student who embodies Dr. K.M. Waggoner's spirit of mentoring and has made a significant positive impact on their fellow students through peer mentoring. De Koster received many honors during his time at Drake. He graduated summa cum laude, was a member of the Order of the Coif, and was a Dwight D. Opperman Scholar. He was also awarded the Iowa State Bar Association Graduating Senior Award.
About Drake University
Drake University is a midsize, private university in Des Moines, Iowa, enrolling nearly 3,000 undergraduate and more than 1,800 graduate students. Students choose from over 70 majors, minors, and concentrations and 20 graduate degrees offered through six colleges and schools. Drake students, faculty, and staff take advantage of the wealth of cultural, recreational, and business opportunities found in Iowa's capital city. In return, Drake enriches the city through its own cultural offerings, considerable economic impact, and many service-learning endeavors, which channel the talent and energy of the Drake students toward meeting the needs of the community.