On Valentine's Day, Drake Law alumni couples share how they met, where they are now, and give advice for current students.
---
Becky (LW'11) and Keith (LW'11) Duffy met after being placed in the same 1L section their first year at Drake Law School.
Becky said, "I remember asking Keith to be my partner for our contracts mid-term. I wanted to see how he would answer the questions; I thought he seemed smart." Keith remembered Becky's confidence stood out to him when she answered questions in class.
Keith said that going through law school helped them understand their relationship better.
"Being in law school together helped us really get to know one another in social, educational, and professional contexts. We could also appreciate the stress the other may be under and recognize the demands of the profession and how it impacts family life."
"There will be late nights, deadlines, and trips out of town. Most importantly, be sure to make time for your relationship. It's easy to push your most important relationship to the back burner when you're busy; but at some point, that relationship needs to be pulled to the front," Keith added.
When asked about advice they would give to current or future law school students in relationships, they both emphasized communication.
"Be candid about the stress that you're experiencing in your job and the deadlines you have coming up, times you'll be working late, etc. And once you're a lawyer, let whoever you end up with know that there will be some ups and downs in terms of how busy you are," Keith said.
The couple reflected on the meaningful connections made at Drake Law School and within the legal community in Des Moines.
"In 2016, our son was stillborn at 37 weeks. We were so thankful for the support that surrounded us. We both had several opposing counsels send cards, and even gifts. There is something really special about having a community who stands behind you, not only during the good times, but also in a time of great loss," said Becky.
The Duffys now live in Des Moines with their two daughters, Cici and Lydia. Keith is a shareholder at Nyemaster Goode, PC. Becky is an attorney at the Davis Brown Law Firm.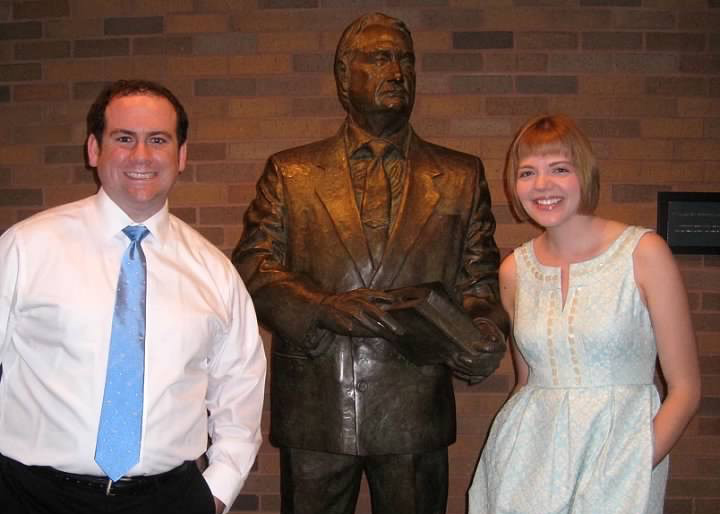 ---
Sydney (LW'13) and Grant (LW'12) Gangestad first met through Delta Theta Phi, the law fraternity they both were active members of. They soon became good friends. However, their relationship didn't start until after Grant had graduated and Sydney was in her final year of law school.
"Grant was incredibly supportive while I studied for the bar exam in the summer of 2013, as he had just taken the exam the prior summer. (And while I passed, I would not recommend falling in love during the midst of studying for the bar.) Because of our backgrounds, we both understand the competitive nature of the field, as well as its demands," Sydney said.
Syndey is Government Relations Special Counsel at the Davis Brown Law Firm. In her role, she lobbies on behalf of private businesses and organizations. Prior to joining the firm in 2018, she served as Legislative Liasion and Special Counsel for the Iowa Judicial Branch.
"I can attribute where I am in life directly to Drake Law School. I originally considered leaving the Midwest (I am from Illinois), but after a visit to campus, I was drawn to the school and quickly fell in love with all aspects of Des Moines." Sydney found Des Moines offered it all—career opportunities, a dynamic community, and the amenities of a large metro area while remaining characteristically 'Iowa nice.'
"I fell in love with the political hub of the Midwest, and shortly after, I fell in love with an Iowa boy. Had I not gone to Drake Law School, I may not have found my way to Des Moines… I may not have received my license to practice in Iowa… I may not even be living in the Midwest… and I may not have found Grant. Definitely grateful the stars aligned and we crossed paths."
"I entered law school not knowing what it would have in store for me. If Sydney and I hadn't met in law school, who knows where we would be. We are glad our paths crossed in the corridors of Cartwright Hall," Grant said.
Grant is a junior partner at Gourley, Rehkemper, & Lindholm, PLC in West Des Moines, where he has worked since 2010. Grant met one of his current partners, Bob Rehkemper, during the First-Year Trial Practicum at Drake Law School, who was trying the case.
When asked about advice they would give to current or future law school students in relationships, Sydney shared a piece of advice she herself had received.
"While attending Drake Law, I had the opportunity to meet Justice Samuel Alito. When asked his best advice for first-year law students, he said: 'Don't take law school too seriously.' This seemed like odd advice at the time, especially coming from a U.S. Supreme Court Justice—but I understand and respect the sentiment. Yes, it is important to work hard in law school, but it is equally as important for you to live a balanced life."
Grant added to make sure to give time for friends and family.
"It can be easy to get overwhelmed, especially if you are trying to balance a significant other, kids, a second job, or other obligations. Make sure to cultivate both your legal studies and your relationships. When you're not studying, take time to enjoy the things that you like to do with the people that you love."
The couple now lives in the Beaverdale Neighborhood in Des Moines with their two dogs, Hank and (new puppy!) Stevie.