Welcome to a new year and a new decade!
"There is a new year coming. It's one with no script written yet, other than the one we write for ourselves." — Journalist Maria Shriver
Longtime SJMC professor Woodward dies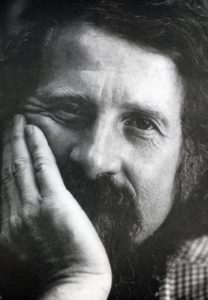 Professor Robert D. Woodward, a beloved faculty member who taught in the Drake School of Journalism and Mass Communication from 1972-2004, died on Jan. 2 at age 83, his family announced.
Professor Woodward taught generations of SJMC students journalism history, reporting and editing. He also taught Honors classes and was longtime Times-Delphic adviser. He was a political junkie, an early and enthusiastic explorer of the Internet world, and a monarch butterfly expert. Prior to teaching, Woodward was a news editor at the Washington Star. Known affectionately as "Woody" by his students, he won the University's top teaching and advising honors, and received the Drake Medal of Service in 2006.
Visitation will be held from 1-3 p.m., Saturday, Jan. 11, at Hamilton's Funeral Home, 605 Lyon Street, Des Moines, immediately followed by a celebration of his life, with the location soon to be announced. Full obituary may be read at: www.HamiltonsFuneralHome.com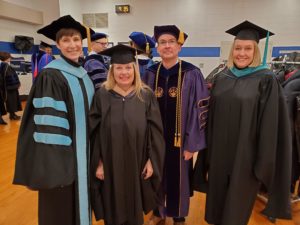 13 SJMC students celebrate graduation
SJMC faculty helped 13 students celebrate their Drake careers at December commencement. Those attending the ceremony: undergraduates Sarah Clarke, Ellie Detweiler, Ashley Flaws, Katherine Moon, Erin Morgan and Jondavid Ottenbacher, and graduate students Sarah Brundrett, Kristin Danley-Greiner, Ema DuBois, Abigail Goodenow, Kevin Kelly, Jacob Oyen and Cara Rinkoff.
PR students recognized with national honors
Ellie Detweiler, a Drake University senior majoring in public relations and sociology, has been named national PR News Intern of the Year. Detweiler, a December graduate, was a communications intern at the Kennedy Center in Washington, D.C., last summer. She has also worked at Des Moines Performing Arts and the Des Moines Playhouse. Detweiler will be moving to New York City for a post-graduate internship working at DKC/O&M, a Broadway public relations house.
In addition, Strategic Political Communication and PR senior Kollin Crompton, who was a field director and youth coordinator for Iowa Gov. Kim Reynolds' gubernatorial campaign, was honorable mention national PR Student of the Year. Crompton is working as digital director for the Republican Party of Iowa, and has had internships at LS2group political consultants, the Leadership Institute in Arlington, VA, and two congressional campaigns.
This is the sixth year in a row that Drake has had a finalist in the PR News competition. There are only two finalists for each award.
Meet new faculty candidates
SJMC is welcoming to campus three faculty candidates this month. The person hired for this position will teach in both the undergraduate and graduate programs, including the core curriculum, public relations and strategic political communication. Your chance to meet each of the three candidates:
Wednesday, Jan. 8; Friday, Jan. 10; Monday, Jan. 13: Class presentations from 9-10 a.m. each day in Mer. 124B; pizza lunch with students each day from 12:15-1 p.m. in Mer. 104
Drake hosting alumni event in Denver
Denver area alums and parents are invited to attend a reception in Denver on Friday evening, Jan. 17. The event will be hosted by the Board of Trustees and President Marty Martin, and Drake administration and staff will be in attendance, including SJMC Dean Kathleen Richardson. For more information and to RSVP, see https://alumni.drake.edu/denverreceptionbot
As part of the SJMC's centennial celebration, we are encouraging alums to share their "SJMC Stories" https://drakesjmc100.com/sjmc-stories/ . If you would like to be involved with this project, email kathleen.richardson@drake.edu. Better yet, just shoot a video telling us about your memories of the Drake SJMC and send that our way. We'll also accept written memories to post.
The SJMC centennial celebration will culminate in an alumni reception during Drake Relays weekend 2020: Saturday, April 25, 5-8 p.m. in Meredith Hall. Get your friends together and return to campus for a fun-filled evening.
In addition, we will be celebrating the "matriculation" of electronic media Professor Todd Evans after 36 years at Drake!
Stay tuned to the SJMC's centennial website (www.drakesjmc100.com) for updates. Learn about SJMC history and donate to the SJMC Centennial Fund (alumni.drake.edu/SJMCcentennial) to help support the next 100 years of excellence at Drake!
Report for America Corps looking for applicants
Report for America — a philanthropically funded, nonprofit national initiative to improve community journalism — is looking for emerging journalists to be placed with local news organizations in paid one-year positions. Applications are open through Jan. 31, with selection this spring and RFA Corps jobs starting in summer 2020. For more information and to apply, see https://www.reportforamerica.org/application/
Emmys, Murrow Awards open for entries
The National Academy of Television Arts and Sciences (Emmy) Awards are open to high school and college media students in the Upper Midwest Region, including Iowa. The deadline for entries is Jan. 31.
There are 20+ categories for  student-created videos, including newscasts, news stories, arts and entertainment, fiction (student-written productions), non-fiction (documentaries, real-life stories), music video, public affairs-community service (local issues), PSAs, commercials, sports and more! There are even craft categories for writers, photographers, editors, talent and graphics/animation/special effects.
The
Radio Television Digital News Association's prestigious Student Murrow Awards
are also open for entries.
The deadline is Feb. 6 for early bird entries. 
Submit your best individual or team work in the categories of audio newscast, audio reporting, video newscast, video reporting or digital reporting. See
https://awards.rtdna.org/?_zs=PHaDW&_zl=Xw3s1
for more information and to create an award entry account.
Information session for Orientation leaders
There is one remaining information session for students interested in becoming orientation leaders:
Wednesday, Jan. 29, 6 p.m., Olmsted TMR 132
Please visit http://www.drake.edu/orientation/orientationleaders/ to learn more about the position.
Broadcast scholarships available
The Radio Television Digital News Foundation's scholarship program aims to enable students to pursue their passion for the critical public service that is journalism. RTDNF also offers fellowship opportunities for recent graduates and new professional journalists with fewer than 10 years of experience.
Nine scholarships for journalism students and four fellowships for new professionals are available. Explore all of the RTDNF award opportunities here. Applications will be accepted through Friday, Jan. 17.
Meredith Hall building hours
Meredith Hall is unlocked during the following hours when classes are in session:
Sunday-Sunday: 7:30 a.m.-9 p.m.
Monday-Friday: 7 a.m.-9:30 p.m.
Students with SJMC majors can swipe into the building with a Drake ID even when the building is locked from 7 a.m.-2 a.m., Sunday-Thursday. Students who are already in the building when it is automatically locked are allowed to stay in the building. Students who need 24/7 access to swipe into the building should talk to their faculty member or adviser about how to obtain all-hours access.
Have a news item for the Memo?
The SJMC Monday Memo is a weekly newsletter to keep members of the wider SJMC community updated on School news, achievements, events and opportunities. If you have an item for the Memo, please send it to Dean Kathleen Richardson (kathleen.richardson@drake.edu) or SJMC webmaster and multimedia professor Chris Snider (christopher.snider@drake.edu). SJMC alums and other professionals can also contact Chris to have the Memo delivered via weekly email.
The School of Journalism and Mass Communication strives to create a community of scholars that represents the complexity of the human experience in regards to race, ethnicity, sex, sexual orientation, economic status, political views, gender identification, religion, age and physical abilities. We are committed to creating a welcoming and supportive environment for all our faculty, staff, students and visitors, and celebrating our differences through the lens of the First Amendment value of freedom of expression.