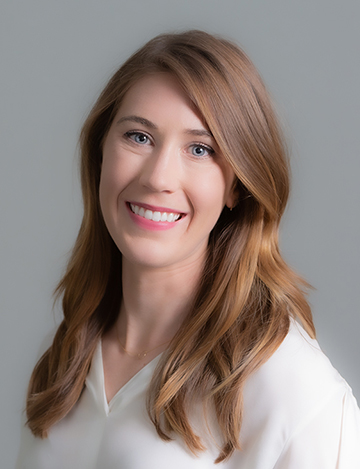 As part of her Ph.D. dissertation at the University of Minnesota, Drake University College of Pharmacy and Health Sciences (CPHS) alumna Natalie Schmitz, PH/MPA '14, worked with a team of researchers intending to improve the lives of people with severe brain or spinal cord injuries, multiple sclerosis, and cerebral palsy.
Involuntary muscle contractions and spasticity are common symptoms of individuals living with these conditions and injuries. Baclofen, the existing muscle relaxant used to reduce spasms, can be administered orally or as an infusion delivered directly to the spinal fluid. If the baclofen therapy for a person is abruptly discontinued, severe withdrawal symptoms can occur, leading to life-threatening conditions. There are currently no approved therapies on the market to help prevent or manage the withdrawal syndrome.
Schmitz, a current assistant professor of pharmacy practice at the University of Wisconsin School of Pharmacy, joined the research team of faculty members at the UM College of Pharmacy in September of 2014 to complete clinical trials of a new baclofen therapy that can be injected directly into veins (intravenously) and would serve as a bridging therapy for patients whose oral baclofen therapy has been abruptly interrupted. The new intravenous baclofen would safely maintain the blood levels needed to control spasticity in patients during the interim period.
When Schmitz joined the group of UM researchers, trials on animals and a small group of volunteers were already complete. Schmitz led a dose escalation study of intravenous baclofen in healthy adults. The data from the study was used to see how effective the intravenous baclofen would be under different dose regimes and compare it to the oral version.
"It's exciting to be a part of a project that will improve the lives of patients with severe spastic disorders," said Schmitz. "This new method of administering baclofen will give them an improved quality of life and peace of mind knowing that there is another option for them in the event of their oral therapy being interrupted so they can avoid serious adverse effects."
A new drug application for the intravenous baclofen will be submitted to the US Food and Drug Administration. Schmitz and the research team predict it could be approved as early as the end of 2020 because of the early animal and human trials they completed, and it is a drug that already exists as an approved therapy in alternative dosage forms.
Schmitz credits her time at Drake and interactions with professors there for helping her pursue her interests and goals. When searching for the pharmacy program that was right for her as a high schooler, Schmitz was drawn to Drake's College of Pharmacy and Health Sciences because of the meticulous interest that professors took in their students' success.
"Having the opportunity to pursue a broad range of pharmacy-related experiences gave me the freedom to find my true passion," said Schmitz. "From there, the faculty at Drake were encouraging, supportive, and helped me navigate what can be a confusing and daunting journey. The professors invested in my personal success and helped guide me toward my interests and passions."