Good luck on finals and have a great winter break! See you again in 2020!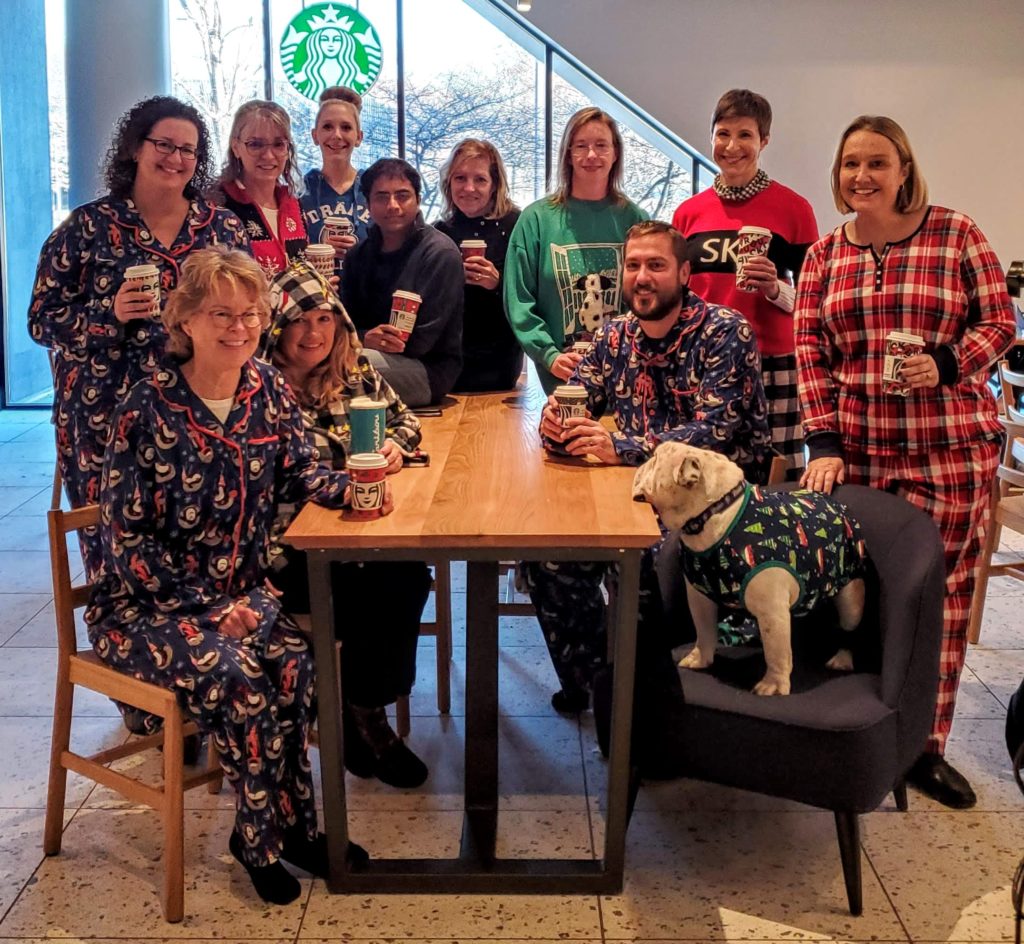 And before you go . . . contribute to the holiday food drive to benefit the Drake neighborhood. The food drive is sponsored by Next Course Food Recovery Network at Drake and the Drake Community Action Board. Drop food items (including goods from the C Store with your extra flex dollars) into the box outside the Dean's Office, Mer. 118, before Tuesday, Dec. 10.
Hy Vee exec and alum visits advertising class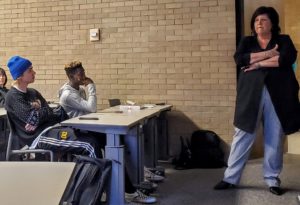 Donna Tweeten, JO'85, spoke to Professor Dorothy Pisarski's JMC 113 Concepts in Consumer Behavior class last week. Tweeten is executive vice president, chief marketing officer and chief customer officer of the grocery store chain Hy Vee. Tweeten discussed her work and the importance of understanding your customer. She also stressed perseverance and bold ideas, telling the students, "Don't let anyone tell you you can't do something."
Iowa Caucus 2020 opportunity for first-year students
Are you a first-year student looking to remain on campus to experience the final stages of the 2020 Iowa Caucus campaign?  If so, INTD 030 Iowa Caucus 2020, a new one-credit J-Term class for first-year students, may be right for you.  Registration is limited to 18 first-year students who will be actively working with a campaign, media organization or other caucus-related activity.  On-campus housing is available. To find out more, contact Professor Rachel Paine Caufield at rachel.caufield@drake.edu.
Congratulations to Mallory for being True Blue!
SJMC dean's assistant Mallory Quinn last week was honored by Drake's All Staff Council with its True Blue Award. Wrote the person who nominated Mallory: "I've witnessed Mallory to be responsive, creative and driven to provide students, staff and faculty with helpful resources and information. She's not someone who seeks the limelight or credit for special recognition, although she is clearly deserving. She is focused on finding solutions for students to make sure they can meet their degree requirements in a timely manner, while preserving the integrity of the accredited SJMC programs. (Mallory's) giving and problem-solving approach supports SJMC students and the Drake campus as a whole." Congratulations to Mallory for a well-deserved recognition!
Senior capstone client roster completed
One of the hallmarks of the SJMC curriculum, at both the graduate and undergraduate levels, is a robust, hands-on capstone experience. The undergrad Digital Media Production, News and Magazine Media seniors collaborate on the multimedia website Urban Plains. The Advertising, Public Relations and Strategic Political Communication students complete campaigns for off-campus clients. This year, those clients are:
Advertising: Station One Records, a nonprofit record label promoting local musicians that is based in the Drake neighborhood, and one of its artists, Lily DeTaeye.
Public Relations: Al Exito, a statewide organization whose mission is the empowerment of Iowa Latinos through education, college attainment and success for Latino families.
Strategic Political Communication: The greater Iowa chapter of the Alzheimer's Association.
Alums, send us your SJMC Stories and join our centennial celebration
As part of the SJMC's centennial celebration, we are encouraging alums to share their "SJMC Stories" https://drakesjmc100.com/sjmc-stories/ . If you would like to be involved with this project, email kathleen.richardson@drake.edu. Better yet, just shoot a video telling us about your memories of the Drake SJMC and send that our way. We'll also accept written memories to post.
The SJMC centennial celebration will culminate in an alumni reception during Drake Relays weekend 2020: Saturday, April 25, 5-8 p.m. in Meredith Hall. Get your friends together and return to campus for a fun-filled evening.
In addition, we will be celebrating the "matriculation" of electronic media Professor Todd Evans after 36 years at Drake!
Stay tuned to the SJMC's centennial website (www.drakesjmc100.com) for updates. Learn about SJMC history and donate to the SJMC Centennial Fund (alumni.drake.edu/SJMCcentennial) to help support the next 100 years of excellence at Drake!
Midwest Emmys contest open for entries
The National Academy of Television Arts and Sciences (Emmy) Awards are open to high school and college media students in the Upper Midwest Region, including Iowa.
There are 20+ categories for  student-created videos, including newscasts, news stories, arts and entertainment, fiction (student-written productions), non-fiction (documentaries, real-life stories), music video, public affairs-community service (local issues), PSAs, commercials, sports and more! There are even craft categories for writers, photographers, editors, talent and graphics/animation/special effects.
Must read before submitting entries:
Nominations will be announced on March 2, 2020, and the student production awards ceremony will be held on on Friday, April 3, 2020.
For more information contact info@midwestemmys.org or call 952-381-7
Orientation leaders needed for next year
Want to help welcome new students to Drake University? Want to get involved? Want an on-campus job this summer? Consider becoming an orientation leader.
There is one remaining information session about this position:
Wednesday, Jan. 29, 6 p.m., Olmsted TMR 132
Please visit http://www.drake.edu/orientation/orientationleaders/ to learn more about the position.
Sign up for social media workshop
Associate Professor Chris Snider will host a Des Moines social media workshop on Dec. 17 at Drake University. The workshop is designed for people who run social media accounts for a company or organization and want to build a strategy to better succeed on social media in 2020. Get more details and sign up here.
Fulbright offers scholarship for study program in Berlin
Operated by the German-American Fulbright Commission, the Berlin Capital Program (May 23-30, 2020) invites young U.S. journalists and students of journalism to Germany. The weeklong seminar allows them to take a closer look at the German media landscape and gain a deeper awareness of the political, economic and cultural environment in Germany and Europe.  Its goals are to promote a better understanding of transatlantic issues, expand the journalists´ professional perspectives and networks, and help them better "translate" the news on this side of the Atlantic. The program is conducted in English and is fully funded through the Fulbright Commission.
The award benefits cover program costs, including round-trip transportation between the U.S. and Germany, hotel accommodation, some meals, local transportation and health insurance coverage during the seminar.
As 2020 marks the 30th anniversary of German reunification, this year's Berlin Capital Program explores the role of the media in nurturing democracy.  The points for discussion with media professionals include:
How do the media impact political decision-making processes in Germany, and what role did they play in the reunification process in and after 1990?
What transformations has the German media landscape undergone in the last 30 years?
How do these transformations affect the role of journalists and public discourse?
What skills/competencies do citizens need today in dealing with media?
The program will explore the Germans´ state of mind 30 years after reunification and investigate the many ways in which the city of Berlin has changed in its role as Germany's capital.
Participants will also learn about and discuss continuing changes within the European Union and their impact on Germany.
For the first time this year, the Berlin Capital Program will feature a three-workday (five overnights) extension (May 30-June 4, 2020) for a limited number of participants. It allows additional time to follow up on meetings from the program week, conduct independent research, and further take advantage of the Fulbright experience.
To be eligible for the program, an applicant must
be a U.S. young professional journalist, currently employed by U.S. media in the U.S., with fewer than 5 years of work experience in the field;
or a Master's student in the field of journalism or communications at a U.S. university;
or a graduating senior in the field of journalism or communications at a U.S. university;
demonstrate relevant background and professional interests;
be U.S. citizens – dual citizenship holders with German citizenship are not eligible;
permanently reside in the U.S. and have a valid U.S. passport.
The full program description and application documents can be accessed at Fulbright website and shared from Facebook post.
Applications are welcome until Jan. 8, 2020.
Questions? Contact Jamie Moore, (specialprograms@fulbright.de).
Broadcast scholarships available
The Radio Television Digital News Foundation's scholarship program aims to enable students to pursue their passion for the critical public service that is journalism. RTDNF also offers fellowship opportunities for recent graduates and new professional journalists with fewer than 10 years of experience.
Nine scholarships for journalism students and four fellowships for new professionals are available. Explore all of the RTDNF award opportunities here. Applications will be accepted through Friday, Jan. 17.
Meredith Hall building hours
Meredith Hall is unlocked during the following hours when classes are in session:
Sunday-Sunday: 7:30 a.m.-9 p.m.
Monday-Friday: 7 a.m.-9:30 p.m.
Students with SJMC majors can swipe into the building with a Drake ID even when the building is locked from 7 a.m.-2 a.m., Sunday-Thursday. Students who are already in the building when it is automatically locked are allowed to stay in the building. Students who need 24/7 access to swipe into the building should talk to their faculty member or adviser about how to obtain all-hours access.
Have a news item for the Memo?
The SJMC Monday Memo is a weekly newsletter to keep members of the wider SJMC community updated on School news, achievements, events and opportunities. If you have an item for the Memo, please send it to Dean Kathleen Richardson (kathleen.richardson@drake.edu) or SJMC webmaster and multimedia professor Chris Snider (christopher.snider@drake.edu). SJMC alums and other professionals can also contact Chris to have the Memo delivered via weekly email.
The School of Journalism and Mass Communication strives to create a community of scholars that represents the complexity of the human experience in regards to race, ethnicity, sex, sexual orientation, economic status, political views, gender identification, religion, age and physical abilities. We are committed to creating a welcoming and supportive environment for all our faculty, staff, students and visitors, and celebrating our differences through the lens of the First Amendment value of freedom of expression.