Have a great Thanksgiving break!
Meredith Hall building hours will be modified starting Tuesday night at midnight through Saturday night. SJMC students will be able to access the building with their ID cards, but none of the classrooms will be unlocked. Normal building hours will resume on Sunday (7:30 a.m.-9 p.m.).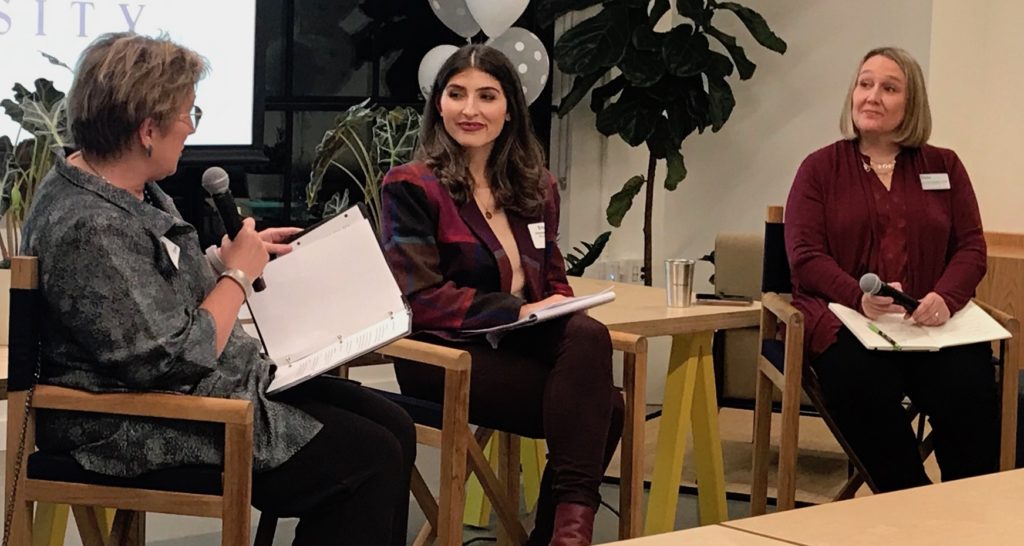 Drake alums discuss politics, journalism in Twin Cities
Drake alumni gathered in Minneapolis last week to celebrate the SJMC's centennial and engage with a panel of experts in a discussion of the Iowa Caucuses, presidential politics and the state of community journalism. Panelists from left were Lee Carey, JO'77, communications consultant and former public TV producer; Erin Hassanzadeh, JO'14, reporter for WCCO-TV in the Twin Cities, and SJMC associate professor Jennifer Glover Konfrst, JO'96, GR'98. The event was hosted by Lynne Robertson, JO'84, owner of FAME agency.
SJMC student, alum featured during Bucksbaum
The SJMC was front and center at last week's Bucksbaum Lecture appearance by soccer star Megan Rapinoe: Public Relations junior Olivia Bruce introduced Rapinoe and Jill Farmer, JO'91, interviewed Rapinoe on stage. Congratulations to both for a job well done!
Spanish media professor visits Drake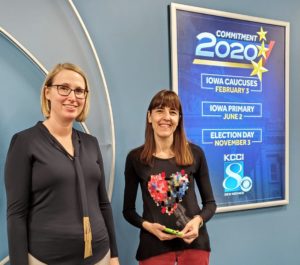 Mercedes Herrero de la Fuente, at right in the photo, a professor at Universidad Nebrija in Madrid, Spain who has a background in broadcast journalism, visited Drake SJMC as part of International Education Week. Nebrija is a partner institution with Drake and has a similar professionally oriented communications program. Herrero spoke with several SJMC classes and also toured KCCI-TV, the local CBS affiliate, with news director Allison Smith, JO'00.
More Drake international news: Drake is one of the nation's top institutions for study abroad, according to the Institute of International Education. In a recent IIE report, Drake ranks 19 among the top 20 doctorate-granting institutions for undergraduate participation in study abroad. Others on the list include Georgetown, American University, Yale, and Pepperdine. For more information about Drake's international program, including scholarships available to support study abroad, see https://www.drake.edu/studyabroad/gettingstarted/fundingeducationabroad/
Drake wins national student engagement award
Drake has received national recognition for its high level of student engagement in the democratic process through voting. The University was awarded the Platinum Seal in the ALL IN Campus Democracy Challenge. More information can be found here: https://news.drake.edu/2019/11/22/drake-university-awarded-platinum-seal-in-2019-all-in-campus-democracy-challenge/?fbclid=IwAR0giebUE3pqwbmfTqDf0VPMcBhhp_DMJFDAvpsCkWZyE-mqRFqOzf31bI0
Alumni update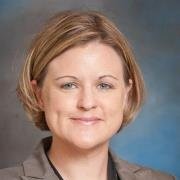 Christie Denniston, JO'02, GR'04, was recently named Utah Public Relations Professional of the Year. Denniston recognized her SJMC mentors — Carol Bodensteiner, GR'96; Jennifer Glover Konfrst, now SJMC associate professor, and the late PR professor Ronda Menke, JO'75, GR'90 — "who always insisted on excellence." Denniston is senior director of public relations at Blake Communications, is director of marketing and communications for the college of arts and humanities at Weber State University, and also has taught public relations.
Send us your SJMC Stories
As part of the SJMC's centennial celebration, we are encouraging alums to share their "SJMC Stories." See https://drakesjmc100.com/sjmc-stories/ for what we have so far. If you would like to be involved with this project, email kathleen.richardson@drake.edu. Better yet, just shoot a video telling us about your memories of the Drake SJMC and send that our way. We'll also accept written memories to post.
Orientation leaders needed for next year
Want to help welcome new students to Drake University? Want to get involved? Want an on-campus job this summer? Consider becoming an orientation leader.
Orientation leaders are dedicated to providing incoming students and their families with all of the information and resources necessary to ensure their transition to Drake is a smooth and enjoyable one.
Orientation leaders play a vital role in this process, working closely with new students and their families on a wide variety of topics including academics, student involvement, housing options and more.
There will be two information sessions about this position:
Friday, Dec. 6, 2019, 1 p.m., Olmsted TMR 132
Wednesday, Jan. 29, 2020, 6 p.m., Olmsted TMR 132
You will be compensated for your time and effort and gain valuable skills in this position.
Please visit http://www.drake.edu/orientation/orientationleaders/ to learn more about the position, but if you have any questions, feel free to contact Marina Verlengia at marina.verlengia@drake.edu.
Professor Snider hosts social media workshop
Associate Professor Chris Snider will host a Des Moines social media workshop on Dec. 17 at Drake University. The workshop is designed for people who run social media accounts for a company or organization and want to build a strategy to better succeed on social media in 2020. Get more details and sign up here.
Fulbright offers scholarship for study program in Berlin
Operated by the German-American Fulbright Commission, the Berlin Capital Program (May 23-30, 2020) invites young U.S. journalists and students of journalism to Germany. The weeklong seminar allows them to take a closer look at the German media landscape and gain a deeper awareness of the political, economic and cultural environment in Germany and Europe.  Its goals are to promote a better understanding of transatlantic issues, expand the journalists´ professional perspectives and networks, and help them better "translate" the news on this side of the Atlantic. The program is conducted in English and is fully funded through the Fulbright Commission.
The award benefits cover program costs, including round-trip transportation between the U.S. and Germany, hotel accommodation, some meals, local transportation and health insurance coverage during the seminar.
As 2020 marks the 30th anniversary of German reunification, this year's Berlin Capital Program explores the role of the media in nurturing democracy.  The points for discussion with media professionals include:
How do the media impact political decision-making processes in Germany, and what role did they play in the reunification process in and after 1990?
What transformations has the German media landscape undergone in the last 30 years?
How do these transformations affect the role of journalists and public discourse?
What skills/competencies do citizens need today in dealing with media?
The program will explore the Germans´ state of mind 30 years after reunification and investigate the many ways in which the city of Berlin has changed in its role as Germany's capital.
Participants will also learn about and discuss continuing changes within the European Union and their impact on Germany.
For the first time this year, the Berlin Capital Program will feature a three-workday (five overnights) extension (May 30-June 4, 2020) for a limited number of participants. It allows additional time to follow up on meetings from the program week, conduct independent research, and further take advantage of the Fulbright experience.
To be eligible for the program, an applicant must
be a U.S. young professional journalist, currently employed by U.S. media in the U.S., with fewer than 5 years of work experience in the field;
or a Master's student in the field of journalism or communications at a U.S. university;
or a graduating senior in the field of journalism or communications at a U.S. university;
demonstrate relevant background and professional interests;
be U.S. citizens – dual citizenship holders with German citizenship are not eligible;
permanently reside in the U.S. and have a valid U.S. passport.
The full program description and application documents can be accessed at Fulbright website and shared from Facebook post.
Applications are welcome until Jan. 8, 2020.
Questions? Contact Jamie Moore, (specialprograms@fulbright.de).
Broadcast scholarships available
The Radio Television Digital News Foundation's scholarship program aims to enable students to pursue their passion for the critical public service that is journalism. RTDNF also offers fellowship opportunities for recent graduates and new professional journalists with fewer than 10 years of experience.
Nine scholarships for journalism students and four fellowships for new professionals are available. Explore all of the RTDNF award opportunities here. Applications will be accepted through Friday, Jan. 17.
Take campus climate survey
The campus climate survey will be open through Tuesday, Nov. 26. All faculty, staff and students have the opportunity to participate in this year's campus climate assessment by taking a survey that asks you to anonymously share your experiences surrounding inclusion at Drake. Your participation is vital to help us continue to improve our equity and inclusion work. Learn more by visiting the DU What Matters website.
Have a news item for the Memo?
The SJMC Monday Memo is a weekly newsletter to keep members of the wider SJMC community updated on School news, achievements, events and opportunities. If you have an item for the Memo, please send it to Dean Kathleen Richardson (kathleen.richardson@drake.edu) or SJMC webmaster and multimedia professor Chris Snider (christopher.snider@drake.edu). SJMC alums and other professionals can also contact Chris to have the Memo delivered via weekly email.
The School of Journalism and Mass Communication strives to create a community of scholars that represents the complexity of the human experience in regards to race, ethnicity, sex, sexual orientation, economic status, political views, gender identification, religion, age and physical abilities. We are committed to creating a welcoming and supportive environment for all our faculty, staff, students and visitors, and celebrating our differences through the lens of the First Amendment value of freedom of expression.