The ALL IN Campus Democracy Challenge recently hosted its second biennial awards ceremony where select higher education institutions, educators, and students were recognized for excellence in student voter engagement during the 2018 midterm elections. Award winners were selected for their exemplary leadership in supporting students form the habits of active and informed citizenship.
Drake University was honored with the 2019 Platinum Seal, which is awarded to colleges and universities with 50 percent or higher in voter participation for the 2018 Midterm Election. More than 60 institutions enrolling 6 million students in total participate in the ALL IN Challenge.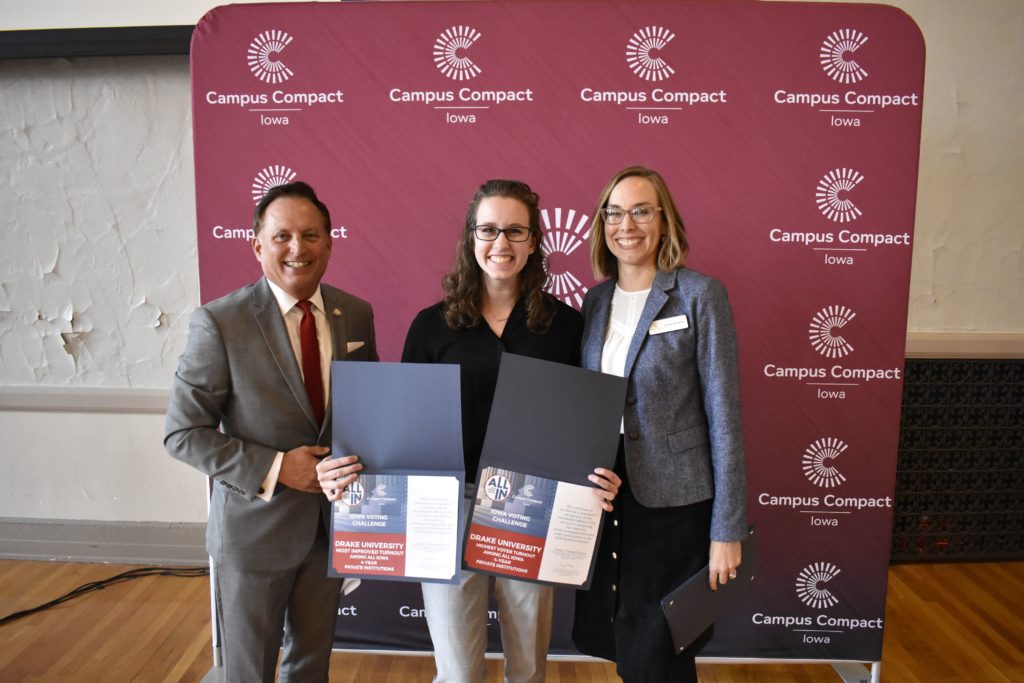 "This award is the testament to the hard work of Drake students, faculty, staff, and administrators," said Rachel Paine Caufield, professor of political science at Drake. "Drake embraces an ethos of informed, active democratic citizenship, and this award speaks to our community commitment to these principles."
From 2014 to 2018 student voter participation more than doubled nationally. The most recent elections were dubbed as a "remarkable midterm election" by the National Study of Learning, Voting, and Engagement, a research study of the Institute for Democracy in Higher Education (IDHE) at the Jonathan M. Tisch College of Civic Life at Tufts University. Data provided by IDHE shows Drake University's voting rate increased by 19.8 percentage points, reaching 51.8 percent in the 2018 Midterm Election.
"Every member of the Drake community should be proud that our campus has the highest voter turnout in the state of Iowa and ranks among the highest in the nation," Caufield said. "The opportunities for Drake students are unparalleled, and we are fortunate to have such a vibrant political atmosphere on campus."
Drake senior Samantha Bayne was also honored at the award ceremony this year, along with nine other students from universities and colleges across the nation, for her work in supporting student engagement, voter registration, and turnout in 2018. "Our fantastic voting statistics reflect what many of us have known all along: Drake students are incredibly engaged and active citizens," said Bayne. "We have momentum that will only keep growing in the 2020 election cycle."
"We couldn't be more proud of the outstanding recipients of this year's ALL IN Challenge awards for their contributions to improving democratic engagement," said Jen Domagal-Goldman, Executive Director of the ALL IN Campus Democracy Challenge. "The rise in voter participation and engagement on college campuses in last year's midterms and what's sure to be a high turnout in 2020 can and will undoubtedly be tied to the hard work of the dedicated students, faculty, administrators, and partner organizations that are part of the ALL IN Challenge network.
About the ALL IN Campus Democracy Challenge
The ALL IN Challenge strives to grow civic culture and institutionalize democratic engagement activities and programs on college campuses, making them a defining feature of campus life. The Challenge, in collaboration with higher education, seeks to:
● Make participation in local, state, and federal elections a social norm.
● Substantially increase the number of college students who are democratically engaged on an ongoing basis, during and between elections, and not just at the polls.
● Make educating for nonpartisan civic learning, political engagement, and voter participation on college campuses an accepted and expected part of the culture and curriculum so that students graduate with the knowledge, skills, behaviors, and values needed to be informed and active citizens.
Learn more and see a full list of winning campuses at allinchallenge.org.