As the story goes, Drake University founder and first chancellor George Carpenter climbed an elm tree in 1881 to inspect the countryside surrounding Des Moines, then only 30 years into its incorporation as a city, to select a site for the new institution.
Drake established its footprint around that storied elm tree, three miles due northwest of Des Moines' cornerstone at the confluence of the Raccoon and Des Moines Rivers. As time progressed, the city morphed its way around campus and eventually stretched beyond into miles of neighborhoods and suburbs. Today, Drake sits at the heart of Des Moines. As the University changed, so has the surrounding neighborhood, and in some instances the two evolved as a singular unit.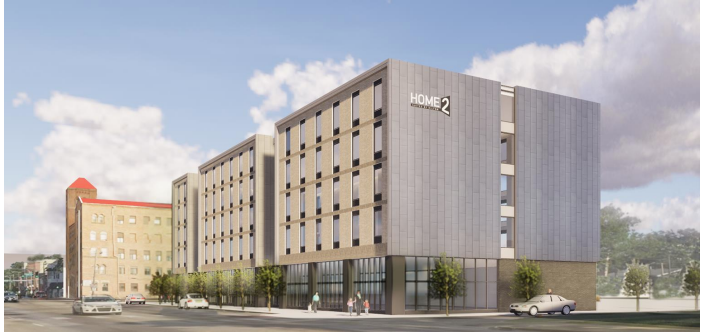 A Continuation of Growth
Several key University and neighborhood developments mark recent history and the others lay on the precipice, positioning Drake and the neighborhood to launch into a new era of growth, collaboration, and a strengthened community positioned for the future.
While the 1980s and 1990s saw the Drake Legal Clinic, Holiday Inn Express, and Old Main Apartments take shape and the Drake Diner open its doors, today's campus and neighborhood are seeing yet another round of growth. Nelson Development is progressing on construction of a five-story, 124-room Home2 Suites by Hilton hotel on University Ave., south of Cole Hall and Old Main. There will also be room for at least one major restaurant and retail space on the first floor, according to Ryan Arnold, Drake's director of community engagement.
Streetscaping is also in progress on University Ave. between 25th and 31st Streets. The completed project will make the corridor more pedestrian-friendly with wider sidewalks, bike-lanes, enhanced bus shelters, and trees.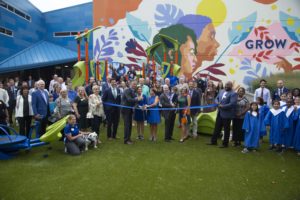 On campus, the new Gregory & Suzie Glazer Burt Boys & Girls Club opened its doors to Des Moines Public Schools students in August. The Burt Club is an expansion location for the Boys & Girls Clubs of Central Iowa and Drake is just the second private university in the U.S. to house a Boys & Girls Club.
Transformative Change
More construction is on the horizon in the neighborhood, too. This July, Drake announced a major development project on the east side of campus. Drake intends to sell and lease parcels totaling more than four acres in Dogtown, to Merge Urban Development Group (Merge) of Cedar Falls, Iowa.
Merge is proposing to develop the tract of land with an investment exceeding $63 million and construct 300 new apartments units for more than 400 new residents, as well as townhomes, commercial space, and parking to serve residents, campus commuters, and the public. The plan includes reopening the Varsity Theater as well. A mixture of housing unit sizes that will be accessible to a wide range of incomes are part of the plan. Arnold indicated that a majority of incomes in this market will be able to attain housing in the new development.
"I think we're going to see this really be a tool that's going to curb displacement and retain neighborhood diversity," he said.
Additional retail and commercial space will realize the potential of the University Avenue corridor and the Dogtown arts and cultural district.
"The density is really going to take [the neighborhood] to new heights in terms of stability and has the potential to lift everyone up," said Steve Vilmain, owner of the Drake Diner. Vilmain serves on numerous boards, including the Des Moines Parks Board and Golf Advisory Committee, and was on the committee that consulted on the hotel development.
Additional residential and commercial spaces open new possibilities for the University and neighborhood while strengthening intrinsic characteristics of the neighborhood.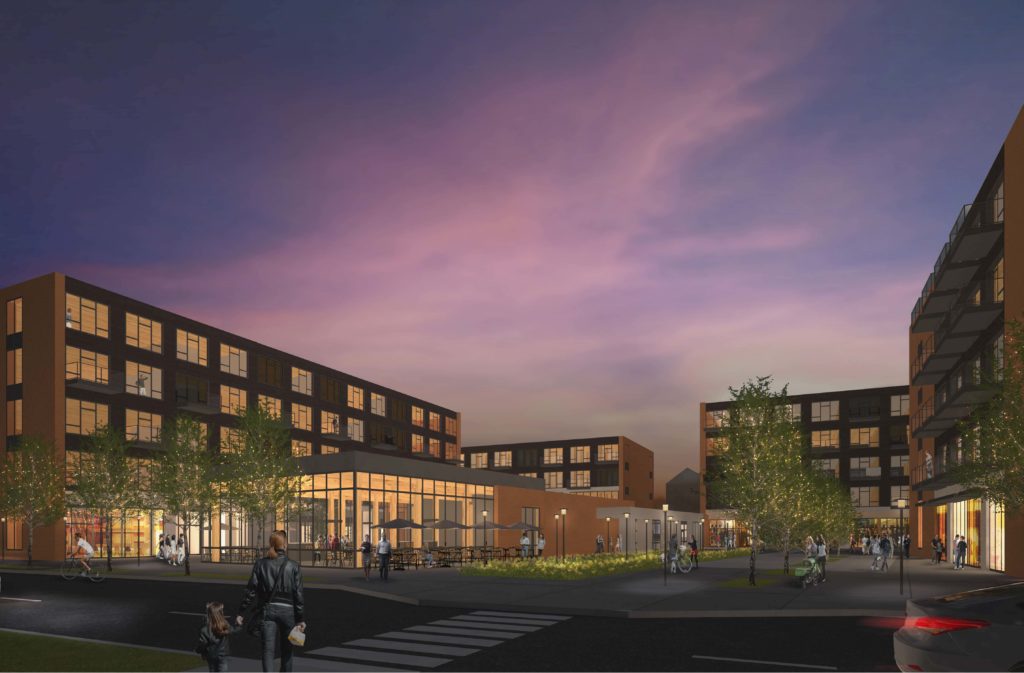 "One of the strengths of the Drake neighborhood is its diversity and we need to ensure that a variety of housing options remain available to all the people who make this a great place to live," said Jason Stuyvesant, BN'03.
Stuyvesant is on the Drake Neighborhood Association board and is a second-generation Bulldog (his dad, Robert, BN'69, LW'74, ran track at Drake). A few years after graduation, Jason returned to the Drake neighborhood when he and his wife, Heather, bought a house near campus for their growing family.
"I think these projects will make Drake the 'it' neighborhood in Des Moines," Stuyvesant said. "There has already been a resurgence in the area due to the younger generation's desire to fix up older homes rather than purchase new. Being close to the city core is beneficial already and having all of these projects happening only improves on the amenities and walkability."
Future Potential
Visit campus or the surrounding neighborhood today and you may encounter construction sites, closed sidewalks, and orange cone after orange cone along University Ave. Yet, growth that expands the potential of the University and neighborhood lies on the other side of these temporary inconveniences.
"We are deliberate in working closely with our neighbors to pursue projects that strengthen the community we call home," University President Marty Martin said. "New community resources like the Gregory and Suzie Glazer Burt Club, a new home for The Harkin Institute, and the new private investment projects are positive indicators of a vibrant neighborhood."