SJMC hosts political reporting institute
Drake School of Journalism and Mass Communication is partnering with the Florida-based journalism training organization Poynter Institute to host a three-day political reporting workshop, Sept. 20-23. Approximately 50 journalists, political operatives and other experts are on campus to discuss the Iowa Caucuses, best practices in political reporting, fact-checking, how presidential campaigns are run and understanding polls. It is the third time that Drake SJMC has partnered with Poynter to host a "boot camp" before the Iowa Caucuses. Above, Drake faculty members Rachel Paine Caufield, Jennifer Glover Konfrst and Dennis Goldford explain how the caucuses work.
New podcast in Drake SJMC series debuts
Eduardo Zamarripa, JO'12, who was a Drake international student from Mexico who studied news journalism, discusses his career at Musco Lighting in Oskaloosa, Iowa, where he is a key player in soccer marketing development at one of the major event lighting companies in the world. Eduardo is a member of the Drake SJMC national advisory council: https://anchor.fm/sjmc-podcast/episodes/Newscasts-and-New-Fields-with-Eduardo-Zamarripa-e5e1hj
Centennial website devoted to SJMC history, alums
Did you know that one of the first leaders of journalism education at Drake was pollster George Gallup? Do you remember Bulldog Tales, the all-campus variety show that SJMC students organized for years? A new website has been created to showcase the distinguished history and alumni of the School of Journalism and Mass Communication. Check out https://drakesjmc100.com for information about Our People, Places and Student Organizations. Listen to several alums' SJMC Stories and contribute your own! The site will be updated throughout the year with news, events, testimonials and information about our centennial party on April 25 during Drake Relays 2020.
SJMC students, faculty present panel on diversity issues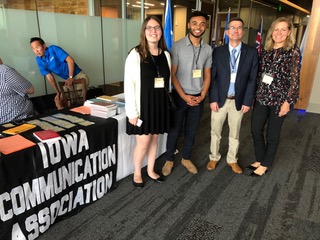 SJMC seniors Ivy Beckenholt and Malique Miller joined SJMC faculty Matt Thornton and Carlyn Crowe in planning and presenting a breakout session last Friday at the 2019 Iowa Communication Association Annual Conference at DMACC in Ankeny. The session titled, "Navigating Controversial Waters: Challenges of Developing Critical Communication Skills in a Polarized Environment," explored the instructional approaches of controversial topics drawn from SJMC courses as well as examples of how students and faculty are navigating a campus climate where issues of race, racialized language and the #MeToo movement are driving change in higher education learning environments. The panel also discussed efforts by SJMC's Diversity Committee to build multicultural web–based resources for students, faculty, staff and the Drake community.
Meredith Magazine Center hosts internship panel
The E.T. Meredith Center for Magazine Studies will host a panel on Monday, Sept. 23 at 7 p.m. in Mer. 104. All SJMC students are welcome. The panelists will include SJMC students from a variety of majors discussing their internships — how they got them, what they experienced and what they learned. Snacks will be provided.
Ad Club hosts brainstorming session
Join the Ad Club for a brainstorming meeting on Tuesday, Sept. 24, at 8:30 p.m. in Mer. 124B. All majors are welcome.
Workshop focuses on professional attire
A workshop and fashion show will highlight professional attire on Thursday, Sept. 26, 6:30-8 p.m. in Sheslow Auditorium. The event is sponsored by the College of Business and Public Administration,  Professional and Career Development Services, and Drake LEAD. All majors are welcome.
Meredith Hall building hours
Meredith Hall is unlocked during the following hours when classes are in session:
Sunday-Sunday: 7:30 a.m.-9 p.m.
Monday-Friday: 7 a.m.-9:30 p.m.
Students with SJMC majors can swipe into the building with a Drake ID even when the building is locked from 7 a.m.-2 a.m., Sunday-Thursday. Students who are already in the building when it is automatically locked are allowed to stay in the building. Students who need 24/7 access to swipe into the building should talk to their faculty member or adviser about how to obtain all-hours access.
Have a news item for the Memo?
The SJMC Monday Memo is a weekly newsletter to keep members of the wider SJMC community updated on School news, achievements, events and opportunities. If you have an item for the Memo, please send it to Dean Kathleen Richardson (kathleen.richardson@drake.edu) or SJMC webmaster and multimedia professor Chris Snider (christopher.snider@drake.edu). SJMC alums and other professionals can also contact Chris to have the Memo delivered via weekly email.
The School of Journalism and Mass Communication strives to create a community of scholars that represents the complexity of the human experience in regards to race, ethnicity, sex, sexual orientation, economic status, political views, gender identification, religion, age and physical abilities. We are committed to creating a welcoming and supportive environment for all our faculty, staff, students and visitors, and celebrating our differences through the lens of the First Amendment value of freedom of expression.