Media Now Drake a resounding success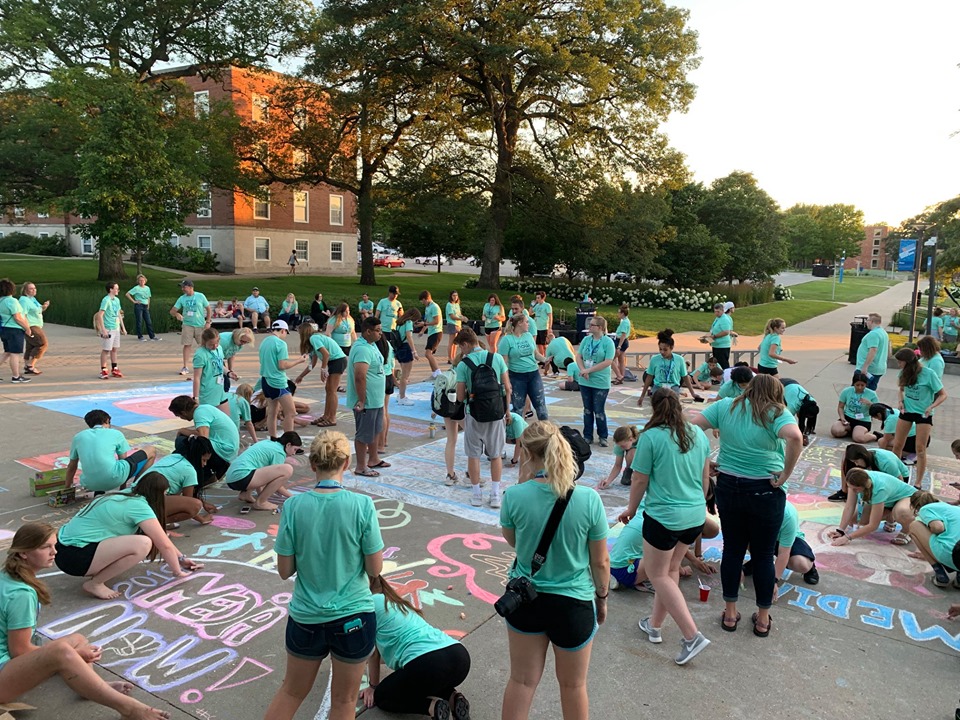 More than 90 middle and high school students, their advisers and teachers spent three days on campus and on field trips in the city last week. Co-hosted by SJMC and St. Louis high school journalism teacher Aaron Manfull and his wife Kate, the camp introduces students to hands-on learning in photography, writing, design, leadership, video, social media and more. The students are kept busy with classes and activities from sun-up to sun-down, culminating with a "street chalking" event modeled after Drake's famous street painting.
One of the guest speakers was 1986 SJMC alum Dave Lubbers, below, who talked to sports communication students about his work as an award-winning ESPN producer.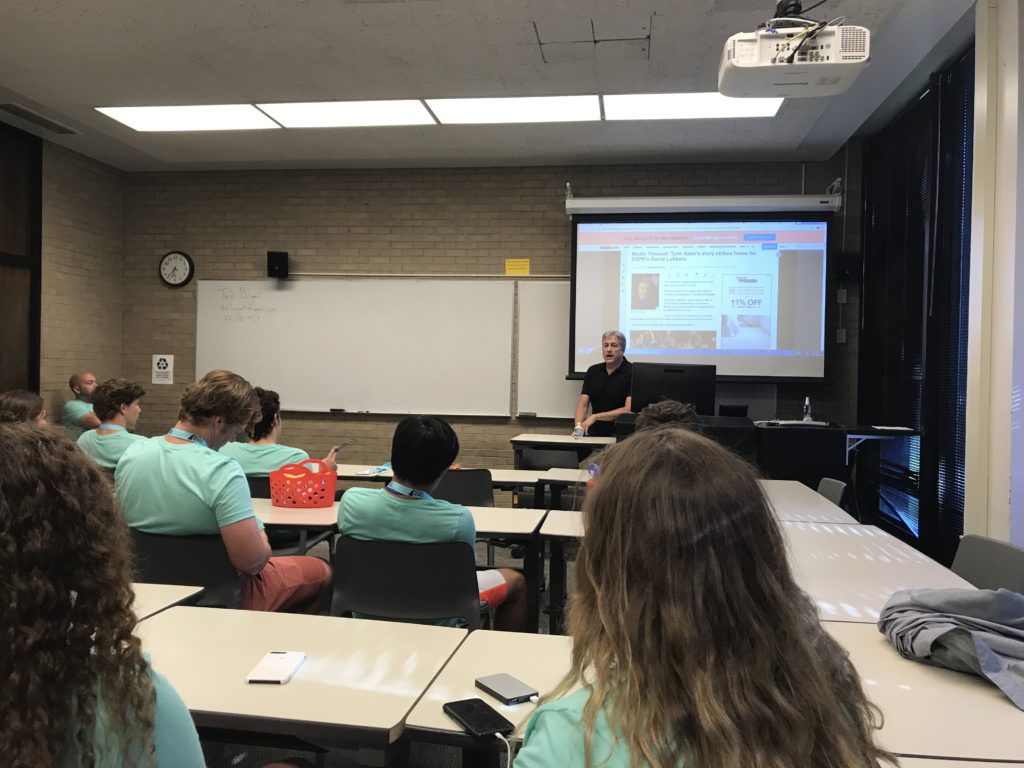 Drake photo wins national SPJ award
A photo by Drake sophomore Grace Hulin was a national winner in the recent 2018 Society of Professional Journalists' Mark of Excellence contest. Sports reporting by SJMC senior Jessie Spangler was a national finalist. There were 12 Drake finalists and five winners in the regional SPJ contest this spring, including recognition for photography, reporting, podcasts and publications.
Seniors, interested in a Fulbright?
Seniors who are interested in pursuing a post-graduate international Fulbright fellowship: It's not too early to be working on your application, which will be due the end of September. If you are interested in learning more about the Fulbright program, contact professor Eleanor Zeff at eleanor.zeff@drake.edu. Drake has historically been one of the top producers of Fulbright scholars in the nation. Six Drake students, including SJMC senior Ashley Blazek, were named Fulbright scholars in spring 2019.
Alumni news
Riane Menardi Morrison, JO'11, is profiled in an article in the current issue of dsm magazine, the city magazine of Des Moines. Riane is the communications manager of the Modern Quilt Guild and an influencer in the trend toward young people embracing quilting and other traditional crafts:  https://dsmmagazine.com/2019/06/25/new-kids-on-the-blocks/
Keep an eye on the Gigs
Drake Media Gigs is a good way to keep up on internship, work and career development opportunities, even during the summer: https://drakemediagigs.wordpress.com/
Summer Meredith Hall building hours
Meredith Hall is unlocked during the following hours during the summer:
Sunday and Saturday: 8 a.m.-5 p.m.
Monday-Thursday: 7 a.m.-9 p.m.
Friday: 7 a.m.-10 p.m.
Have a news item for the Memo?
The SJMC Monday Memo is a weekly newsletter to keep members of the wider SJMC community updated on School news, achievements, events and opportunities. If you have an item for the Memo, please send it to Dean Kathleen Richardson (kathleen.richardson@drake.edu) or SJMC webmaster and multimedia professor Chris Snider (christopher.snider@drake.edu). SJMC alums and other professionals can also contact Chris to have the Memo delivered via weekly email.
The School of Journalism and Mass Communication strives to create a community of scholars that represents the complexity of the human experience in regards to race, ethnicity, sex, sexual orientation, economic status, political views, gender identification, religion, age and physical abilities. We are committed to creating a welcoming and supportive environment for all our faculty, staff, students and visitors, and celebrating our differences through the lens of the First Amendment value of freedom of expression.