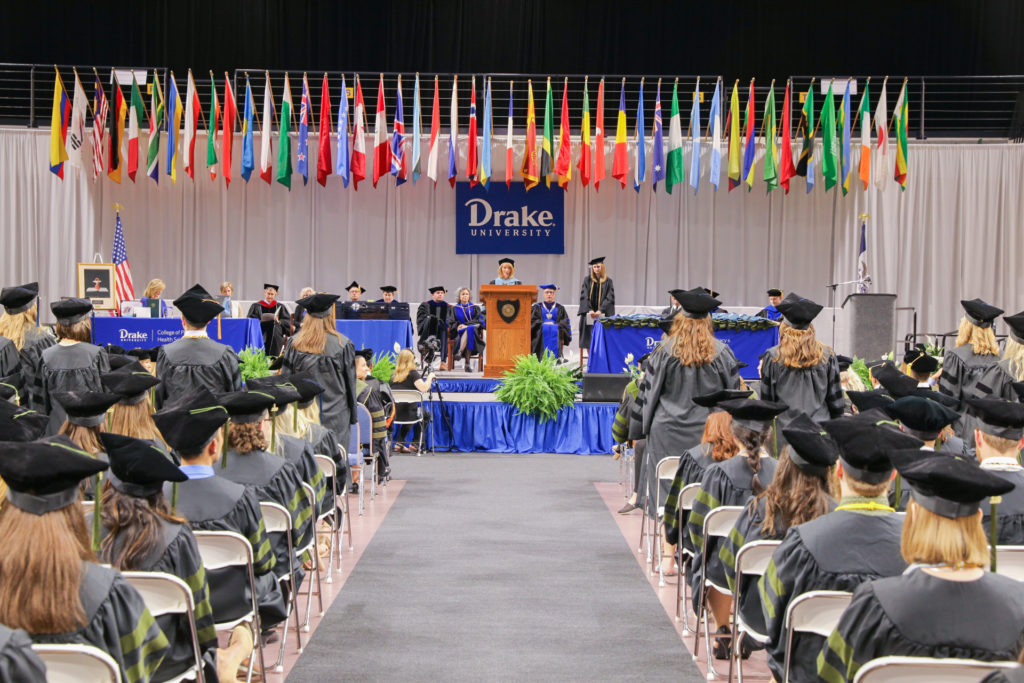 Drake University College of Pharmacy and Health Sciences (CPHS) held its Spring 2019 Doctoral Hooding and Commencement Ceremony on Saturday, May 18, in the Knapp Center. The event ushered in a new era as the first class of 26 occupational therapy students received their Occupational Therapy Doctorate (OTD) degrees and doctoral hoods. 103 Doctor of Pharmacy (PharmD) graduates crossed the stage to receive their PharmD degrees and doctoral hoods. In addition to the doctoral degrees, many students also received additional degrees or designations. Nearly half of the OTD graduates completed a certificate, including LSVT-BIG, SOS Feeding, or CLT (Certified Lymphedema Therapist), while fourteen (14) of the PharmD students received an MBA degree.
The ceremony included comments from two of the graduating class student government representatives, Spencer Gray, P4, and Maddy Nave, O3, who provided multiple anecdotes of their experiences and lessons learned from CPHS faculty members that further exemplified the culture of student-centered teaching and learning with the college.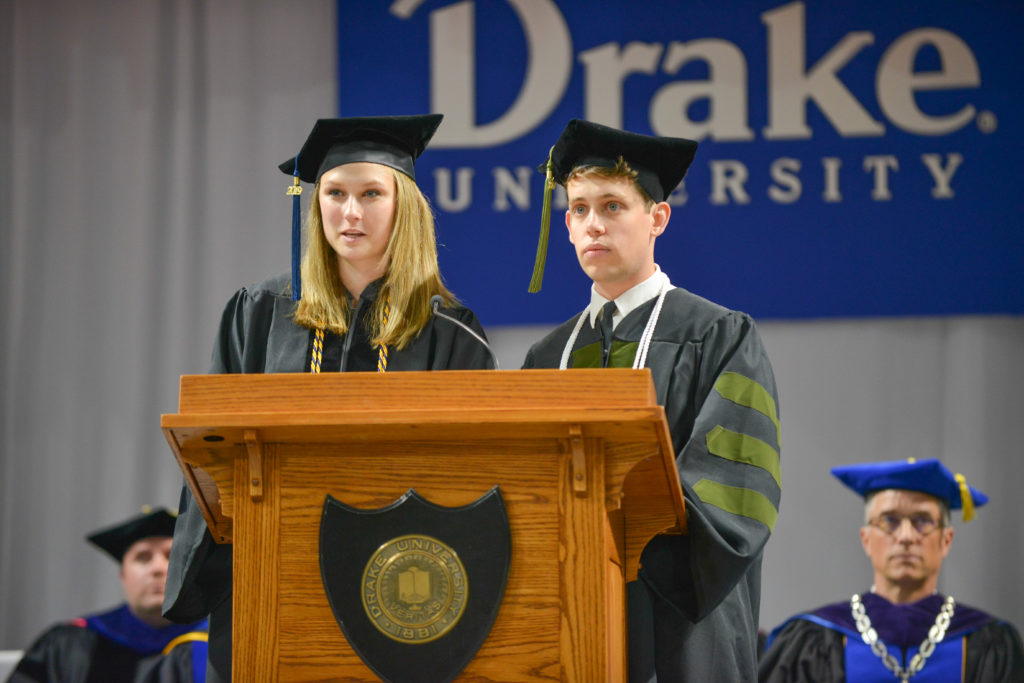 Marty Martin, president of Drake University, provided remarks at the ceremony. Martin spoke of recent alumni celebrations at Drake, including the recognition of CPHS alum Carl Jakopec (PH'69) who received the Alumni Loyalty Award in late April. Martin elaborated on Jakopec's ability to achieve great career success while serving others, including Drake University. President Martin also shared thoughts from the Alumni Community Service Award recipient, Rev. Dexter M. Wimbish, who had quoted Martin Luther King, Jr. and shared that with a "heart full of grace" and a "soul generated by love" they will have what they need to effectively serve others.
Additional comments were provided by the Iowa Occupational Therapy Association Past President, Gloria Frolek-Clark, who led the OTD graduates in the Oath of an Occupational Therapist; Iowa Pharmacy Association Executive Vice President and CEO, Kate Gainer, who led the PharmD graduates in the Oath of a Pharmacist; and Nancy Bell, chair of the College's National Advisory Council, who reflected upon her experience as a Drake student and alumnus and challenged the new graduates to remain involved with the University.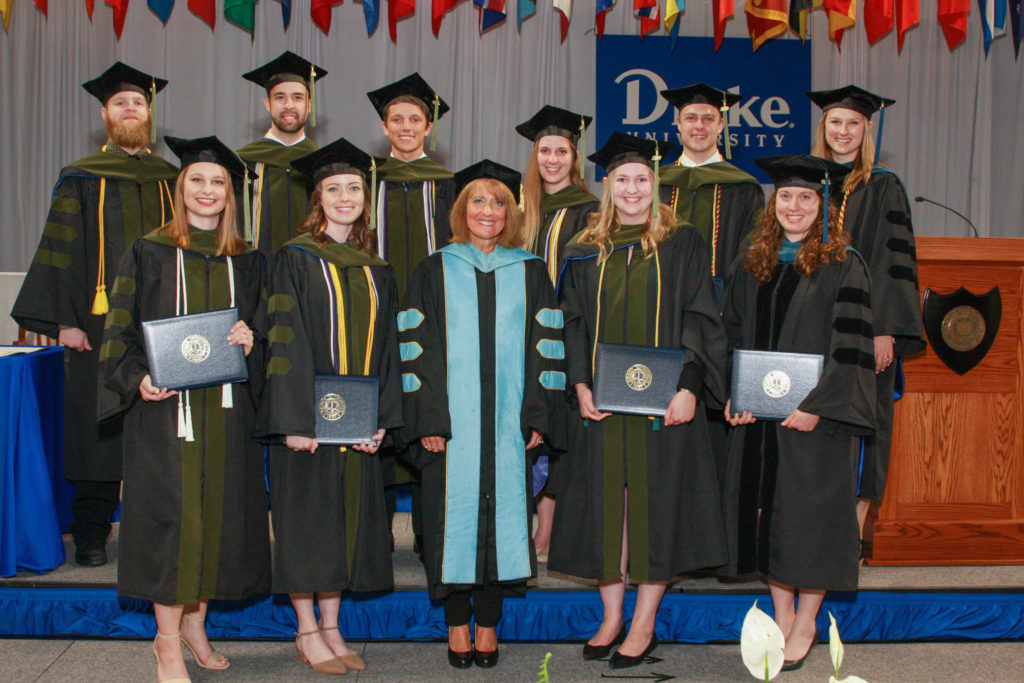 Graduate awards were also announced during the ceremony:
Allison Golbach – Mylan Excellence in Pharmacy Award
Nick Vollmer – Wolters Kluwer Clinical Drug Information Award of Excellence in Clinical Communication
Kayla Spars – Russell Johnson Outstanding Community Practice Graduate Award
Lucas Groeneveld – Merck Royal Society of Chemistry Certificate of Excellence
Rachel Strickler – Lambda Kappa Sigma Ethel J. Heath Scholarship
Michael Harvey – American Pharmacists Association (APhA) Senior Recognition Award
Michelle Lin – United States Public Health Service Excellence in Pharmacy Public Health Award
Matt Glasow – Jerry L. Karbeling Memorial Leadership Award

A YouTube video of the ceremony can be viewed here.
The LifeTouch photo album may be accessed here.