Effective July 1, 2019, Iowa will be the twenty-first state to adopt the Uniform Electronic Legal Material Act (UELMA). The enactment of UELMA will allow legal professionals and others to rely on electronic versions of legal material with the same level of credibility traditionally given to print versions of those documents. Drake University Law Library and Drake Law School's Legislative Practice Center faculty, staff, and students played an instrumental role in the adoption of the act:
Joshua Duden, Drake Law School Student
John Edwards, Associate Dean for Information Resources and Technology, Director of the Drake Law Library, and Professor of Law
David Hanson, Associate Professor of Law Librarianship and Electronic Resources Librarian
Rebecca Lutkenhaus, Professor of Law Librarianship and Reference Librarian
Julie Smith, Director of the Legislative Practice Center and Assistant Professor of Law
Julie Thomas, Associate Professor of Law Librarianship and Technical Services Librarian
David Walker, Former Dean and Dwight D. Opperman Distinguished Professor Emeritus, and Chair of the Iowa Commission
Karen Wallace, Professor of Law Librarianship and Circulation/Reference Librarian, and current President of the Mid-America Association of Law Libraries
Thanks to their advocacy efforts, the Constitution of the State of Iowa, the Iowa Acts, the Iowa code, the Iowa Administrative Bulletin, and the Iowa Administrative Code will all be legal materials covered by UELMA.
According to the American Association of Law Libraries, the act "addresses many of the concerns posed by the publication of state primary legal material online. UELMA provides a technology-neutral, outcomes-based approach to ensuring that online state legal material deemed official will be preserved and will be permanently available to the public in unaltered form. It furthers state policies of accountability and transparency in providing legal information to the public."
The group attended a signing ceremony at the Iowa Capitol building on May 8th with Governor Kim Reynolds, Lieutenant Governor Adam Gregg (LW'09), and Representative Jon Jacobsen.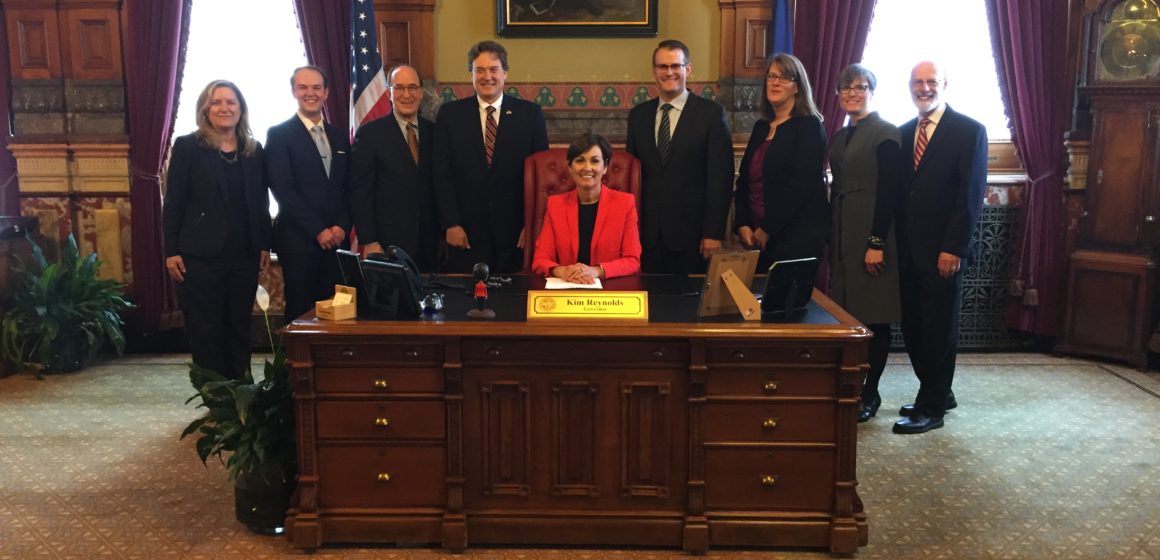 Joshua Duden (LW'19) shares, "Attending the ceremony was the pinnacle of a wonderful, semester-long internship. Without Drake Law School, I would have never had this experience, and I am so lucky that I did." Duden was a student lobbyist for the Middleton Center for Children's Rights, the Legislative Practice Center, and the Iowa Uniform Law Commission.
Drake's proximity to the Iowa State Capitol allows students to actively engage in the legislative process. Completion of the Legislative Practice Center program prepares graduates for careers in lobbying and legislative practice with entities such as government agencies, public interest groups, and trade associations.
Duden recently had an article selected for publication in the CUNY Law Review, co-authored with Drake Alumna Taylor Larson (JO'15, LW'18), entitled The Ballot Box: A Pathway to Greater Success in Addressing Political Gerrymandering Through State Courts. Post-graduation, Duden will work at the Polk County District Court as a judicial law clerk beginning in the fall.
Learn more about opportunities offered by the Legislative Practice Center at Drake Law School.