Drake College of Pharmacy & Health Sciences (CPHS) third year pharmacy students, Kaitlin Brueggen and Kenzie Magee, recently received Rural Health Initiative certificates after completing the program organized by Des Moines University (DMU).
The Rural Health Initiative is an interdisciplinary education program that focuses on health issues specific to rural communities. Drake PharmD and OTD students learn about, with, and from each other along with DMU Doctor of Osteopathic Medicine (D.O.), Physician's Assistant (PA), and Physical Therapy (PT) students. The program includes 4-5 Saturdays throughout the academic year at various central Iowa locations. The sessions typically consist of didactic coursework along with hands-on, interactive group work. Students can complete one year of the curriculum, or continue to a second year to earn the Rural Health Certificate designation.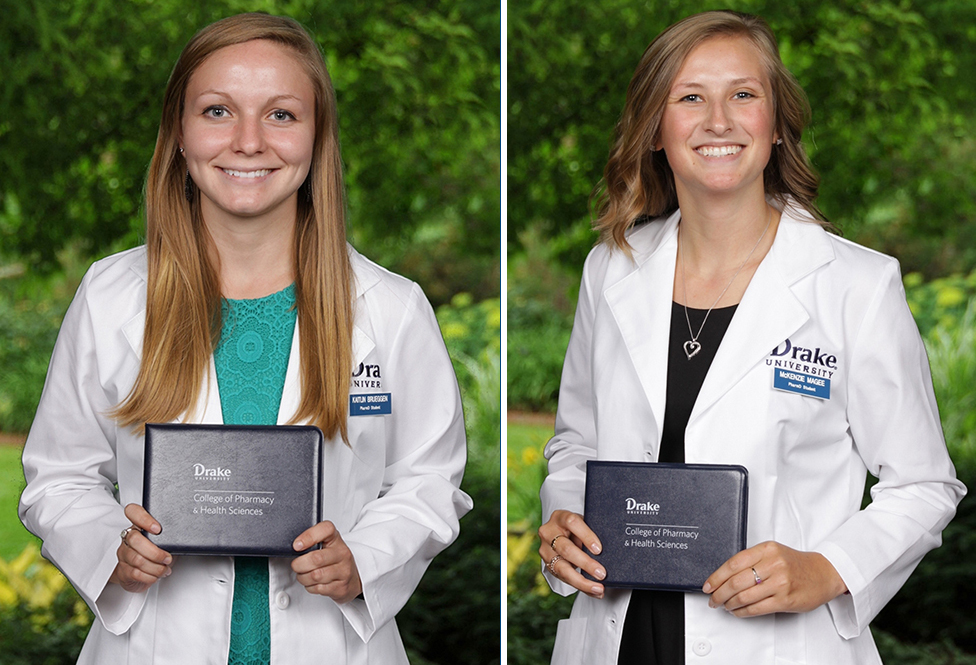 "The program provided a great opportunity to learn alongside other healthcare professional students. We explored unique challenges facing practitioners in rural areas including farming accidents, natural disasters, and limited access to medical equipment and medications," Kaitlin Brueggen said. "I enjoyed visiting critical access hospitals and participating in various simulations, which will allow me to better serve patients in rural areas."
The Rural Health Initiative is an opportunity for students interested in rural health and helping other practitioners understand the value of the community pharmacist in a rural setting.
"This opportunity helps students from Drake CPHS and DMU learn what roles each professional plays in a patient's health. Along with helping people, health care professionals are also able to practice at the top of their license in the rural setting," Kenzie Magee said. "The Rural Health Initiative program is a very special opportunity for Drake students to take part in while going through the PharmD curriculum and trying to find which aspect of pharmacy best suits them."
The Rural Health Initiative has been an option available to Drake PharmD students for the past 5 years. Brueggen and Magee join more than 12 other students who have earned certificates, in addition to more than 30 students who have completed one year of the program. This program, along with summer entrepreneurial leadership internships offered through the DELTA Rx Institute, early and advanced practice experiences in rural areas, and scholarship support promote this pathway as a career option and prepares students for rural pharmacy practice.