Hundreds of people packed into Sheslow Auditorium to celebrate the achievements of Drake students, faculty, staff, and members of the community during the College of Business and Public Administration (CBPA) annual awards ceremony on April 17. The CBPA presented more than two dozen awards, including honors for the CBPA's top junior and senior students of the year, undergraduate and graduate teachers of the year, as well as the top students in some of the CBPA's majors.
Keynote Address and Community Leadership Award
Connie Wimer, active owner and chairman of Business Publications Corporation, was the ceremony's keynote speaker and recipient of the CBPA Community Leadership Award.
Wimer was born in Merrill, a small town in northwest Iowa, and attended Morningside College. In addition publishing more than 20 of its own publications each year, the company also does custom publishing, book publishing, and has created a number of events presented throughout the year. Wimer serves on a number of boards in the city, the state, and nationally. She is the founder of Winefest and was the first woman to serve as chair of the Greater Des Moines Chamber and the first woman to receive the Business Hall of Fame Award from the Greater Des Moines Committee. Connie is married to Frank Fogarty, who is retired from his career with Coca-Cola in South America, and has three daughters.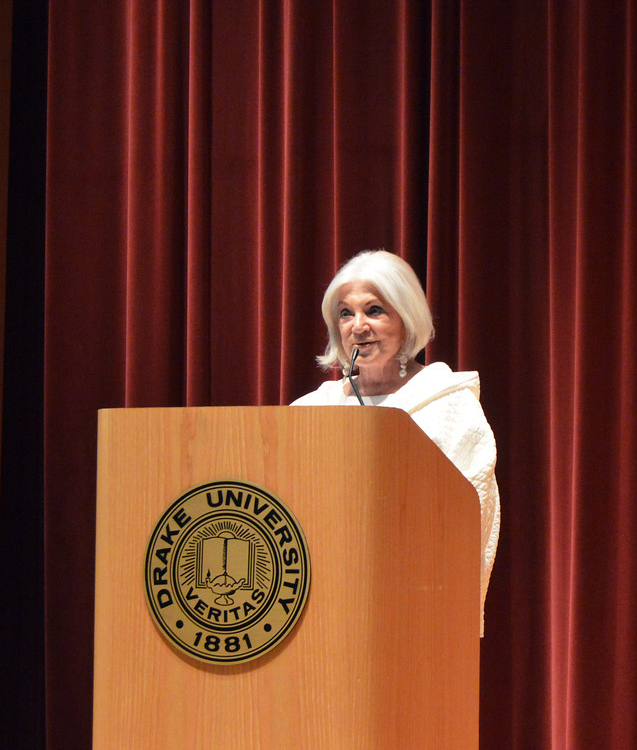 Student Awards
The awards ceremony recognized dozens of students for their accomplishments in academics, leadership, and community involvement. Five seniors were honored for maintaining a perfect 4.0 GPA throughout their academic career: Samuel Bermke, Shayla Carey, Linda Fiorito, Phillip Copeland, and Jeremy Clark.
Becca Dura of Porterfield, Wis., was selected as the CBPA Junior Student of the Year. A data analytics and computer science double major with a concentration in actuarial science, Dura has previously interned with Farm Bureau Financial Services and is currently interning with Humana. During her time at Drake, Becca has traveled to New Zealand and has also been a member of the Drake Actuarial Student Society and Student Alumni Association. This year, Dura served as a resident assistant and the leadership & service chair for the National Residence Hall Honorary. This summer, she will be continuing her internship with Humana in Louisville, Ky. She is scheduled to graduate in May 2020.
Linda Fiorito of Overland Park, Kan., was selected as the CBPA Senior Student of the Year. Fiorito graduated in May with a major in marketing and minor in graphic design. She played all four years on the Drake University women's soccer team, earning Missouri Valley Conference Scholar-Athlete First Team honors, the MVC Elite 17 Award, and is an Academic All-American. She was the president of the Student Athlete Advisory Committee and served as the female Drake representative on the Missouri Valley Conference Student-Athlete Advisory Committee. Linda was also the co-vice president of the Drake American Marketing Association and co-leader of the Coca Cola Project. She is now employed at Allscripts as an Associate Marketing Operations Specialist in Raleigh, N.C.
Faculty Awards
Before the student awards were presented during the CBPA awards ceremony, numerous faculty members were honored for their hard work for the CBPA and Drake community. Highlights included top honors for undergraduate teaching and graduate-level teaching.
John Rozycki, associate professor of finance, was selected as this year's recipient of the David B. Lawrence Outstanding Undergraduate Teacher of the Year. Rozycki received his Bachelor's of Science degree from Kings College, his Master's in Business Administration from the University of Scranton, and his Ph.D. in finance from Pennsylvania State University and holds a Chartered Financial Analyst designation. Rozycki has been with Drake since 1990.
Students offered many reasons why Rozycki was deserving of this award, including:
"Professor John Rozycki is potentially the most involved person in the CBPA that I have come across thus far. He is actively involved in seemingly all aspects of his field and this allows him to very effectively teach finance."
"Professor Rozycki cares a tremendous amount about the material he teaches. He always brings passion and energy to the classroom, and that makes learning about finance a lot more interesting. While he obviously cares deeply about the material he's teaching, it is clear he cares more about each of his students on an individual level. He takes time to get to know the people he teaches and he genuinely cares about his students' well being."
Matthew Mitchell, associate professor of international business, is this year's recipient of the Outstanding Graduate Teaching Award. Mitchell received his Bachelor's degree from Rollins College, a Master's in Business Administration from the Crummer Graduate School of Business at Rollins, and his Ph.D. from the University of South Carolina in international business and strategy. Mitchell has been with Drake since 2011.
Students offered many reasons why Mitchell was deserving of this award, including:
"Professor Mitchell is dynamic and inspiring–he takes his role of preparing future leaders seriously. He seamlessly relates classroom material to current events, giving me great perspectives to take back to work the very next day. He cares about students and is a true expert in his field! I love taking his classes!"
"Professor Mitchell is very interactive and takes the time to learn everyone's name. He made lectures super fun and made the discussions relevant and relatable to the content of the lecture. I could tell from our very first class that he truly loves what he does and cares about his students."