Drake University College of Pharmacy and Health Sciences (CPHS) held its annual Recognition and Pinning Ceremony on Thursday, May 9, 2019. The ceremony marks the transition to final year internships, fieldwork, and rotations for third year undergraduate health sciences students, second year occupational therapy doctoral students, and third year doctor of pharmacy students.
To assist the students with their transition from their course work to their program's final year of experiential learning, Yolanda Griffiths, occupational therapy director, provided advice on how to be a transformational leader. Dr. Griffiths was the recipient of the College's 2018-19 Morrow Transformational Leadership Award.
During the introduction of each student, Drake CPHS name badges and pins were awarded to students moving into their final program experiences. The college's pin is in the shape of a shield with the name of the student's degree program, which serves as a reminder of their program's professional values and competencies. The line with the Drake 'D' in the center circle serves as a reminder that the students are always representatives of the Drake University College of Pharmacy & Health Sciences.

"We recognize the hard work and dedication that students have achieved to reach this point in their academic careers," said Renae Chesnut, dean of the college of pharmacy and health sciences. "This ceremony commemorates the milestone that our students have reached in entering their final year of experiential education."
During the ceremony, Dean Chesnut announced the recipients of a number of prestigious awards.
Health Sciences Awards
McKenzie Temperly, a junior health sciences student, was presented with the Outstanding Health Sciences Student Award. Recipients of this award have excelled in their coursework and have been active in University and College professional organizations and activities. Temperly is a gifted and hard-working student as evidenced by her strong academic performance, numerous undergraduate research presentations; competitions, and awards; co-curricular involvement including HOSA, Pre-Med Club, CPHS Student Governance Association, chemistry tutoring; and community service experiences with BioLife Plasma Center and Unity Point Hospitals.
Jenna Behnke, a junior health sciences student, received the Health Sciences Student Leadership Award. Behnke is a member of Pageant of Hope and has demonstrated leadership as a member of the CPHS Ambassador program, in which she has assisted with many recruiting activities for CPHS. Behnke is also a member of Alpha Phi Social Sorority, where she serves on several committees, and she is the Morale Captain for Dance Marathon and a GroupX instructor.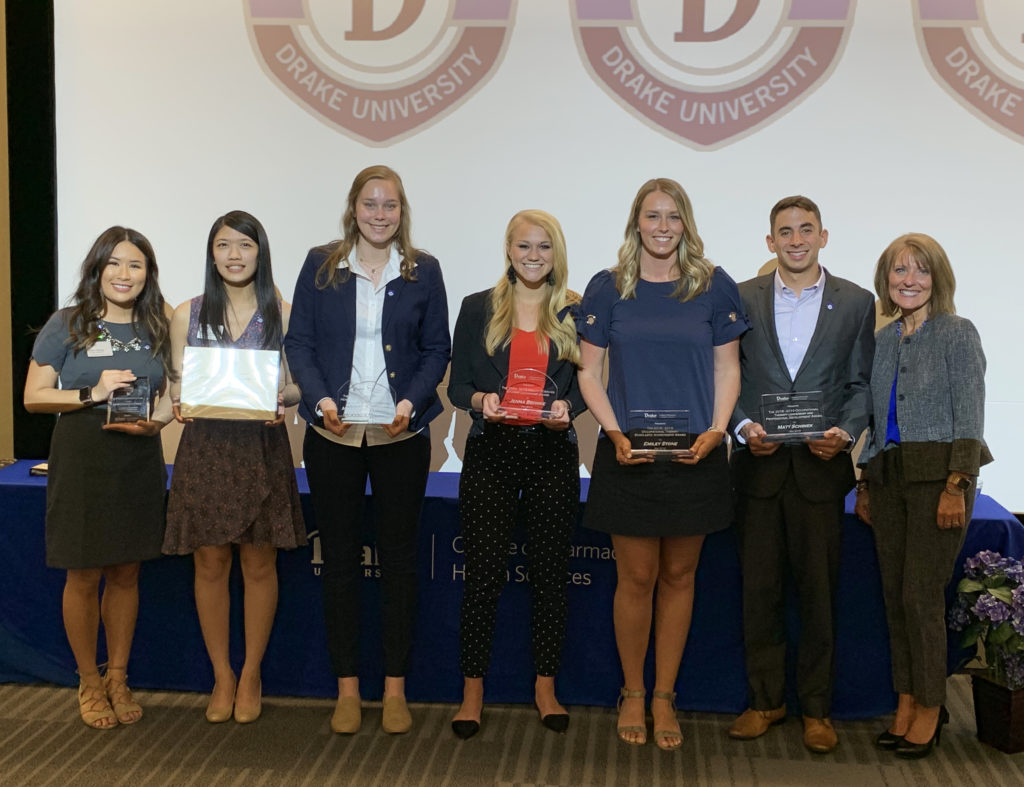 OTD Awards
Emiley Stone, second year occupational therapy doctoral student, won the Occupational Therapy Scholastic Achievement Award. Recipients of this award have excelled in their coursework, and their academic performance is in the top 25% of their class. Stone is an enthusiastic learner who keeps an open mind for diverse opportunities to grow. She consistently displays a unique enthusiasm for scholastic excellence, illustrates the definition of a "lifelong learner", and serves as a role model for her peers.
Matt Schimek, second year occupational therapy doctoral student, was awarded the Occupational Therapy Leadership and Professional Development Award. Recipients of this award demonstrate drive to advance the profession of occupational therapy through leadership opportunities, publications, or involvement in professional presentations. Schimek is a leader and out-of-the-box thinker who is able to apply traditional concepts to emerging areas of practice, as exemplified by his efforts to support the involvement of persons with disabilities at the Big Blue Oval Invitational Event.
PharmD Awards
Michelle Lin, third year doctor of pharmacy student, received the Excellence in Public Health Pharmacy Award. This award was established by the United States Public Health Service to recognize student pharmacists who make significant contributions to public health. Lin has a deliberate record of pursuing initiatives and experiences that benefit public health. She has completed two summer tours of duty working with Native American populations as an Ensign in the Junior Commissioned Officer Student Training and Externship Program (JRCOSTEP).
Kamolchanok Deer Cheung, a third year doctor of pharmacy student,was recognized as the winner of the Lon N. Larson Engaged Practitioner Award. Established through memorials made in his honor, the annual Larson award is presented to the student that most demonstrates the values and actions for which Dr. Larson, previous faculty member, was best known: high ethical standards, reflective practice, innovation, and community service. Cheung has displayed the same passion for the profession that Dr. Larson continually conveyed to his students and mentees. She has held several leadership roles but excels most as a team member that pushes others to be excellent, and gives back to the community by being an engaged citizen.
Cheung is a member of the Iowa Pharmacy Association, the Student College of Clinical Pharmacy, the Student National Pharmaceutical Association, and Kappa Kappa Gamma social fraternity. In addition, she has completed the CPHS Student Leadership Development Series, has served as a Court Appointed Special Advocate at Drake University, has organized opioid epidemic awareness activities, and has an impressive record of volunteer work in both the Des Moines community and her hometown of Aurora, Illinois.
Students receiving pins included the following:
Health Sciences Students: Ruaa Alobaidi, Jenna Behnke, Jessica Bell, Reilly Bertram, Logan Boerner, Jack Borvan, Abigail Buie, Emily Burrell, Lauren Campbell, Madison Coffman, Samantha Cutler, Shianne Davis, Tia Dickens, Jessica Ehm, Jacob Hardy, Michael Holley, Ellie Jacoby, Elena Johanek, Kelly Kroc, Seth Krueger, Lauren Lerner, Jacob Lewis, Olivia Masterson, Shelby Mattix, Morgan Matulik, Merna Mohamed, Brenna Molnau, Mercedes Morsching, Jenna Mullen, Kaarin Quaerna, Hanna Risse, Jayda Robinson, Annie Schmitz, Nathan Seaberg, Ellie Severance, Madeline Shipley, Sonya Swenzinski, Kenzie Temperly, Stephanie Theofilis, Tiya Tito, Isabelle Tubbs, Tim Zuo
Occupational Therapy Doctoral Students: Nolan Barth, Carrie Behrends, Carolyn Besch, McKenna Bothwell, Emily Botten, Callie Brown, RaShelle Buchanan, Morgan Buzzell, Wesley Castro, Kaile Damm, Stephanie Dizon, Hannah Fletchall, Lauren Folde, Rachel Fratzke, Madeline Hanno, Emily Hawkins, Benton Hrabe, Danielle Hubby, Reid Lefler, Sarah Loffredo, Emily Mock, Mary O'Boyle, Libby Riek, Mariah Roe, Sara Schankerman, Matthew Schimek, Felicia Schulty, Lindsey Schulz, Renee Socarras, Erin Speth, Emiley Stone, Kristina Weber, Abigail Whillock, Danny Wong
Doctor of Pharmacy Students: Sharon Abraham, Andrea Aguilar, Leah Amundson, Laura Baumgartner, Nicholas Bianchini, Emily Birakdar, Austin Bolker, Allison Brask, Kaitlin Brueggen, Kristen Butler, Jessica Caelwaerts, Cailtin Carriel, Ryan Cecala, Michael Chenoweth, Deer Cheung, Brandon Daul, Kara Eid, Spencer Endecott, Molly Everett, Madison Fazio, Thomas Felker II, Kendra Ford, Ron Frantz, Erica Gannon, Grace Geiser, Rachel Goettl, Megan Goetzl, Taylor Gorski, Kara Gossen, Jenna Green, Erin Haberman, Taylor Hammond, Hallie Harding, Tessa Heitkamp, Brianna Hoenig , Alsyha Hoyt, Rob Jedlicka, Ari Johnson, Cassidy Johnson, Josmi Joseph, Karla Knobbe, Michael Lang, Mackenzie Lasnek, Sophia Le, Paul Lee, Sara Leistico, Bret Lentz, Michelle Lin, Alexander Maciejewski, McKenzie Magee, Mike Manlick, Phillip Masters, Alex McCormick, Gabby McNett, Darby Messerschmitt, Rebecca Metcalf, Kara Metowski, Valerie Meyer, Garrett Moorman, Eddie Mueller, Samantha Murata, Jimmy Nguyen, Madison Nissen, Eileen O'Brien, Joshua Parado, Krishn Patel, Sharmi Patel, Greta Petersen, Lisa Pham, Gabe Podraza, Hudson Priebe, Drake Reiter, Rebecca Rezac, Emma Robasse, Dylan Sarocco, Matthew Schlott, Madison Schwarz, Paige Schwoebel, Erin Simpson, Jennifer Song, Danielle Strelecki, Brittany Sulkowski, Piper Swanson, Justin Taber, Rachel Tran, Bridget Tunink, Josh Valerius, Alex Wagner, Chloe Wall, Ian Watson, Alex Weber, Katy Wellington, Kelli Jo Welter, Iris M. Wenceslao, Shania Wilz, Courtney Younge