Assistant Professor Eliza Dy-Boarman, PharmD, is the recipient of a 2019 Emerging Teaching Scholar Award from the American Association of Colleges of Pharmacy (AACP).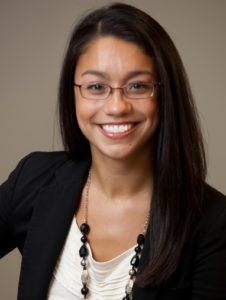 The AACP Emerging Teaching Scholars Award recognizes the excellence of academic pharmacy faculty engaged in or supporting scholarly teaching and the scholarship of teaching and learning. In recognizing service and outstanding contributions to the academy, pharmacy education and schools, the AACP Council of Faculties Emerging Teaching Scholars raise the bar for scholarly teaching and the scholarship of teaching and learning. Up to five scholars are selected each year.
"Dr. Dy-Boarman is an excellent choice for the AACP Emerging Teaching Scholars Award," said Renae Chesnut, dean and professor of the college. "She has devoted herself to innovation and assessment of innovative teaching and has a number of publications as a result."
Dy-Boarman has a clinical practice site at Iowa Lutheran Hospital where she educates pharmacy students in their final year of experiential education. She is also an instructor in the Pharmacy Skills and Application course series. Her success is a result of her focus on students learning practical skills needed in their future, assuring that students understand the underlying concepts to be able to critically evaluate and learn more complex topics. She continually utilizes evidence-based practice from the literature to improve her teaching.
The 2019 Emerging Teaching Scholar Awards will be presented at the AACP Annual Meeting, Pharmacy Education 2019 in Chicago, Illinois, during the Council of Faculties Business Meeting on Monday, July 15, from 1:30 to 3:00 p.m.