The College's annual Alumni Achievement Awards were presented at Pharmacy & Health Sciences Day on February 21st. This year's outstanding alumni included Edina Avdic, PH'03, GR'03, Gus Bassani, PH'96, and Maureen Reim, PH'95, GR'03.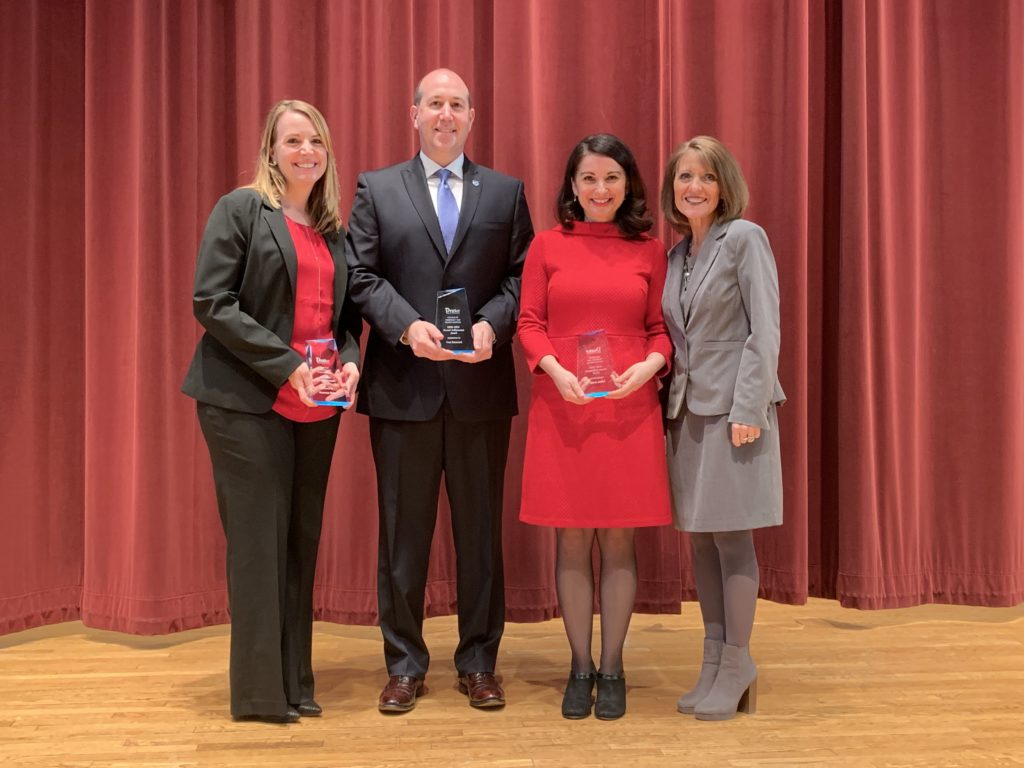 "Our 2019 Alumni Achievement Awardees are a distinguished group of individuals with many achievements," said Renae Chesnut, dean of the college. "Their professional accomplishments, commitment to our students, and dedication to their communities is nothing short of inspiring."
Edina Avdic, PH'03, GR'03
Edina Avdic, Pharm.D., MBA, BCPS, AQ-ID. earned her Doctor of Pharmacy and MBA degrees from Drake in 2003. After completing a 2-year residency program at the Hospital of the University of Pennsylvania, she began an infectious diseases clinical position at The Johns Hopkins Hospital in Baltimore, MD. She still works at Hopkins, where she currently serves as the Associate Director of the Adult Antimicrobial Stewardship Program and Program Director of the PGY-2 Infections Diseases Pharmacy Residency Program.
In 2007 she was presented with the opportunity to develop the American Society of Hospital Pharmacists (ASHP) accredited Infections Diseases Pharmacy Residency where she's been a preceptor to over 100 pharmacy students and residents. Additionally, she served as the Pharmacy Director for the Center for Diseases and Control and Prevention's "Get Smart for Healthcare Campaign" from 2010 to 2011. Edina is very passionate about working with other healthcare professionals to solve problems that arise from complex infectious diseases and slow the progression of antimicrobial resistance.
Gus Bassani, PH'96
With his love of chemistry and desire to have an impact in the lives of patients, Gus Bassani knew he wanted a career in the world of pharmacy early on. While in high school in Alaska, Gus worked at the North Pole Prescription Laboratory. At that time Gus was exposed to the practice of extemporaneous compounding and the role it can play in meeting unique patient needs. Upon obtaining his Doctor of Pharmacy from Drake in 1996, Gus worked in compounding pharmacies in Iowa and Kansas, ultimately moving to Texas to begin a career with the Professional Compounding Centers of America (PCCA). He is now the Chief Scientific Officer for PCCA. In 2011 Gus was selected as the recipient of the Eagle Award, which is the company's highest honor.
For the last 8 years, Gus has been involved with the United States Pharmacopeia (USP) and has been selected to be on the USP Compounding Expert Committee. He is passionate about using the skills he learned at Drake to help make a different in the lives of patients through compounding innovation and the development of quality standards in the pharmaceutical industry.
Maureen Reim, PH'95, GR'03
Maureen Reim earned her Doctor of Pharmacy and MBA degrees from Drake in 1995. After graduation she began her career with Walgreens where she discovered she had a passion for the business aspects of pharmacy. As the company started rapidly expanding, Maureen was given the opportunity to pursue a role at the corporate office as a pharmacy recruiter. In this position, she was able to directly help pharmacy students and pharmacists plan their own career paths. Maureen's recruiting role expanded over time to include additional hiring responsibilities including hiring for all Walgreens corporate offices. After over a decade in recruiting and human resources, she has now moved into the role of Senior HR Business Partner and now works within Walgreens Boots Alliance and directly supports the global strategy, mergers and acquisitions, procurement, and healthcare innovation teams. Maureen's professional passion is helping individuals find the work they enjoy which has led her to hold a variety of leadership positions in organizations such as Enactus, DECA, National Retail Federation, and LinkedIn Advisory Council.