After earning her PharmD from Drake University, Dr. Alexa DeVita, PH'18, began a new journey when she was selected Commercial Insights/Strategy Fellow for Janssen Inc. and Rutgers University. She credits her obtainment of this highly competitive position to the financial support that she received as a student to attend professional meetings and make valuable connections. As a result, she was inspired to begin her own spirit of giving journey shortly after graduation. Inspired by her personal experiences, Alexa has chosen to give to the student professional travel fund for the College of Pharmacy and Health Sciences.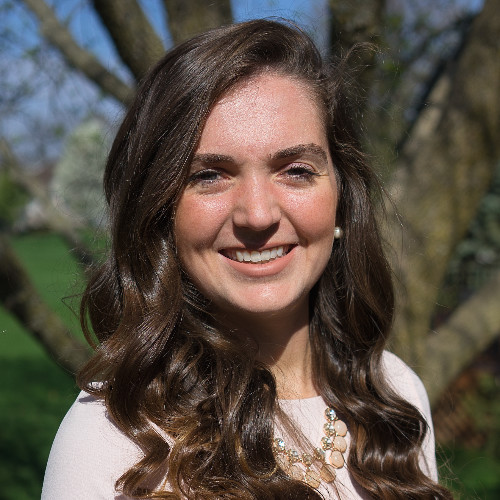 When Alexa began her education at Drake, she was introduced to the spirit of giving back by Drake alumni Patrick, PH'84, and Annette, FA'85, Verdun. They shared their story about how they started donating with small gifts, and as they were able over time they increased their commitments. This encouragement to begin with her own giving in whatever amount she can has led Alexa to commit to give back to Drake and future students, just as previous students have done for her.
While a student, Alexa experienced the ability to travel to professional conferences – both within the nation and abroad. Having the option to travel with the financial support of donors is something that Alexa believes would help Drake students be able to network, which can provide unlimited opportunities for students.
"At the Academy of Managed Care Pharmacy (AMCP) meeting, I was particularly interested in a specific residency and I had come to find out that a current employee of this residency was someone I had connected with at a previous conference. They were able to tell me so much more about working there that I would not have gotten had I not already known them and had established rapport with them," she explained.
When asked what it would mean for students to have the ability to travel with financial support, Alexa shared, "Exposing students to the variety of professional opportunities in pharmacy, as well as producing more qualified and desirable students would lead to more graduates knowing what they want to do professionally speaking, versus going to work somewhere to pay off their loans or to say they have a job."
Moreover, Alexa credits the ability to travel while at Drake as being a significant factor in why she was able to obtain her current fellowship position. All of this was possible due to the generous giving of the pharmacy graduates before her, and will be possible in the future due to generous graduates like her who pursue their own spirit of giving journey.
To learn more about beginning your own journey of giving back, please click here (https://alumni.drake.edu/giveonline) to make a donation to the College of Pharmacy and Health Sciences. To sponsor a student through the White Coat and Student Travel fund, click here ( https://alumni.drake.edu/whitecoat).