2010 ad alum leads Super Bowl anniversary campaign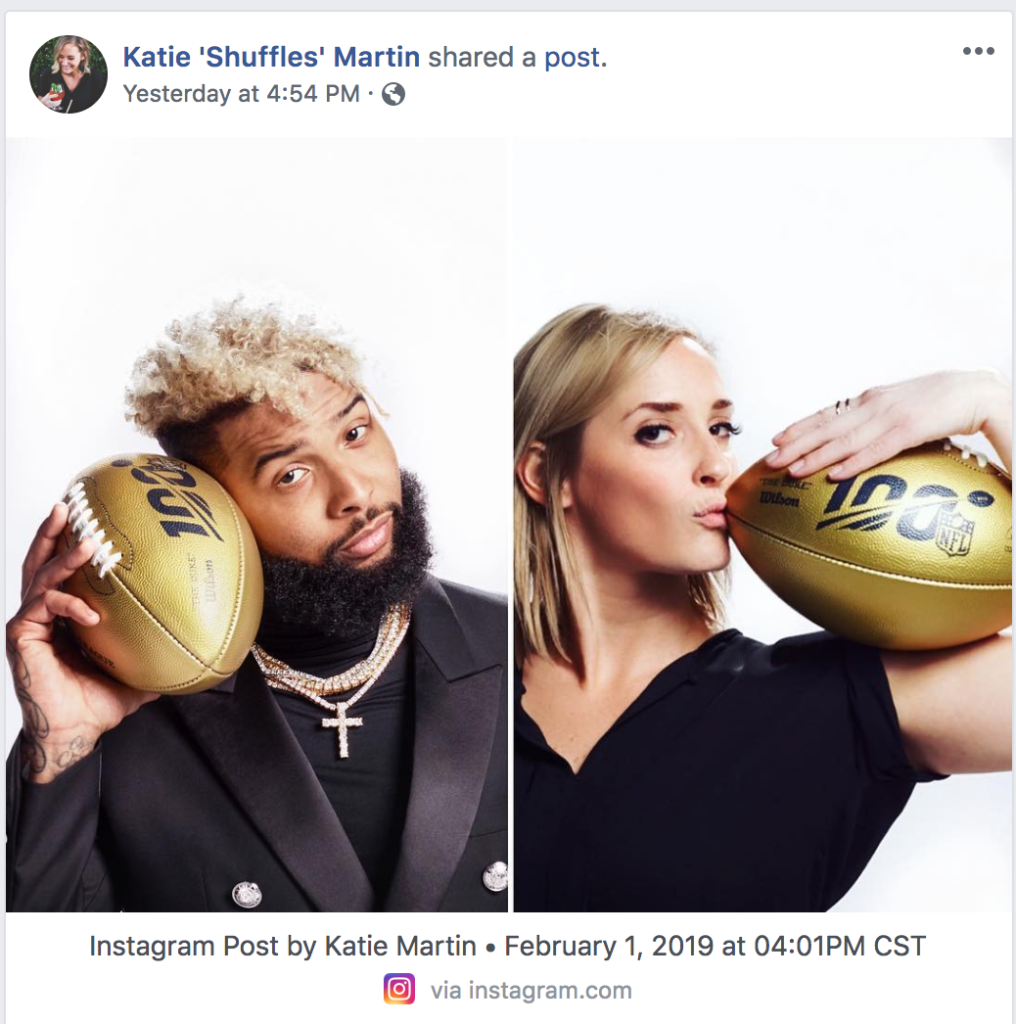 Katie Martin, JO'10, senior brand manager at 72andSunny in Los Angeles, was the ad agency lead on the NFL's campaign for the league's 100th anniversary.  You can get some of the behind-the-scenes details in this article: https://www.kcentv.com/article/sports/nfl/superbowl/oh-boy-nfl-100-super-bowl-ad-features-epic-lineup/507-29174c0b-0792-4e15-9353-0b3ae487ffca
PR senior chosen Fulbright semi-finalist
Ashley Blazek, an SJMC senior majoring in public relations and minoring in music, has been chosen as a semi-finalist for a post-graduate Fulbright scholarship. Ashley would teach English in Malaysia.
She is among eight Drake students whose applications were advanced by Fulbright's national screening committees. Semi-finalist applications will be forwarded to the chosen host for final selection this spring.
Advertising students win awards
Two Drake advertising students have won awards in the annual American Advertising Federation of Des Moines contest. Josie Carrabine and Paula Aguirre Gurruchaga will find out which awards they won at the AAF banquet on Feb. 23. Carrabine is a senior advertising and graphic design major. Aguirre is an international student from Universidad Nebrija in Spain.
2019-20 scholarships, awards available
Application forms for SJMC awards and scholarships are available outside Mer. 119. There are scholarships available for all majors. In addition, the Richard Tapscott reporting award is a cash award that recognizes excellence in student journalism in all media. The deadline for applications is Feb. 20.
Career development events scheduled
Drake Professional and Career Development Services has organized two events for February:
Resume critiques will be available on Thursday, Feb. 7, 11 a.m. to 5 p.m. in Upper Olmsted Center.  Bring your resume to be professionally reviewed.  No appointment necessary.  Casual attire.  Brought to you by Drake Professional and Career Development Services.  Questions?  Contact pcds@drake.edu.
The Drake University Career Fair will be held on Thursday, Feb. 14, 3-6 p.m. in Parents Hall, Olmsted Center.  Graduating seniors only from 3-3:30 p.m., all students welcome from 3:30-6 p.m.  All majors are welcome to attend.  Bring your resume, business cards and network with companies seeking interns and/or full-time candidates.  Professional attire is required.  To research the companies attending the fair, log into Handshake (my.drake.edu, click on Handshake icon under Campus Resources, use single sign-on feature to log in).  Select Events, then click on Drake University Spring 2019 Career Fair.  Click on View all Employers.  You do not need to RSVP to attend.
Adams Leadership Institute offers spring programs
Three leadership opportunities are being offered through the Donald V. Adams Leadership Institute this spring:
Are you a first-year Drake student interested in leadership? Apply to participate in the newly-revised Emerging Leaders Model (ELM) this spring! This seven-week workshop series provides first-year Drake students an opportunity to build leadership skills, routines, and habits worth following. Prepare for your future leadership roles by gaining tangible tools to build your self-awareness and lead effectively as a college student.
Attend an information session to learn more:
Thursday, Feb. 7 at 3 p.m (Drake Room, Olmsted Center)
Friday, Feb. 8 at 11 a.m. (Drake Room, Olmsted Center)
Ready to Apply? Visit bit.ly/ELM19 to submit your ELM application by Feb. 10.
The Adams Academy is a signature program offered exclusively to Drake sophomore, junior (P1), and senior (P2) student leaders. This semester-long leadership program will enhance your leadership skills through educational workshops, interactive activities, and guest speakers from across the Drake and greater Des Moines communities. Students who participate in the Adams Academy will:
Identify your unique strengths as a leader
Build authentic and inclusive relationships with a community of student leaders on campus
Receive 1:1 Strengths-Based Leadership coaching
Build authentic and close-knit relationships with other Drake student leaders
Join a network of 1,400+ Adams Academy graduates
Attend an information session to learn more:
Thursday, Feb. 7 at 4 p.m. (Olmsted Center, Drake Room)
Friday, Feb. 8 at 1 p.m. (Olmsted Center, Drake Room)
Ready to Apply? Visit bit.ly/adams19 to submit your Adams Academy application by Feb.10.
Spring 2019 Sussman Leadership Conference
Nationally renowned author and speaker Zachary Wood is known for his dynamic perspective on free speech, race, and dissenting opinions. His TED talk, "Why It's Worth Listening to People You Disagree With," drew 1.6 million views in 2018. All Drake students are invited to attend this conference brunch as we learn alongside Zach how to successfully engage with and practice civil debate as a leadership skill. Registration is free for all students, and includes brunch, Zach's keynote address, and a roundtable discussion to apply this content to your leadership journey at Drake. Registration required. Details listed below:
Saturday, Feb. 23
11 a.m.-1 p.m.
Parents Hall, Olmsted Center
Register at bit.ly/sussman19 by Feb. 20
Questions? Contact Kristin Economos, director of student leadership programs, at kristin.economos@drake.edu.
Sign up for Iowa Caucus opportunities
If you are interested in working with  political and media events during the spring semester, please visit https://tinyurl.com/DUpoliticalevents2019 to submit relevant information about yourself and your availability during the spring 2019 semester.  Your information will be maintained and provided to organizations seeking interns.  There is no requirement that you work on any event – Drake will provide visiting organizations information about potential student interns, but the organization will make a final determination about who they wish to hire and any student is free to accept or decline an offer.
SJMC also receives many requests for Iowa Caucus-related interns directly. If you are interested in getting involved throughout the next year, please contact SJMC internship coordinator Carlyn Crowe (carlyn.crowe@drake.edu) and indicate your year, major, contact information and interests (media, campaign, political organization or anything).
Meredith Hall building hours
Meredith Hall is unlocked during the following hours when classes are in session:
Sunday: 7:30 a.m.-9 p.m.
Monday-Friday: 7 a.m.-9:30 p.m.
Saturday: 7:30 a.m.-5:30 p.m.
Students with SJMC majors can swipe into the building with a Drake ID even when the building is locked from 7 a.m.-2 a.m., Sunday-Thursday. Students who are already in the building when it is automatically locked are allowed to stay in the building. Students who need 24/7 access to swipe into the building should talk to their faculty member or adviser about how to obtain all-hours access.
Have a news item for the Memo?
The SJMC Monday Memo is a weekly newsletter to keep members of the wider SJMC community updated on School news, achievements, events and opportunities. If you have an item for the Memo, please send it to Dean Kathleen Richardson (kathleen.richardson@drake.edu) or SJMC webmaster and multimedia professor Chris Snider (christopher.snider@drake.edu). SJMC alums and other professionals can also contact Chris to have the Memo delivered via weekly email.
The School of Journalism and Mass Communication strives to create a community of scholars that represents the complexity of the human experience in regards to race, ethnicity, sex, sexual orientation, economic status, political views, gender identification, religion, age and physical abilities. We are committed to creating a welcoming and supportive environment for all our faculty, staff, students and visitors, and celebrating our differences through the lens of the First Amendment value of freedom of expression.