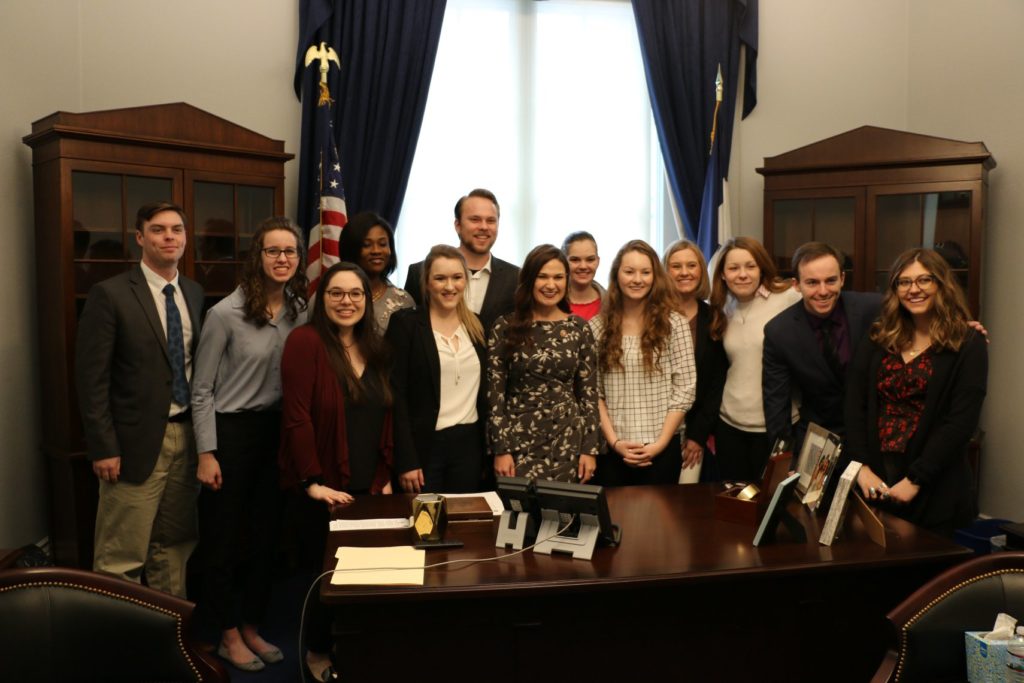 Drake students meet with SJMC alumna on the Hill
Students in a January Term seminar to Washington, D.C., led by SJMC professor Jill Van Wyke and politics professor Rachel Paine Caufield, met with a slew of politicians and other political insiders — including newly elected Rep. Abbey Finkenauer, JO'11,  above center, who represents northeast Iowa.
Coming soon: 2019-20 scholarship applications
Keep an eye on the table outside of Mallory Quinn's office, Mer. 119, in February for scholarship and award applications. There are a variety of scholarships available for all majors, and an award that recognizes student achievement in reporting in all media.
Add/drop deadlines
The last day to add a class for the spring semester is Friday, Feb. 1. The last day to drop a class without a W appearing on your transcript is Friday, Feb. 8.
Sign up for Iowa Caucus opportunities
If you are interested in working with  political and media events during the spring semester, please visit https://tinyurl.com/DUpoliticalevents2019 to submit relevant information about yourself and your availability during the spring 2019 semester.  Your information will be maintained and provided to organizations seeking interns.  There is no requirement that you work on any event – Drake will provide visiting organizations information about potential student interns, but the organization will make a final determination about who they wish to hire and any student is free to accept or decline an offer.
SJMC also receives many requests for Iowa Caucus-related interns directly. If you are interested in getting involved throughout the next year, please contact SJMC internship coordinator Carlyn Crowe (carlyn.crowe@drake.edu) and indicate your year, major, contact information and interests (media, campaign, political organization or anything).
Meredith Hall building hours
Meredith Hall is unlocked during the following hours when classes are in session:
Sunday: 7:30 a.m.-9 p.m.
Monday-Friday: 7 a.m.-9:30 p.m.
Saturday: 7:30 a.m.-5:30 p.m.
Students with SJMC majors can swipe into the building with a Drake ID even when the building is locked from 7 a.m.-2 a.m., Sunday-Thursday. Students who are already in the building when it is automatically locked are allowed to stay in the building. Students who need 24/7 access to swipe into the building should talk to their faculty member or adviser about how to obtain all-hours access.
Have a news item for the Memo?
The SJMC Monday Memo is a weekly newsletter to keep members of the wider SJMC community updated on School news, achievements, events and opportunities. If you have an item for the Memo, please send it to Dean Kathleen Richardson (kathleen.richardson@drake.edu) or SJMC webmaster and multimedia professor Chris Snider (christopher.snider@drake.edu). SJMC alums and other professionals can also contact Chris to have the Memo delivered via weekly email.
The School of Journalism and Mass Communication strives to create a community of scholars that represents the complexity of the human experience in regards to race, ethnicity, sex, sexual orientation, economic status, political views, gender identification, religion, age and physical abilities. We are committed to creating a welcoming and supportive environment for all our faculty, staff, students and visitors, and celebrating our differences through the lens of the First Amendment value of freedom of expression.