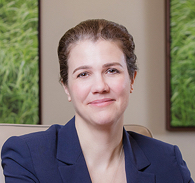 Ask any current or former law student which course had the biggest impact on their career and they will likely tell you legal writing.
Drake Law School's legal writing program has regularly set the standard for providing students with exactly what they need to communicate effectively. One reason for the success of that program is Professor Danielle Shelton.
Although she knew she wanted to be an attorney from childhood, it was not until after Professor Shelton established herself in private practice that she tested the waters of teaching. That test led to a fifteen-year career.
Even after fifteen years, she still finds teaching first-year students (1Ls) to be one of the best parts of her career.
"My favorite part of the semester is the beginning. When 1Ls arrive, we get to immediately jump in and unravel the process of legal analysis. As a lawyer, I obviously appreciate how lawyers analyze issues, so getting to introduce 1Ls to that approach is a privilege," says Shelton. "I hope they appreciate all of their growth in the first year of law school, and take that growth mindset with them into their law practices."
Legal writing is not Professor Shelton's only area of expertise. Her research and interests reach into the areas of civil procedure and children's law, proving just how much she values that growth mindset.
In addition to her career at the law school, Shelton also has served as a middle school and high school mock trial coach, volunteered for Iowa Legal Aid, and is a regular speaker on legal writing and appellate advocacy.
She does not spend all her time at the law school. Professor Shelton enjoys being outside: running, paddle boarding, and walking her dogs. She is fortunate to have family close by, including a daughter several months away from graduating from Drake University and a son in graduate school in Illinois.
As some students are wrapping up their first round of exams and others are taking their last final exam of law school, Professor Shelton's work continues helping each student learn the intricacies of legal writing.