Iowa desperately needs Board Certified Behavior Analysts
When Drake Professor of Psychology Maria Valdovinos first came to Des Moines in 2005, there were around 40 board certified behavior analysts in Iowa to help the 1 in 91 Iowa children who needed their services. The number of behavior analysts has slowly crept upward to around 119 certified behavior analysts today. With only three locations parents can go to get help for their children in Des Moines, waitlists to see a behavior analyst start at six months. This means that young children aren't getting services in the short window when they would be most beneficial.
To fill this gap in Iowa, Valdovinos helped start the applied behavior analysis master's and certificate (for those who already possess master's degrees in education or psychology) program at Drake. The five-semester program combines in-classroom coursework with a required 1,500-hour practicum. The result is that Drake students graduate as well-rounded, strong clinicians backed by diversified, real-world experiences.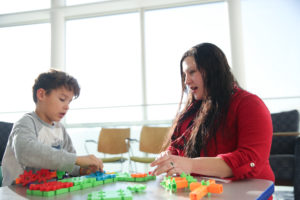 Applied behavior is a data-based way to examine why children exhibit problem behaviors. For example, a young boy may resort to a problem behavior like screaming when presented with a task. Behavior analysts would identify the reason behind his behavior and work to teach and strengthen appropriate behavior.
"Applied behavior analysis treatment is one of the only scientifically proven ways to help people on the autism spectrum," says Sacha Pence, the program's director. "It is endorsed by the United States Surgeon General and provides real results for individuals with autism or developmental disabilities."
Drake's ABA program is one of the only programs of its kind in Iowa that takes place on a campus— whereas other programs are online. At Drake, students get face-to-face instruction from faculty. The program connects students directly with practicum sites instead of making students find the sites themselves. There, students teach clients necessary communication, conversation, academic, self-care, and independent living skills.
"Our systematic approach gives the Drake program the components to not only fill the need in Iowa, but also to be a premier program in the country," says Valdovinos. "That's why we need students who are passionate about people and appreciate the methodological approach behind helping these children."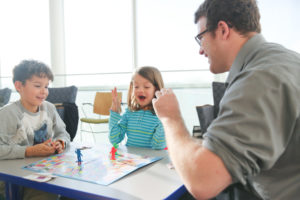 New national standards are requiring changes to the program. Starting in fall 2020, anyone with a master's degree can complete the certificate program to meet eligibility requirements to become Board Certified Behavior Analysts. Additionally, the Iowa legislature passed a bill in 2018 that will license Board Certified Behavior Analysts.
Interested candidates can apply through Drake's website to become a behavior analyst equipped to make a difference in Iowa or anywhere in the nation.