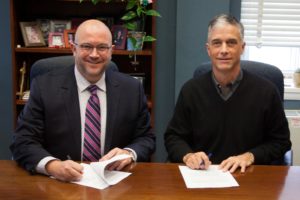 Drake University has signed agreements with Buena Vista University (BVU) allowing qualified undergraduates the option to complete advanced health care degrees in an accelerated format. This agreement allows junior students the opportunity to obtain advanced Doctor of Pharmacy (PharmD) or Master's in Athletic Training (MAT) degrees in a shorter amount of time than obtaining each degree individually. Drake's Law School has also entered into an agreement for an accelerated program with their jurisprudence doctorate degree.
Dr. Brian Lenzmeier, BVU provost and vice president for academic affairs says, "We are one of a few schools in the Midwest partnering with Drake on the MAT and Doctor of Pharmacy degrees, which will provide guaranteed admission slots for qualified BVU students, as well as professional development opportunities. I am thrilled that BVU and Drake can work together to decrease the amount of time to graduation for students becoming pharmacists, athletic trainers, and lawyers.  Not only does this mean one less year of educational expenses, it means students can start earning salaries one year sooner."
To apply to the PharmD program, students take the Pharmacy College Admissions Test (PCAT) and apply for admission to the Drake pharmacy program in the fall of their junior year. In order to be eligible to apply for a seat in the PharmD program, BVU students must achieve a 3.0 GPA and have earned a grade of C or better in all pre-requisite courses. After completing their first year at Drake, students can then transfer first year professional pharmacy courses from Drake toward their BVU degree and then be awarded their B.S. or B.A. from Buena Vista. After three additional years of study and experiential learning, a Doctor of Pharmacy degree will be awarded.
To apply to the MAT program, students follow the above process but complete the Graduate Record Exam (GRE) instead of the PCAT.  The MAT can be completed with two additional years of study.
"We are pleased to enter into this partnership and provide an opportunity for BVU students to complete their Bachelor's degree and a PharmD or MAT at Drake in less time than it would take to complete each degree on its own," said Renae Chesnut, Dean of Drake's College of Pharmacy and Health Sciences. "We are proud to prepare future PharmD and MAT professionals who will enjoy limitless career opportunities and an opportunity to make a difference for others."
About Drake University
Drake University is a midsize, private university in Des Moines, Iowa, enrolling more than 3,000 undergraduate and 1,800 graduate students. Students choose from over 70 majors, minors, and concentrations and 20 graduate degrees offered through six colleges and schools. Drake students, faculty, and staff take advantage of the wealth of cultural, recreational, and business opportunities found in Iowa's capital city. In return, Drake enriches the city through its own cultural offerings, considerable economic impact, and many service-learning endeavors, which channel the talent and energy of the Drake students toward meeting the needs of the community. https://www.drake.edu/about/
About Buena Vista University
Since 1891, Buena Vista University has prepared students for lifelong success and blends liberal arts with real-world applications. Our traditional campus on the shores of Storm Lake hosts students in a variety of majors and pre-professional programs, including elementary, secondary, and special education; business and accounting; and biological and chemical sciences. Our 16 degree-completion locations, online, and graduate programs expand student potential with a pace and academic rigor designed for working adults and a variety of class formats that make scheduling even more convenient. With an average scholarship of more than 50 percent off of tuition, BVU is an affordable option for all students. Visit www.bvu.edu.