Learn more about working abroad
Discover a new culture, teach English, and get paid. No prior teaching or language skills are required. Drake International is offering information sessions on opportunities for May graduates who are interested in living and working at partner institutions in China or Kosovo. See drake.edu/workingworldwide for details.
Working Worldwide Information Sessions
Monday, Dec. 3 at 4:30 p.m. in Pomerantz Conference Room
Tuesday, Dec. 4 at 8:00 p.m. in Pomerantz Conference Room
Thursday, Dec. 6 at 4:30 p.m. in Pomerantz Conference Room
Award-winning alum discusses the power of story-telling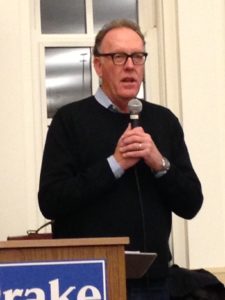 Tom Hallman, JO'77, a Pulitzer Prize-winning newspaper and magazine writer, shared his insights about the importance of story-telling in building community and sharing the human experience during a discussion with Drake students, faculty and Des Moines residents last week. Hallman also visited many classes and met with and coached students during his three days on campus as the E.T. Meredith Magazine Center visiting professional.
Meredith Hall building hours
Meredith Hall is unlocked during the following hours when classes are in session:
Sunday: 7:30 a.m.-9 p.m.
Monday-Friday: 7 a.m.-9:30 p.m.
Saturday: 7:30 a.m.-5:30 p.m.
Students with SJMC majors can swipe into the building with a Drake ID even when the building is locked from 7 a.m.-2 a.m., Sunday-Thursday. Students who are already in the building when it is automatically locked are allowed to stay in the building. Students who need 24/7 access to swipe into the building should talk to their faculty member or adviser about how to obtain all-hours access.
Have a news item for the Memo?
The SJMC Monday Memo is a weekly newsletter to keep members of the wider SJMC community updated on School news, achievements, events and opportunities. If you have an item for the Memo, please send it to Dean Kathleen Richardson (kathleen.richardson@drake.edu) or SJMC webmaster and multimedia professor Chris Snider (christopher.snider@drake.edu). SJMC alums and other professionals can also contact Chris to have the Memo delivered via weekly email.
The School of Journalism and Mass Communication strives to create a community of scholars that represents the complexity of the human experience in regards to race, ethnicity, sex, sexual orientation, economic status, political views, gender identification, religion, age and physical abilities. We are committed to creating a welcoming and supportive environment for all our faculty, staff, students and visitors, and celebrating our differences through the lens of the First Amendment value of freedom of expression.