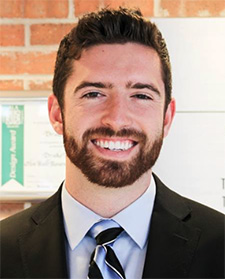 Ryan Cecala, third year pharmacy and MBA student, was crowned this year's winner of DELTA Rx Institute's annual Next Top Entrepreneur Competition (NTEC).
During the NTEC, students compete in a series of three rounds to show and grow their entrepreneurial skills as they try to solve current healthcare problems. The competition enables student participants to develop, practice, and polish entrepreneurial skills for the future.
"The DELTA Rx Next Top Entrepreneur Competition was a tremendous test of my creativity and professionalism." Cecala said. "It helped not only push me out of my comfort zone, but also helped hone my presentation and preparation skills."
NTEC contestants and contestant teams are judged primarily on creativity and presentation skills. At the end of each round of competition, judges use a set of predetermined criteria to determine who will advance to the next round and who will be eliminated. Cash prizes are awarded to the top three finishers, with the grand prize winner taking home $1200.
"Regardless of where I placed in the competition, I was extremely glad that I participated and gained this new notch in my belt," Cecala said. "I am so grateful for all of the DELTA Rx students, faculty, and participants for making this such an enjoyable, fun, and challenging experience. I'd encourage anyone looking to have a unique twist on their pharmacy education to compete in coming years."