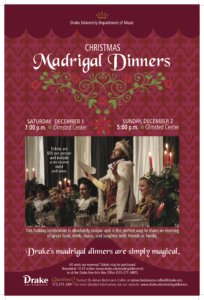 Drake University's Chamber Choir will present their annual Madrigal Dinners on Saturday, Dec. 1, and Sunday, Dec. 2. This interactive, holiday celebration is the perfect way to share an evening of great food, drink, music, and laughter with friends and family. The dinner will start at 7 p.m. on Saturday and 5 p.m. on Sunday in Drake University's Olmsted Center, located at 2875 University Ave.
The Madrigal Dinners are fully costumed and staged to recreate an Elizabethan Yuletide feast. Members of the Drake Chamber Choir will bring the event to life by serenading guests as well as acting and dancing.
The six-course meal is $55 per person and includes wine. Tickets may be purchased from Nov. 13–27 and are available online or at the Drake Fine Arts Box Office (515-271-2841). Visit www.drake.edu/madrigaldinners/ for more information.
Drake's Chamber Choir is under the direction of Aimee Beckmann-Collier, who can be reached for any additional questions at aimee.beckmann-collier@drake.edu.