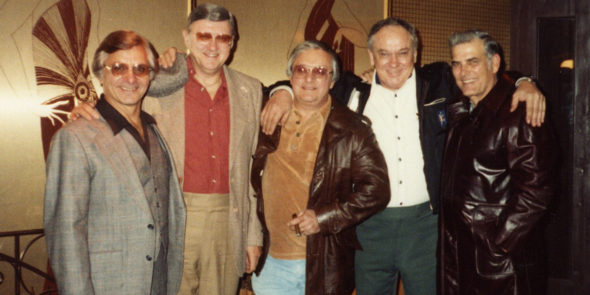 Thanks to social media giants like Facebook or Snapchat, staying connected to friends and fellow alumni is as simple as clicking the friend button. Most Bulldogs today keep up-to-date on each other by quickly and easily scrolling through posts of baby updates or vacation photos. Mort Hoffman, LA'50, instead sticks with what's worked for nearly 70 years.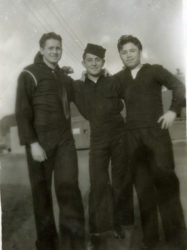 After graduation, Hoffman jumped into a management position at a shoe store in downtown Des Moines. Some of his Drake classmates stayed nearby, others gradually spread out. His friend Frank Gondela, BN'50, went home to Chicago to take over his family's rubber stamp business. The friendships endured, with Hoffman picking up the phone every Saturday to call up his closest pals. Every Saturday. For seven decades.
"I call Frank every Saturday and I used to talk to Soto [Colovos, BN'50] every week. I also used to talk to Eddie [Youhas, BN'50] all the time. We used to get together for birthdays—and later, unfortunately, for funerals too," says Hoffman.
He and most of his friends served in World War II and came to Drake on the GI Bill. Gondela remembers helping get the first AMVET location in Iowa started during his time at the University. That's where most of them hung out between or after classes with other veterans.
Hoffman remembers "that place on Forest Avenue where we used to grab a burger or beer." In the 1950s, Peggy's—yes, that Peggy's—was a café that advertised good food and "nutritious dinners," according to a vintage advertisement.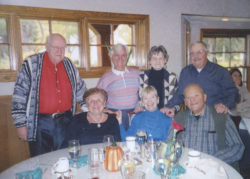 "I have a lot of good memories that'll stay with me forever," says Gondela. "I'm so happy I finished off my degree at Drake." Through those dedicated Saturday phone calls, Hoffman and Gondela have kept those memories alive. The two also learn about all the new happenings in their lives.
Gondela had an exciting announcement late last year. Since 2010, he's volunteered with the Fisher House Foundation, a nonprofit organization with almost 60 locations around the United States. Fisher House provides housing for military families and veterans while a loved one receives treatment from a military or VA medical center.
Gondela has worked at the Edward Hines Jr. VA Hospital location on a weekly basis, contributing over 3200 volunteer hours. Out of all Fisher House locations and out of thousands of volunteers, "Uncle Frank" was chosen as the 2017 Volunteer of the Year.
Hoffman works for two businesses—he owns a linen business and is a sales representative for Mill Distributors, which works with the Navy—and volunteers with Family Promise, an organization that helps homeless families find lodging and jobs. He is celebrating his 60th wedding anniversary with his wife Gerry, whom he met in Des Moines, this month.
While he and Gondela live in different states, distance has presented no obstacle. Hoffman has advice for others who want long-lasting friendships: "Stay in touch. The phone works both ways."