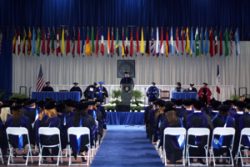 Drake University College of Pharmacy and Health Sciences (CPHS) held its Spring 2018 Doctoral Hooding and Commencement Ceremony on Saturday, May 19, in the Knapp Center.  The event was the first time that the doctoral hooding and commencement ceremonies were combined instead of being held over the course of two days.
During the ceremony, 104 graduates crossed the stage to receive their Doctor of Pharmacy degrees and doctoral hoods. Pharmacy department chairs Tim Welty and Craige Wrenn placed the academic hoods over the heads of the graduates.
Marty Martin, president of Drake University, provided remarks at the ceremony. Martin spoke of the commitment of CPHS faculty to blend a liberal arts education with an intense professional education to prepare the graduates for meaningful personal lives, professional accomplishments, and responsible global citizenship, with the evidence of these outcomes shown in the lives of the new CPHS graduates.
The ceremony also included comments from the graduating class student government representatives, Elise Damman, Michelle Mages, and Alexis Schrieber, who provided multiple anecdotes of their experiences and lessons learned from CPHS faculty members that further exemplified the culture of student-centered teaching and learning with the college. Additional comments were provided by the Iowa Pharmacy Association Vice President of Professional Affairs, Anthony Pudlo, who led the graduates in the Oath of a Pharmacist, and Nancy Bell, chair of the College's National Advisory Council, who reflected upon her experience as a Drake student and alumnus and challenged the new graduates to remain involved with the University.
Graduate awards were also announced during the ceremony:
Kellie Arensman – the Mylan Excellence in Pharmacy Award
Catherine DeFino – the Facts and Comparisons Excellence in Clinical Communication Skills Award
Janelle Vircks – the Russell Johnson Outstanding Community Practice Graduate Award
Elise Damman – the Eli Lilly Excellence in Diabetes Disease Management Award
Kristina Nikl – the Merck Royal Society of Chemistry Certificate of Excellence
Kellie Arensman – the Lambda Kappa Sigma Ethel J. Heath Scholarship
Alexa Devita – the American Pharmacists Association (APhA) Senior Recognition Award
Michelle Mages – the United States Public Health Service Excellence in Pharmacy Public Health Award
Annie Stella -the Jerry L. Karbeling Memorial Leadership Award
As the graduates were introduced by Associate Dean Chuck Phillips, their post-graduate plans were announced.  The percentage of graduates planning to remain in Iowa is 22% while 71% are heading to other states for residencies and positions and 7% are unknown.  More than 60% of the class will be moving in to residencies, fellowships or other post-graduate education while other graduates will be entering clinical positions in other areas:
Residencies – 55%
Fellowships – 6%
Community – Chain – 17%
Community – Independent  – 2%
PhD, Master's degree programs – 2%
Managed Care  –  2%
Hospital-staff – 1%
Government (military) – 1%
Other – 7%
Undecided/unknown – 7%
A YouTube video of the ceremony can be viewed here.
The LIfeTouch photo album may be accessed here.