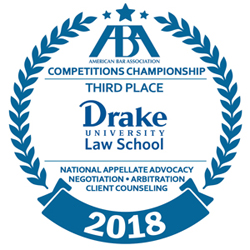 Drake University Law School placed third in the inaugural American Bar Association (ABA) Competitions Championship.
The nationwide championship was determined by a points system that awarded team achievements and participation in the ABA Law Student Division's four practical skills competitions: Arbitration Competition, Negotiation Competition, Client Counseling Competition, and National Appellate Advocacy Competition (NAAC Moot Court).
This year, Drake Law School was named national champions in the ABA Arbitration Competition. The team consisted of Olivia Brooks, Jordan Nickerson, Rachael Irlbeck, and Gabriel Walsh and was coached by Ana Dixit, LW'16, and Ronald Forsell, LW'15.
In the ABA Negotiation Competition, Drake Law School's two teams—Kevin Brown and Nicole Rogers, and Spencer Willems and Jessie Benson—were both national semi-finalists.
Drake Law School also competed in the ABA Client Counseling Competition and NAAC Moot Court, where the team of Taylor Larson, Abdullah Azkalany, and Gail Beech advanced to the regional semi-finals. Joshua Duden was recognized as the Best Oral Advocate in the regional competition.
According to the ABA Law Student Division's website, the Competitions Championship was established "to recognize law schools that go above and beyond to help prepare their students for practice."
"Success in these competitions illustrate each school's commitment to providing a well-rounded curriculum and preparing students to become highly skilled lawyers," stated the ABA Law Student Division.
The competitions provide opportunities for law students to hone essential legal skills in a simulated practice environment. This year, more than 1,300 students from 156 law schools across the United States participated in one or more of the competitions sponsored by the ABA Law Student Division.
Altogether, Drake Law School offers nine competition teams. In addition to this year's ABA Arbitration Competition championship, the Law School won the ABA Client Counseling Competition in 2013, the National Moot Court championship in 2001, the ABA Negotiation Competition in 1994, and the Federal Circuit AIPLA Competition in 1981.
Learn more about Drake Law School's competition teams.