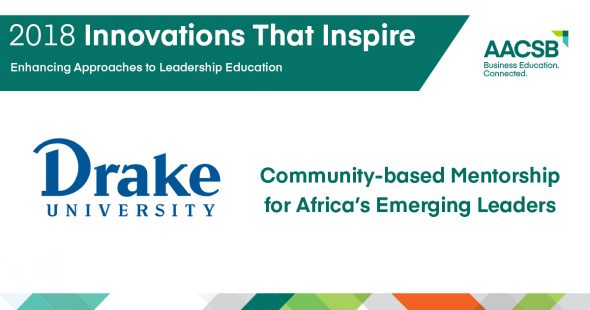 Drake University's College of Business and Public Administration has received international recognition as an innovator in the field of leadership education. The Association to Advance Collegiate Schools of Business (AACSB) issued its Innovations That Inspire award to Drake's business school for the University's role as host institute for the Mandela Washington Fellowship for Young African Leaders.
The Innovations That Inspire award in the category of Emerging Approaches to Leadership Education recognizes Drake's participation in the Mandela Washington Fellowship program as a significant model for community-based mentorship, with a worthwhile impact on both the participants and the greater Des Moines community.
"In serving as a host institute for the Mandela Washington Fellowship program, we affirm the necessity that business education today must embrace new ways to advance education outside the one-culture/one-nation traditional classroom environment," said Lance Noe, administrative director of the program at Drake. "By bringing successful professionals from nations in Africa to study in the Des Moines metro area, Drake creates a truly 'whole community' learning experience for both hosts and Fellows."
The six-week Fellowship—a flagship program of the U.S. Department of State's Young African Leaders Initiative—cultivates personal and professional connections between young professionals in Sub-Saharan Africa and influential individuals in the United States. For the past two years, Drake has annually hosted 25 Fellows on campus for leadership education programming, professional networking opportunities, community service projects, and site visits to local employers and nonprofit organizations. Each Fellow emerges with an in-depth plan for developing as a more effective leader.
"Using their Leadership Development plans compiled during their time at Drake, in addition to the six weeks of facilitated learning and relationship building, the Fellows have been able to return to their respective homeland better prepared to be servant leaders whether in business, civic or service sector endeavors," said Professor Deb Bishop, the program's academic director at Drake.
Innovations that Inspire had 119 submissions from business schools in 16 countries in 2018, and Drake was one of the 30 universities chosen. By receiving this honor, the College of Business and Public Administration has demonstrated not only its academic rigor, but also its commitment to giving back to the greater community through education.
"The biggest risk to business schools is not the rapid pace of change. It is in failing to prepare the next generation of business leaders to cope with that change," said Thomas R. Robinson, president and CEO of AACSB. "Through its best-in-class leadership development program, Young African Leaders Initiative at Drake University is ensuring that the business leaders of tomorrow will be ready for whatever lies ahead."
About AACSB International
As the world's largest business education alliance, AACSB connects educators, students, and business to achieve a common goal: to create the next generation of great leaders. Synonymous with the highest standards of excellence, AACSB provides quality assurance, business education intelligence, and professional development services to almost 1,600 member organizations and more than 795 accredited business schools worldwide. With its global headquarters in Tampa, Florida, USA; Europe, Middle East, and Africa headquarters in Amsterdam, the Netherlands; and Asia Pacific headquarters in Singapore, AACSB's mission is to foster engagement, accelerate innovation, and amplify impact in business education. For more information, visit aacsb.edu.